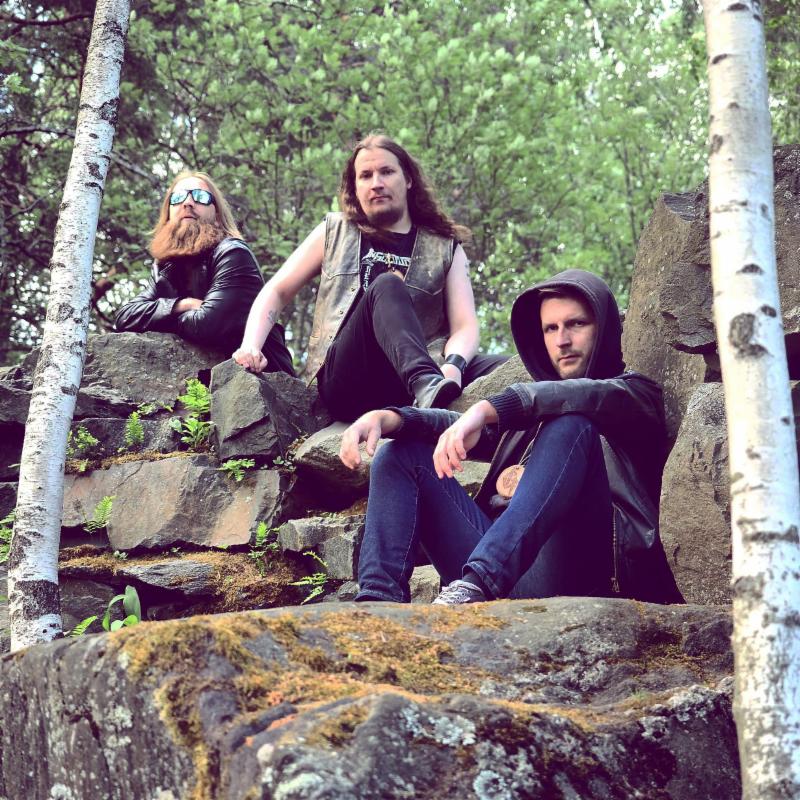 CARDINALS FOLLY and LUCIFER'S FALL Offer Double Dose of Doom on Forthcoming Split Release
The doom bell tolls twice as Finland's Cardinals Folly and Australia's Lucifer's Fall team up for a trance-inducing and ultimately epic split.  The album will be released in digital, CD, and vinyl formats March 22 on Cruz Del Sur Music.
Two bands willing to break with doom metal convention, Finland's Cardinals Folly and Australia's Lucifer's Fall team up for a split that brings the heaviness, might and magic!
After the release of their 2017 Deranged Pagan Sons album, Cardinals Folly started thinking about their next move. Having independently issued their 2016 Coalition of the Anathematized split with Church of Void and Acolytes of Moros, Cardinals Folly was hoping to find a willing label partner for their next split venture. They found one in Cruz Del Sur Music, who agreed to release the split on vinyl, one of Cardinals Folly's criteria. One of the bands at the top of Cardinals Folly's list was Australia's Lucifer's Fall, who were also fresh off of an independently-released split of their own with Reclvse. Realizing the possibilities, Cardinals Folly and Lucifer's Fall teamed up for a split that finds both bands contributing three songs each.
Originally formed in 2004 as The Coven, Cardinals Folly came into being in 2007 in Helsinki, where they proceeded to release their debut Heretic's Hangover EP in 2008. The Orthodox Faces EP followed a year later, culminating in the release of their first full-length, 2011's Such Power is Dangerous! The ensuing Our Cult Continues! (2014) and Holocaust of Ecstasy & Freedom (2016) furthered the Finns' doom cause, running up to Deranged Pagan Sons.
Inspired by the idea of creating a smaller release, Cardinals Folly decided to maintain a running thread of Nordic mysticism through their three offerings on the split. While the Finns had dabbled in this subject matter on previous albums, here, they made it a priority, starting with the doom waltz of "Walvater Unveiled" and into the trance-like "Spiritual North." Rounding things off is the ten-minute "Sworn Through Odin's & Satan's Blood," which is Cardinals Folly's distinctive ode to Hammerheart-era Bathory.
Formed in 2013 and with two full-lengths in addition to numerous demos, singles and splits to their credit, Lucifer's Fall are using the split with Cardinals Folly as a go-between studio albums as they continue to work on the follow-up to 2016's II: Cursed & Damned. One of the few doom bands to make an impact in Australia, Lucifer's Fall could be viewed as their home country's answer to greats such as Electric Wizard, Pentagram and Saint Vitus.
Employing a more traditional metal sound than before, Lucifer's Fall had one simple operative for the split: Write simple, aggressive and catchy headbanging tunes. This is achieved across "Die Witch Die," "Call of the Wild" and "The Gates of Hell," all three numbers reveling in distinctive imagery and the band's dynamic and lively approach, ultimately showing the versatility within Lucifer Fall's sound.
Track Listing
Cardinals Folly:
1. Walvater Proclaimed
2. Spiritual North
3. Sworn Through Odin's And Satan's Blood
Lucifer's Fall:
4. Die Witch Die
5. Call Of The Wild
6. The Gates Of Hell
CARDINALS FOLLY:
Mikko Kääriäinen – Bass, Vocals
Juho Kilpelä – Guitar
Joni Takkunen – Drums
LUCIFER'S FALL:
Deceiver – Bass, Guitars, Vocals
Unknown and Unnamed – Drums
Cursed Priestess – Bass
The Invocator – Guitars
Heretic – Guitars
Cruz Del Sur Music titles are distributed by:

Germany / Austria / Switzerland : SOULFOOD MUSIC
UK: CODE 7 / PHD
Italy: AUDIOGLOBE
Benelux: SONIC RENDEZVOUS
Usa / Canada: MVD
Rest of Europe: SOULFOOD MUSIC

www.facebook.com/cruzdelsurmusic/