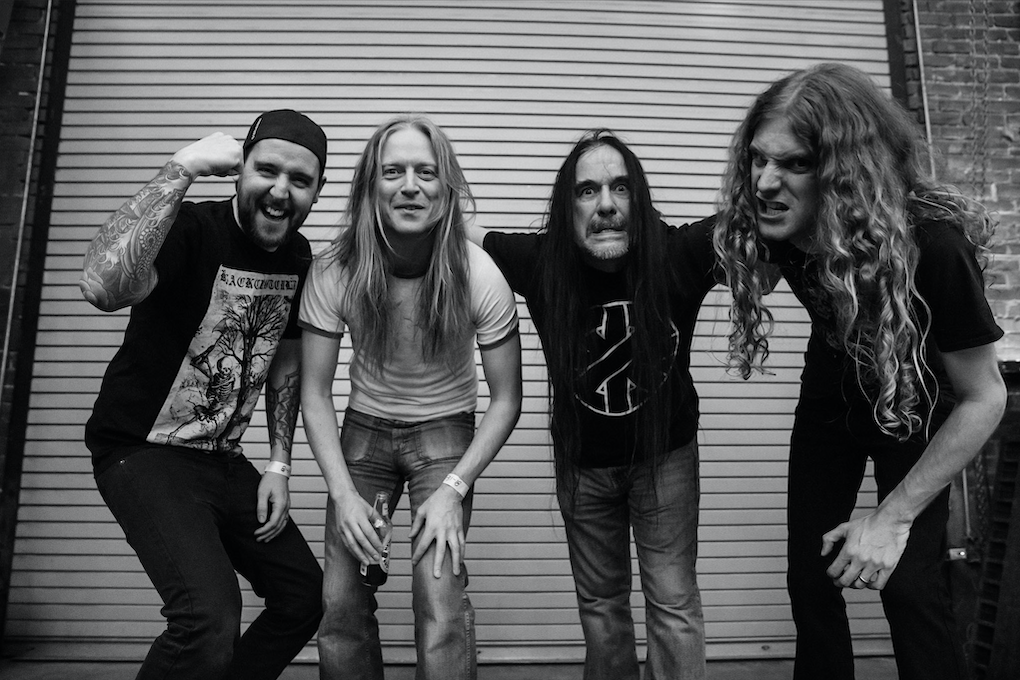 English death/grind legends
CARCASS
are gearing up to headline the closing night of
Decibel Magazine's "Metal & Beer Fest: Los Angeles"
on
December 14th
. In preparation, the band has released a new single called
"Under The Scalpel Blade"
on streaming services today! The track is the band's first new song in 6 years and was originally released as part of
Decibel's "Flexi Series"
accompanied with the magazine's January issue.
"Under The Scalpel Blade"
was recorded during sessions for their upcoming 7th studio album that's due out in 2020. Purchase the issue with flexi
here
.
"It's always difficult trying to decide what new song to expose people to, especially given an absence of nearly seven years???? With that in mind here's a slow throw away number we cobbled together, and NO the title was NOT plagiarized from the DISORDER album of the same title before you ask!" – Jeff Walker
STREAM "UNDER THE SCALPEL BLADE":
https://nuclearblast.com/carcass-scalpel
(
Download Hi-Res Artwork here
)
Decibel Magazine's "Metal & Beer Fest: Los Angeles"
will feature performances by
CARCASS
,
POSSESSED
,
NAILS
,
VIO-LENCE
,
GATECREEPER
,
SCHAMMASCH
,
EVOKEN
,
INTRONAUT
,
XIBALBA
,
SPIRIT ADRIFT
and more. Tickets are available now at
https://www.ticketweb.com/search?q=decibelobs
.
CARCASS
will also be performing at Evil Beat Vol. 2 at South Side Music Hall in Dallas, Texas on January 11th alongside
POWERTRIP
,
VIO-LENCE
,
RAZOR
,
DEAFHEAVEN
,
TORCHE
and more. Tickets are available
here
.
CARCASS'
new single "Under The Scalpel Blade," is a taste of what's to come from the band's long-awaited 7th full-length album. It follows the release of several classic albums over the years, including Decibel Magazine "Hall of Fame" inductees
Heartwork
and
Necroticism – Descanting the Insalubrious
, and their influence has changed the face of extreme metal with every consecutive release. Whether it was inventing gore-grind (i.e.
Reek of Putrefaction
,
Symphonies of Sickness
) or creating the template for melodic death metal (i.e.
Heartwork
),
CARCASS
has always made records by which bars were set and rules were broken. Upon the band's dismantling in 1996, fans mourned the loss of the seminal act and longed that the group would return again one day. In 2007, the metal world got its wish as
CARCASS
reformed to play several sold-out reunion shows around the globe. Once again re-motivated to administer a shot of cynicism and infectious riffs into the arm of a sickly metal scene, founding members
Bill Steer
and
Jeff Walker
recorded the next chapter of their influential career, 2013's
Surgical Steel
. Following the critically acclaimed release, the band toured the world extensively, including recent performances with
SLAYER
on their final world tour. Now the band that broke barriers 25 years ago has returned to the studio to tear them all down again with their 7th record, which will undoubtedly be one of next year's most anticipated heavy metal albums.
CARCASS is:
Bill Steer – Guitars
Jeff Walker – Bass/Vocals
Daniel Wilding – Drums
Tom Draper – Guitars