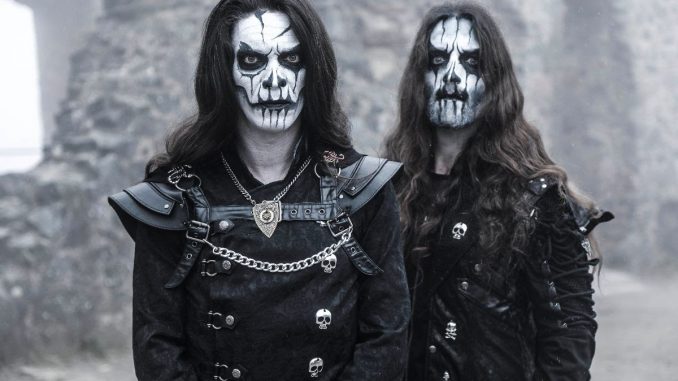 Symphonic horror metal masters
CARACH ANGREN
will be making a triumphant return to North America this spring in support of HYPOCRISY! The band will be supporting 2020's critically-acclaimed release, 'Franckensteina Strataemontanus.' The band's trek will start in Brooklyn, NY on April 29 and will conclude on April 28 in Pittsburgh, PA. The full run of dates and tickets can be found below!
ICYMI: Last year, CARACH ANGREN announced their collaboration with DC comics for the new series "Dark Nights: Death Metal." The first episode is out now and features the band's new song, "Skull with a Forked Tongue," which is taken from 'Franckensteina Strataemontanus.' The episode can be seen at THIS LOCATION.
Moreover, there are now exclusive CARACH ANGREN filters on Instagram! Check it out and have a ghoulish good time!
'Franckensteina Strataemontanus' is out NOW and can be streamed, downloaded, and/or purchased HERE.
CARACH ANGREN North American Dates (w/ HYPOCRISY, THE AGONIST, + HIDEOUS DIVINITY):
04/29: Brooklyn, NY @ Warsaw [TICKETS]
04/30: Boston, MA @ Middle East Downstairs [TICKETS]
05/01: Montreal, QC @ L'Astral [TICKETS]
05/02: Toronto, ON @ Lees Palace [TICKETS]
05/04: Joliet, IL @ The Forge [TICKETS]
05/05: Minneapolis, MN @ The Cabooze [TICKETS]
05/06: Winnipeg, MB @ Park Theatre [TICKETS]
05/07: Regina, SK @ The Exchange [TICKETS]
05/08: Edmonton, AB @ Starlite Room [TICKETS]
05/10: Vancouver, BC @ Red Room [TICKETS]
05/11: Seattle, WA @ Club Sur [TICKETS]
05/12: Portland, OR @ Bossanova Ballroom [TICKETS]
05/13: Berkeley, CA @ Cornerstone [TICKETS]
05/14: San Diego, CA @ Brick by Brick [TICKETS]
05/15: Los Angeles, CA @ 1720 [TICKETS]
05/17: Mesa, AZ @ Nile Theater [TICKETS]
05/18: El Paso, TX @ Rockhouse Bar & Grill [TICKETS]
05/19: Albuquerque, NM @ Sunshine Theater [TICKETS]
05/20: Austin, TX @ Come and Take it Live [TICKETS]
05/21: Dallas, TX @ Amplified Live [TICKETS]
05/22: Houston, TX @ White Oak Music Hall [TICKETS]
05/24: Orlando, FL @ The Abbey [TICKETS]
05/25: West Palm Beach, FL @ Respectable Street [TICKETS]
05/26: Jonesboro, GA @ Furnace 41 [TICKETS]
05/27: Greensboro, NC @ The Blind Tiger [TICKETS]
05/28: Pittsburgh, PA @ Enclave [TICKETS]
The cover artwork for 'Franckensteina Strataemontanus' was created by Stefan Heilemann and can be found below along with the track-list.
Track list:
1. Here in German Woodland (01:35)
2. Scourged Ghoul Undead (05:38)
3. Franckensteina Strataemontanus (03:03) (WATCH)
4. The Necromancer (04:08)
5. Sewn for Solitude (03:52)
6. Operation Compass (06:00)
7. Monster (03:33) (WATCH)
8. Der Vampir von Nürnberg (06:00) (WATCH)
9. Skull with a Forked Tongue (05:56)
10. Like a Conscious Parasite I Roam (08:16)
Bonus
11. Frederick's Experiments (02:40)
Total playing time: 50:41
The Dutch masters of horror are back with their most flamboyant album so far. On 'Franckensteina Strataemontanus',
CARACH ANGREN
resurrect the gruesome story of troubled soul 'Conrad Dippel'; the inspiration of Mary Shelly's novel 'Frankenstein'.
CARACH ANGREN
have extended all the sonic colours on their established palette to dazzling effect. Their trademark whipping guitars are weaving harsh melodies and sinister soundscapes, which are beautifully contrasted by opulent keyboards and majestic orchestrations. That Till Lindemann (RAMMSTEIN) and Peter Tägtgren (PAIN) have called upon the composition talent of Clemens "Ardek" Wijers is a telling sign of his outstanding mastery of the craft. Another signatory counterpoint is provided by Seregor's fierce rasping and shrieking vocals. Adding to the impact, Namtar has become a relentless driving force with his hart hitting yet intricate drumming. Each track on this album is a highlight on its own, while combined 'Franckensteina Strataemontanus ' simply shines.
CARACH ANGREN
set out to tell ghost-stories with a set of paranormal cases recorded on the demo 'The Chase Vault Tragedy' (2004). This was soon followed by the official release of the 'Ethereal Veiled Existence' EP (2005) as a prelude to the haunting 'Lammendam' (2008). The Dutch had a clear vision of combining a dark baroque style of metal with horror based lyrical concepts. Their sophomore full-length 'Death Came through a Phantom Ship' (2010) witnessed the band setting sail to bring their eccentric and capturing live performances to audiences and festivals all over Europe. In the wake of third album 'Where the Corpses Sink Forever' (2012), the haunting had reached the Americas and started to spread rapidly. This record added a serious side to the lyrics of
CARACH ANGREN
. While firmly remaining in the horror genre, their tales revolve around the evils of war. This mature streak was taken a step further with the fourth full-length 'This Is No Fairytale', which is on the surface a darker variation of the "Hansel and Gretel" story from the Brothers Grimm collection, but also deals with the too real topic of child abuse in a dysfunctional family. With 'Dance And Laugh Amongst The Rotten' (2017), the band returned to pure story telling with episodes that are centred on a girl playing a little too long with her Ouija board.
Now,
CARACH ANGREN
return with the monster 'Franckensteina Strataemontanus', where the Dutch have pushed their unashamedly theatrical style to a new intense height. You do not believe us yet? Press play and have your soul transferred with this new elixir of life!
Style: Horror Metal

Studio: Tidal Wave Studio (DE) & Clemens Wijers Music Productions (NL)

Recording:
Tidal Wave Studio: Drums, guitars, bass recorded by Patrick Damiani
Clemens Wijers Music Productions: Keyboards, orchestra, vocals

Mix/Master: Robert Carranza

Recording line-up
Seregor: Vocals , guitar
Ardek: Keyboard, orchestra, guitar, bass, backing vocals
Namtar: Drums

Guest musician:
Nikos Mavridis: Solo violin on tracks 5 & 10

Cover artwork: Stefan Heilemann/Heilemania