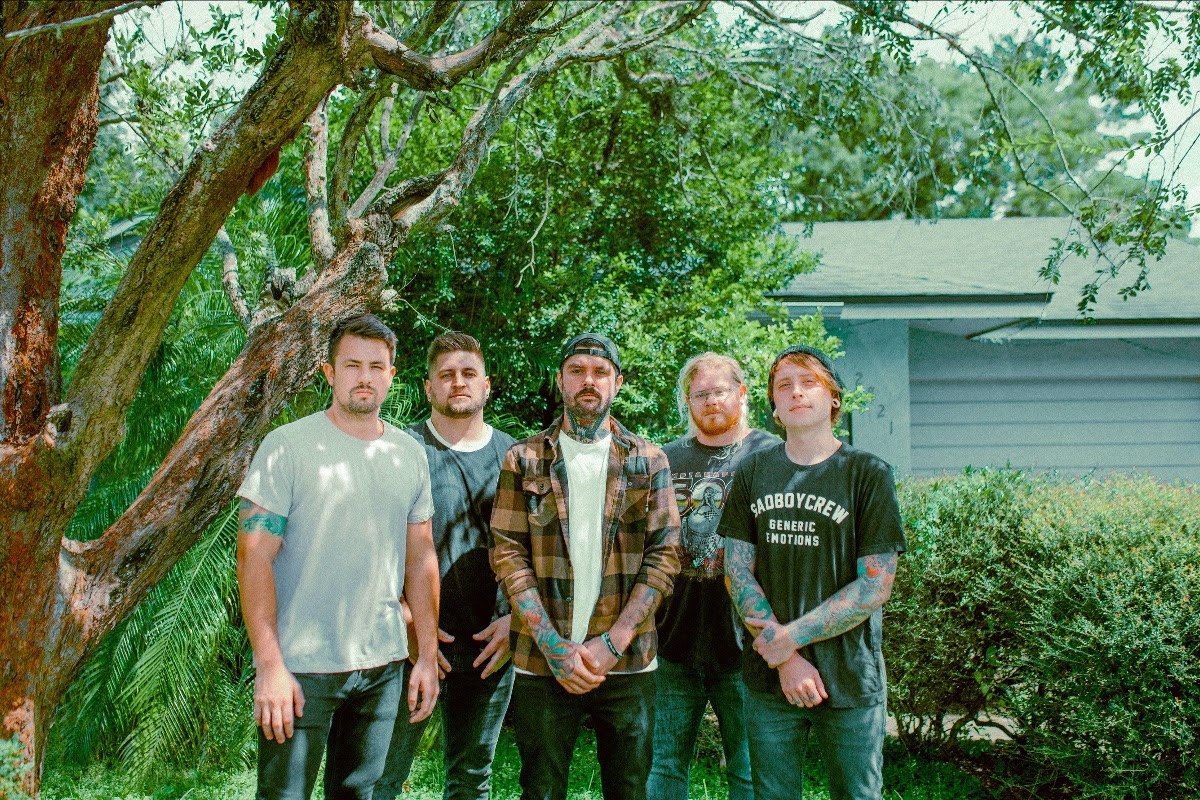 Florida's
Capstan
— Anthony DeMario [vocals], Harrison Bormann [guitar], Andrew "Boz" Bozymowski [bass, vocals], Joseph Mabry [guitar], and Scott Fisher [drums] — have shared the video for the song "
Hideaway
." Watch and listen
here
.
'"Hideaway' is about being vulnerable enough to let someone in, and the feeling of safety you get when you allow yourself to take refuge in them," the band says. "The song has taken on more meaning this year, considering all the uncertainty and anxiety everyone is facing. We hope people can find comfort in the music and lyrics, and feel like our band can help them when they need a personal 'hideaway' from the world."

Regarding the video, Capstan explains, "We had to be conscious of safety and social distancing when creating a music video during a pandemic. So we chose an intimate concept that conveyed those feelings of struggling to survive alone in the world, and the difference it can make to have someone looking after you, even when they remain unseen."
The song appears on the band's debut full-length, Restless Heart, Keep Running, which was released via Fearless Records last fall.
Capstan, who traffic in a high-energy mix of pop punk, prog rock, and post-hardcore, also shared their video for the non-album track "livebait" in the spring.

ABOUT CAPSTAN:
Capstan independently released Parting Gifts and Seasonal Depression back in 2014 and 2015, respectively. The band followed with 2016's Cultural Divide and 2018's In The Wake of Our Discord. Along the way, "Can't.Lie.Around.Remembering.Everything," "Reprieve," and "Wax Poetic" each surpassed one million Spotify streams, as the band regularly attracted over 100K monthly listeners on the platform. Upon signing with powerhouse label Fearless Records, the five-piece churned out the one-off "Stars Before The Sun" (listen here) and put up nearly half-a-million streams, and garnered praise from The PRP and Substream Magazine, to name a few. In early 2019, the band hit the studio with producer Andrew Wade [A Day To Remember, Wage War] and crafted Restless Heart, Keep Running. Through it all, Capstan have drafted their own signature style of progressive post-hardcore. They have toured relentlessly over the years with bands like Silverstein, Bayside, Set It Off, and Trash Boat, and they appeared on the last-ever Vans Warped Tour in 2018.