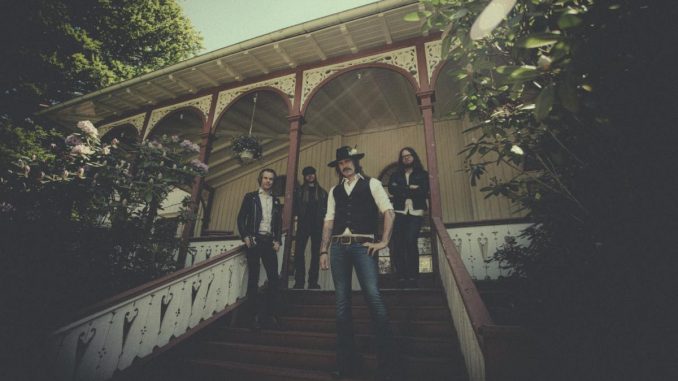 New Album 'For The Restless' Out March 25th, 2022
Swedish rockers CAPRICORN will release their new album, 'For The Restless', on March 25, 2022 via Wild Kingdom. Today, the band has unleashed the first single off the record, titled "The Searcher".
Doffe Ekberg (lead singer) comments on the single:
"It was the last song to be recorded for the album, we had another one in mind but I had a very simple version of The Searcher demoed on my phone. We learned it and recorded it in a couple of hours. It felt amazing, a magic moment for sure."
'For The Restless' Tracklist
01. The Searcher
02. Self Pity
03. Long Gone Heroes
04. Revolution Boogie
05. Hold On/Hold Out
06. Got To Go
07. It Ain't Me
08. Night Of The Lonely Hearts
09. Rock N' Roll Congregation
10. Got You Where They Want To
CAPRICORN is back with their second full-length album, titled 'For The Restless', offering 10 tracks of burning Rock n´ Roll. The lineup for the new record consists of lead vocalist and guitarist Kristoffer Ekberg, bassist Pontus Blom, guitarist Peter Söderberg, and new drummer Tomas Eriksson (Imperial State Electric, Captain Murphy). For The Restless, the sequel to the 2019 debut album 'Soul Engine', is Capricorn's first album to be released on Wild Kingdom, and is set for release
The band was founded in 2015 by Kristoffer Ekberg, who was nominated for "Stämskruven", an award given in memory of Robert "Strängen" Dahlqvist. Both Kristoffer and bassist Pontus Blom played on Strängen's record 'Rock På Svenska', and played on the Strängen tribute gigs at Debaser and Sweden Rock Festival!
And how does it sound? Picture rock n´ roll with influences from Detroit, New Jersey, Muscle Shoals, Tom Petty, Jackson Brown, Bob Seger, Southside Johnny and the Asbury Jukes. The album was mixed by Frans Hägglund at Riddarborgen (Imperial State Electric, Last Days Of April, Nicklas Frisk, The Datsuns) and mastered at Redmount Studios by Magnus Lindberg (Cult Of Luna, Robyn, The Hellacopters, Imperial State Electric, The Datsuns).