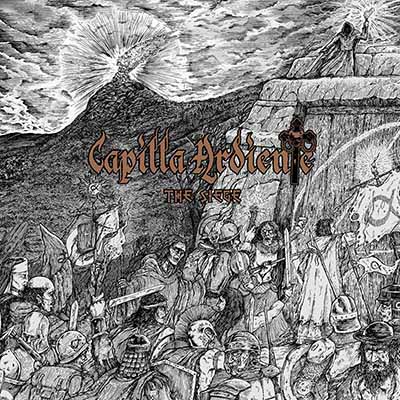 Chile's Capilla Ardiente will release their sophomore effort titled The Siege on Friday, September 13, 2019 through High Roller Records.
As for the band name, Capilla Ardiente means "burning chapel". There are funeral connotations to the translation as well. It's a locale where the departed receive their funeral. The location can be the deceased's house, a church or any other specified setting.
The release of The Siege serves as a follow up to the band's debut titled Bravery, Truth And The Endless Darkness released in 2014. The Siege is a continuation of the concept presented on the debut.
The basic premise for the conceptual continuation is an individual who has been self-reflecting while living in exile. This individual comes to find out foreign travelers are arriving and he wants to share his knowledge to those arriving sailors. This is how bassist Claudio Botarro Neira explains the concept in simple terms.
The second chapter of Capilla Ardiente's music which is presented on The Siege consists of four, lengthy epic doom metal compositions. Epic doom as in the vibe of classic Candlemass and Solitude Aeturnus.
Even though The Siege consists of just four tracks, there's no filler anywhere. The four tracks range between 9:41, "The Crimson Fortress" (track two) to the longest "The Open Arms, The Open Wounds" clocking in at 13:19 which begins the 45-minute plus doom procession.
The second half of the disc, "The Spell Of Concealment," (track three) taps in at 9:45 with the fourth and concluding doom metal creation, "Fallen Alphas And The Rising Omega" at 13:11.
The listener will experience a continuous basis of heavy doom metal riffs and bass lines plowing forward. Yet the band will toss in acoustic passages, sounds of burning structures and the tolling of church bells as the Omega rises.
Each of the four songs that make up The Siege are epic doom metal creations in their own right. The Siege is classic traditional epic doom metal executed precisely the way it should be composed and heard.
The release of The Siege comes several months past the fifth anniversary of the release date of the band's debut. What Capilla Ardiente has created and written over that time proves worthy of the wait.
North America's doom metal Solitude Aeturnus hails from Texas. Europe's doom metal band is Sweden's Candlemass. Capilla Ardiente may just well be the answer to the Chilean doom metal question.