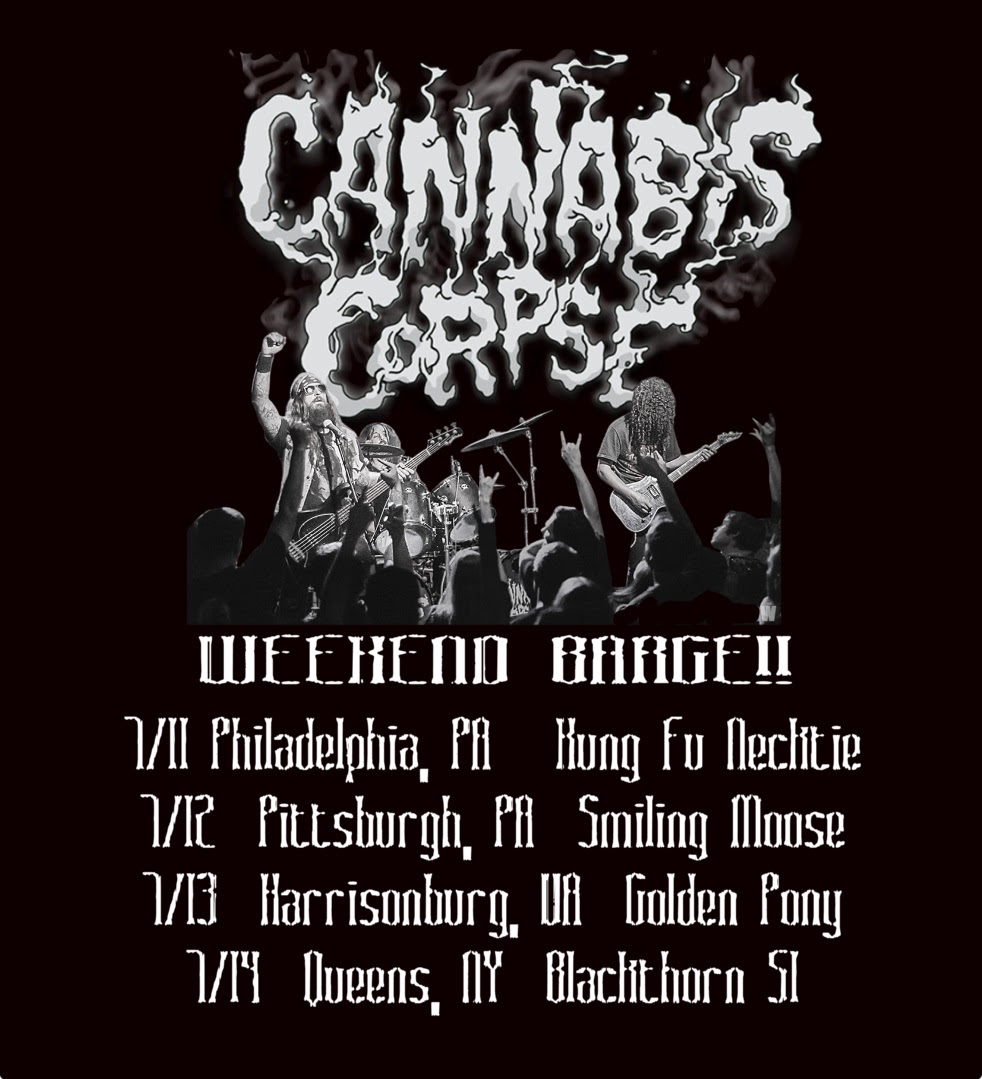 Stoner death metallers
CANNABIS CORPSE
have announced a run of live performances in four cities in the Northeast of the U.S. The trek will kick off in Philadelphia, PA on Thursday, July 11 and will conclude on Sunday, July 14 in Queens, NY. The full itinerary can be found below.
Speaking about the upcoming dates, the band comments, "What's up headbangers! Cannabis Corpse is going out for a short weekend of Northeast shows this July, so grab your bongs, blunts and beach towels and come out prepared to get killed by a rampaging mutated weed monster."
CANNABIS CORPSE Headlining Shows:
07/11: Philadelphia, PA @ Kung Fu Necktie [TICKETS // EVENT LINK]
07/12: Pittsburgh, PA @ Smiling Moose [TICKETS // EVENT LINK]
07/13: Harrisonburg, VA @ Golden Pony [TICKETS // EVENT LINK]
07/14: Queens, NY @ Blackthorn 51 [TICKETS // EVENT LINK]
CANNABIS CORPSE's last full-length album, 'The Left Hand Pass,' was released in 2017 via Season of Mist. The band is led by the imitable Phil "LandPhil" Hall (MUNICIPAL WASTE) and his twin brother Josh "Hallhammer" Hall, who are also joined by guitarists Ray Suhy (SIX FEET UNDER) and Brandon Ellis (THE BLACK DAHLIA MURDER, ARSIS).
Under the influence of the genre legends who preceded them, the trio give rise to unrelenting piece of crushing, weed-themed death replete with their signature, THC-fueled, horror fiction lyrics. As tracks such as "The 420th Crusade," "Chronic Breed," and the title track illustrate, 'Left Hand Pass' is another massive step-forward for the band and a monumental piece of U.S. Death Metal.
Formed by bassist Phil "LandPhil" Hall (of MUNICIPAL WASTE/IRON REAGAN fame) and his brother Josh "Hallhammer" Hall in 2006,
CANNABIS CORPSE
has made a name for themselves with five well-received full-length albums and relentless touring.
CANNABIS CORPSE
have toured the world over with REVOCATION, THE BLACK DAHLIA MURDER, HATE ETERNAL, SKELETONWITCH, GHOUL, and more.
For more on CANNABIS CORPSE, visit the band's official FACEBOOK, TWITTER, and INSTAGRAM.