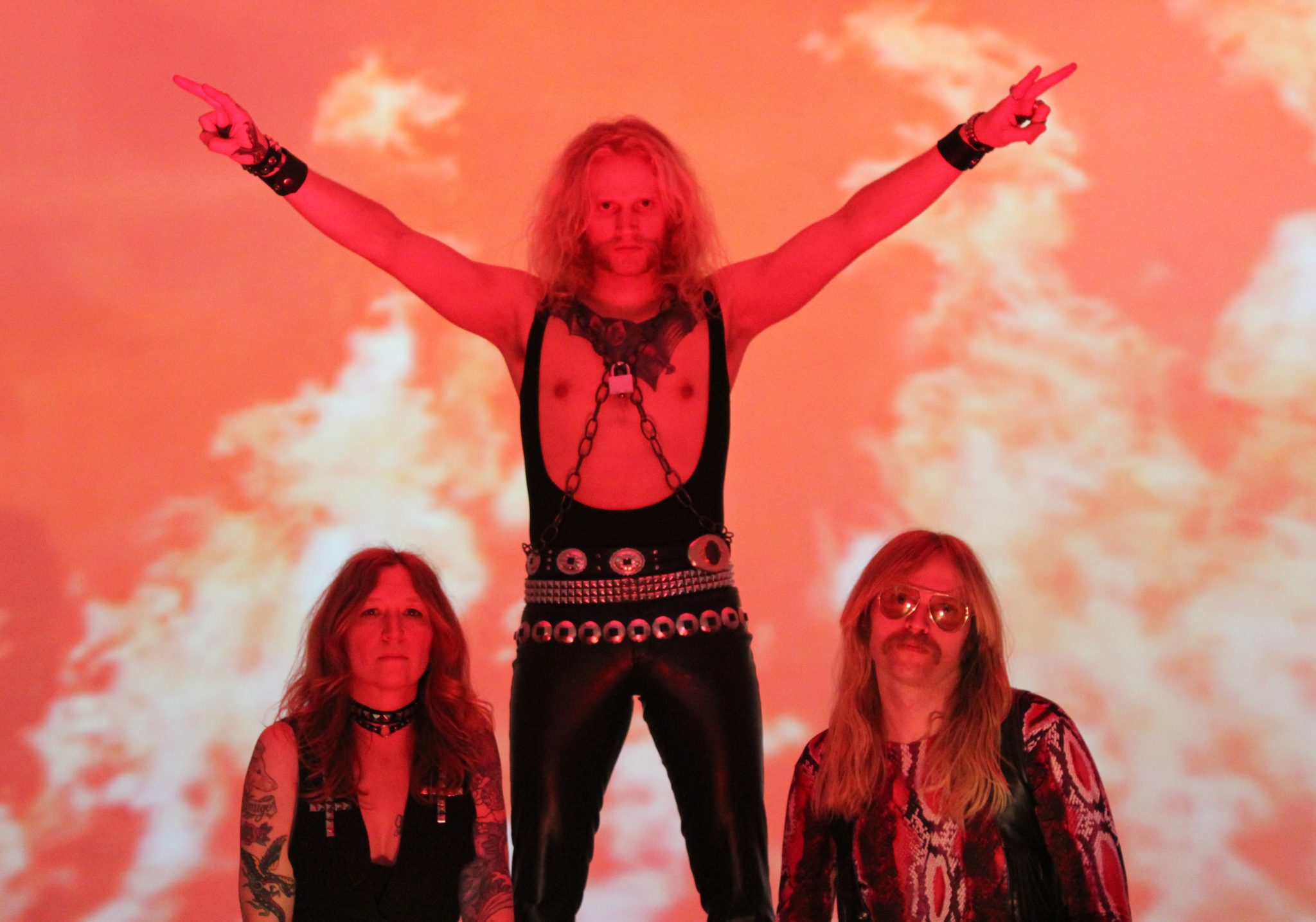 On April 24th internationally,
Dying Victims Productions
will release the striking debut album of Canada's
Sandstorm
,
Time to Strike
, on CD and vinyl LP formats. And today,
Deaf Forever magazine's website
reveals the new track
"Death is Near."
Hear
Sandstorm
's "Death is Near" in its entirety exclusively
HERE
.
Hailing from Vancouver,
Sandstorm
are a power-trio in the grand tradition: PJ "The Butcher" La Griffe on drums, Reptile Anderson on lead vocals & bass guitar, and Stevie "Broke" Whiteless on lead vocals & guitar. The band formed during the winter 2017 and were initially inspired by '80s Swedish underground metal, the original NWOBHM movement, and "Rob Halford's Instagram account." While knowing (and fully embracing) all of heavy metal's over-the-top aesthetics at the dawn of the 1980s, it became immediately apparent that
Sandstorm
were indeed the Real fucking Deal when faced with their debut album,
Time to Strike
.
In early 2019,
Sandstorm
digitally released
Time to Strike
and did a self-released run of 100 CDs and tapes, all of which sold out quickly, and for good reason: here was glorious (and gloriously scrappy) pre-speed/thrash HEAVY METAL in the literally ancient, sword-wielding style so favored in the early '80s, rendered in such authentic (and authentically over-the-top) style, you'd be forgiven for thinking that this was some unearthed relic from the era. Nothing's overdriven here, and everything moves at a patient yet hot-rocking pace; all strings suitably retain a strong sense of rock 'n' roll, pared back in distortion to allow the medieval melodicism to work its magick. And, like all the best early true metal, the vocals are clear and authoritative and just high-pitched enough to evoke that misty 'n' mystical sensation. And although
Time to Strike
comprises but six songs, each one's a mini-epic in its own right, making the album a compact but somehow expansive 35 minutes.
Many references could be made to
Time to Strike
, but no specific one in particular – that's just how infectious and charismatic
Sandstorm
are. And this is only the beginning, with more new material due later this year on
Dying Victims
. Additionally,
Sandstorm
will play Sweden's esteemed Muskelrock fest this year, which perfectly suits the band's obscure 'n' old-school take on heavy metal. Fuck yeah, it's
Time to Strike
!
Begin striking with the brand-new track "Death is Near" exclusively
HERE
,
courtesy of
Deaf Forever
, Germany's defenders of the true.
Also see their fiery, OTT official video for "Denizen of Hell" HERE and the rustic 'n' retro video for "Death is Near" HERE, both at the band's official YouTube channel.
Cover and tracklisting are as follows:
Tracklisting for Sandstorm (Canada)'s Time to Strike
1. Death is Near
2. Whips and Chains
3. Witchman, Sorcerer of Satan
4. Denizen of Hell
5. Hymn to the Hell Knights
6. Lucia, Warrior of Light

MORE INFO:
www.facebook.com/hotrockinsandstorm

www.dying-victims.de
www.facebook.com/dyingvictimsproductions