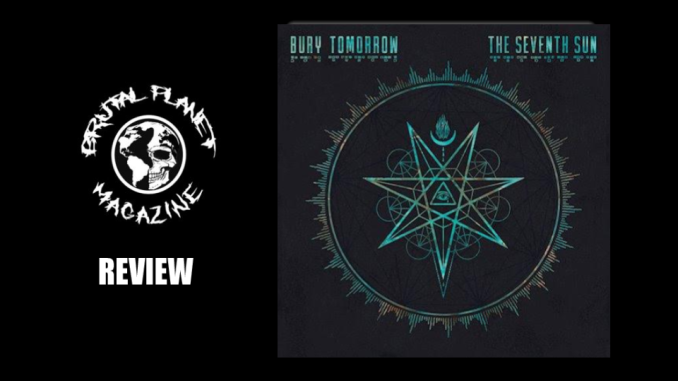 British metalcore band Bury Tomorrow has delivered another knockout performance once again!  Their seventh studio album, "The Seventh Sun" will be released on March 31, 2023.  Following the success of both the band's last two albums, "Black Flame" and "Cannibal," Bury Tomorrow reunited with producer Dan Weller (Young Guns, BabyMetal) to produce the band's most mature release in their seventeen-year career. This is also the first album to feature the band's newest members, Ed Hartwell (rhythm guitar) and Tom Prendergast (keyboards/clean vocals) who joined after Jason Cameron's departure in 2021.
The title track, "Seventh Sun," starts the album with all the force you would expect. The guitar riffs hit hard, the anthemic chorus brings a great dynamic to the song, and Bates' vocals are simply brutal as ever.  The second track, "Abandon Us," was released as the album's first single last October. Unless you've been living under a rock and haven't heard it yet, you know the vocal delivery is absolutely sick when Bates screams "Remove the veil and the doubt. They'll see the worst of us now (Why?) Turned their back to cast out. How could they do that to us? (Pray) Face the pain and push down. Not all lost can be found. (Why?) Forced to break and cast out. How could they do that to us?" I knew from the first time I heard the new single that this new version of the band was something special. As I listen to this song again amongst its placement in the tracklisting, I love it even more. 
"Begin Again" features a good share of clean vocals but it still hits hard and is a really solid track. The intro to "Forced Divide" already comes in at a fast pace but the song quickly picks the tempo up, even more, and feels like a thousand punches to the face. Headbangers, beware! The lyrics and vocal delivery are angry and are sure to help any listener release some pent-up aggression. Fans of the band already know about "Boltcutter." It was released as a single last November and the official music video has already surpassed a quarter of a million views. "Wrath" is a song that deals with the topic of loss and is the album's longest track, coming in at just over five minutes. 
A real surprise for me was hearing the song "Majesty." You don't often hear ballads done well on metal albums, but this song is top-notch. The song highlights clean vocals and is accompanied by a piano and ambient music. It does drop a heavy part ⅔ of the way through but it transitions to that agreeably and is one of my favorite tracks for sure. "Heretic" was just released in mid-February as the band's latest single. It's a killer track that also features guest vocals from Loz Taylor of While She Sleeps. "Recovery" is another great track that features a catchy chorus and "Care" is a chaotic ensemble of great riffs and vicious vocals. The album ends with "The Carcass King." This final track is bass-heavy and unique. Cody Frost, who first appeared on The Voice UK in 2016, makes an appearance on this final song– making it the first Bury Tomorrow song to feature female vocals.

The number seven is often symbolic of perfection and completion. It seems fitting that this is the band's seventh studio album. It is a perfect follow-up to "Cannibal" and is a complete representation of the band's seventeen-year career. "The Seventh Sun" is beautifully vicious and it shines brighter than any of their albums so far.