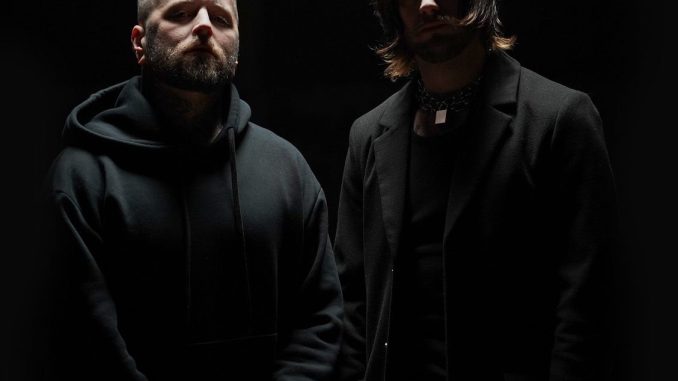 NEW ALBUM THE SEVENTH SUN OUT MARCH 31 VIA MUSIC FOR NATIONS
BAND TOURING THE U.S. FOR FIRST TIME SINCE 2010 THIS SPRING!
British metal sextet Bury Tomorrow have premiered the video for "Heretic," featuring While She Sleeps frontman Loz Taylor. Watch it here.

"Heretic" is another crushing taste of their forthcoming seventh album, the aptly titled The Seventh Sun, releasing March 31 via Music For Nations. Pre-order it here.

Dani Winter-Bates states, "'Heretic' is here, and we knew from day one of recording that this song was something we wanted the world to hear immediately. It's right up there with the most aggressive and visceral tracks on the album, with an inherently dark feel, both lyrically and musically, which allowed us to delve into some of the more brutal elements of The Seventh Sun. All in all, we're extremely proud to showcase this track and can't wait to see what people think."

The track marks the band's first vocal feature since Hatebreed's Jamey Jasta appeared on "301" from the band's 2016 album Earthbound. Winter-Bates recollects, "From the off, we knew this song merited a guest vocal spot, and Loz Taylor of While She Sleeps sprang to our minds straightaway. He is already an absolute legend in our eyes, and working with him on this track has only confirmed that status further. His voice incorporated perfectly and has undoubtedly taken the song to the next level – we couldn't be happier."

The accompanying video was once again created in collaboration with director Matt Sears, who directed the horror-inspired, two-part short film that are the "Abandon Us" and "Boltcutter" music videos. This time around, the video is set at an Illuminati-style meeting, worshipping The Seventh Sun. When one of the members is discovered to be a "heretic" and "wanting out," he desecrates the purity of the club, angering The Seventh Sun, who plunges the meeting into chaos.
Bury Tomorrow will embark on a Spring 2023 headline tour of North America. All dates are below. Get tickets
here
.
The tour marks the first time the band has toured North American since 2010 and it is a welcome return!
BURY TOMORROW ON TOUR:
WITH HOLLOW FRONT, AFTERLIFE, + SIAMESE:
5/2 — Los Angeles, CA — The Echoplex
5/3 — Tempe, AZ —The Marquee
5/5 — Dallas, TX — Granada Theater
5/6 — Austin, TX — Come And Take It Live
5/7 — Houston, TX — House of Blues Bronze Peacock
5/9 — Atlanta, GA — The Masquerade (Hell)
5/10 — Charlotte, NC — The Underground
5/11 — Nashville, TN — The Basement East
5/12 — Indianapolis, IN — Hi-Fi Annex
5/13 — Chicago, IL — Park West
5/14 — Detroit, MI — El Club
5/16 — Toronto, ON — The Velvet Underground
5/17 — Montreal, QC —Fairmount Theatre
5/19 — Cambridge, MA — Middle East Downstairs
5/20 — New York, NY — Gramercy Theatre
It's never too late to be what you might have been. Sometimes you just need a push to take the plunge. Few people would be greater advocates for this truth than Bury Tomorrow.
Faced 18 months ago, following a period of external and internal strife, with the very real reality that it might be time to pack up their successes and close the book on a storied career of 15 years, with their hands forced and backs to the wall Bury Tomorrow instead picked up fate's gauntlet and set about writing the chapter they had always imagined.The Seventh Sun stands as testament to the bonds and belief required to shape themselves a new reality, a new sound, and a new future.
Refocused yet no more restrained, the album's expanded sonic palette platforms sky-high melodies, layered with textured atmosphere, cloaking an underlying savagery.
The thematic threads weaved through The Seventh Sun are met in kind by a throughline that musically stitches together each of its 12 tracks — an idea that guitarist Kristan Dawson has sought to execute for years. "Every single song sets up the next part of the record," he reveals. "I wanted it to feel like a one long body of work." In doing so, the album takes on its own kind its own sonic story-telling. "I feel like I was musically at where Dan was at lyrically," Dawson suggests.
All of this combines, as Winter-Bates asserts, to exhibit "the best version of Bury Tomorrow people will have heard." Positivity, and possibility, now seems boundless, where not so long ago doubts persisted. "That is as much to do with Tom (Prendergast — keys/vocals) and Ed (Hartwell — guitar) joining the band as it is about the rest of us," Dawson notes. "I think we'd convinced ourselves at times that we weren't friends, when actually, we're family. You can't have this sort of life experience and not be and not be as emotionally connected to each other as we are."
The guitarist points to the album's numerical title, saying, "You know, there is something in the number seven that is very representative of change. There's a renewal aspect to it — seven days in a week, seven hells, and so forth. And on our seventh album, that's the case for us, too. I hope fans hear how much we appreciate the opportunity we have to make music for them. It's an opportunity for us to showcase our love for, put our stamp on, and represent UK metal. What a privilege that is for us, and we're ready to prove that we're doing everything for those right reasons."
THE SEVENTH SUN TRACK LISTING:
"The Seventh Sun"
"
Abandon Us
"
"Begin Again"
"Forced Divide"
"
Boltcutter
"
"Wrath"
"Majesty"
"Heretic"
"Recovery?"
"Care"
"The Carcass King"
BURY TOMORROW ARE:
Kristan Dawson — Lead Guitar
Daniel Winter-Bates — Vocals
Davyd Winter-Bates — Bass Guitar
Ed Hartwell — Rhythm Guitar
Adam Jackson — Drums
Tom Prendergast — Keyboards/Vocals
LEFT TO RIGHT:
Daniel Winter-Bates: Vocals; Ed Hartwell: Rhythm Guitar; Adam Jackson: Drums; Kristan Dawson: Lead Guitar; Davyd Winter-Bates, Bass; Tom Prendergast: Keyboards + Vocals