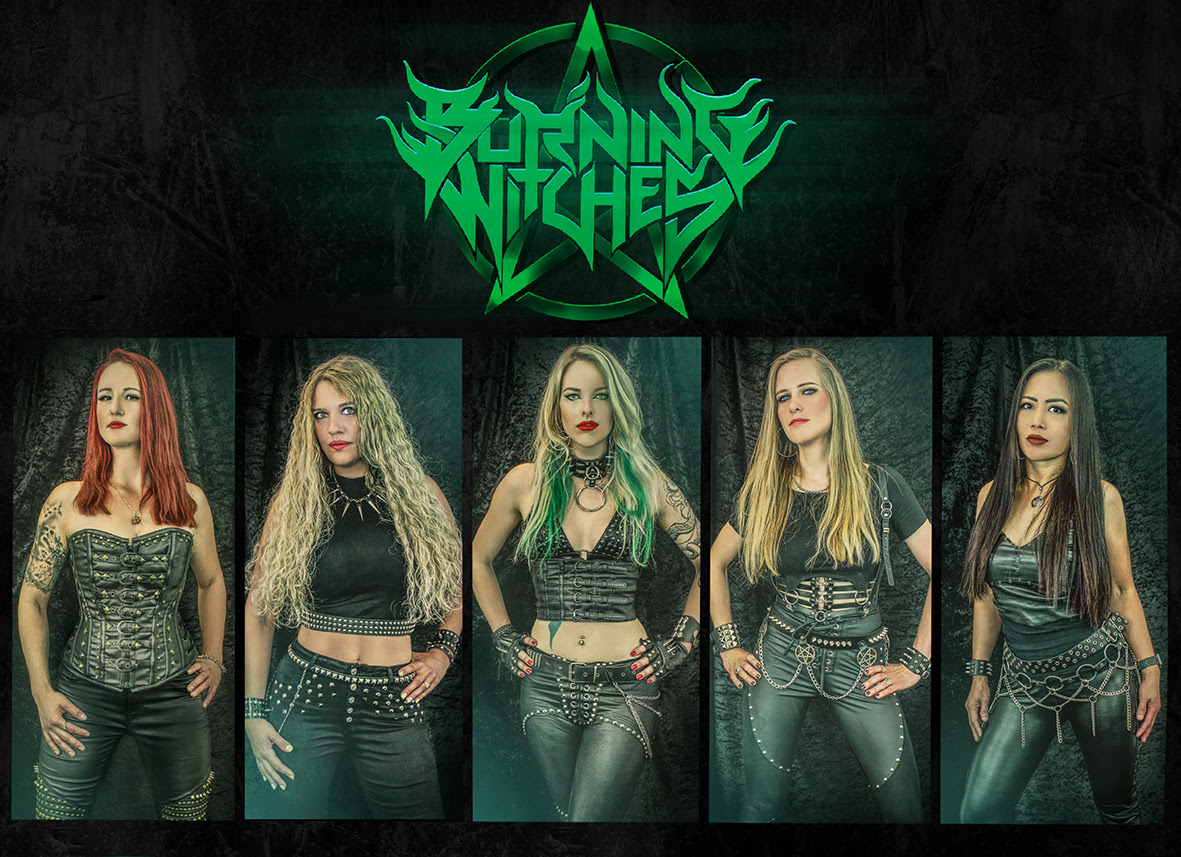 The Swiss all-woman heavy metal band BURNING WITCHES has launched the pre-order for their The Circle Of Five vinyl EP today. Accompanied by their mighty new WITCH Larissa, the ladies recorded their new masterpiece a few weeks ago, which will be released on December 4th, 2020 via Nuclear Blast. Vocalist Laura greets their fans: https://youtu.be/MwjfKWbtqSU

This new masterpiece is available in two limited formats: A limited mint vinyl EP and a limited sparkle vinyl EP.

Pre-order your copy of the The Circle Of Five vinyl EP in the format of your choice: http://nblast.de/BW-TheCircleOfFiveEP

The BURNING WITCHES comment: "Due to a high demand of the fans, we are luckily able to release these special songs. The musical products of the current circumstances, are now available together on one vinyl EP. We love the fact that our devotees and the label still supports those unique vinyl releases! In these digitalized times, it is more important than ever!"

The Circle of Five Tracklist
Side A
1. The Circle Of Five
2. We Eat Your Children (live)
Side B
1. Dance With The Devil (live)
2. Black Magic (live)

Check out the video for The Circle Of Five here: https://youtu.be/u1p95tf2jlo

BURNING WITCHES' manager and DESTRUCTION front man Schmier comments: "Indeed the circle is now complete with Larissa. It was amazing to see how the girls have progressed throughout these last months! The new song 'Circle of Five' is a strong statement for the next album and the future of this bright shining HM diamond that the girls are! All hail to the WITCHES!"

Save the single on Spotify, Apple Music and Deezer here: http://nblast.de/BW-TheCircleOfFive

There is more witchcraft coming soon!
Check out the official BURNING WITCHES' social media.
—
Order Dance With The Devil now: https://nblast.de/BWDanceWithTheDevil
—
Watch the BURNING WITCHES Corona Acoustic Session here: https://nblast.de/BW-AcousticSessions
The three songs were recorded live at Little Creek Studio in Switzerland with special guests Courtney Cox(THE IRON MAIDENS), Larissa (the new WITCH on guitar), and Noelle Dos Anjos (NUNGARA, ALKOHOLIKA).
The tracklist reads as follows:
1. Black Magic
2. We Eat Your Children
3. Dance With The Devil

—
BURNING WITCHES is:
Laura | vocals
Romana | guitars
Larissa | guitars
Jay | bass
Lala | drums