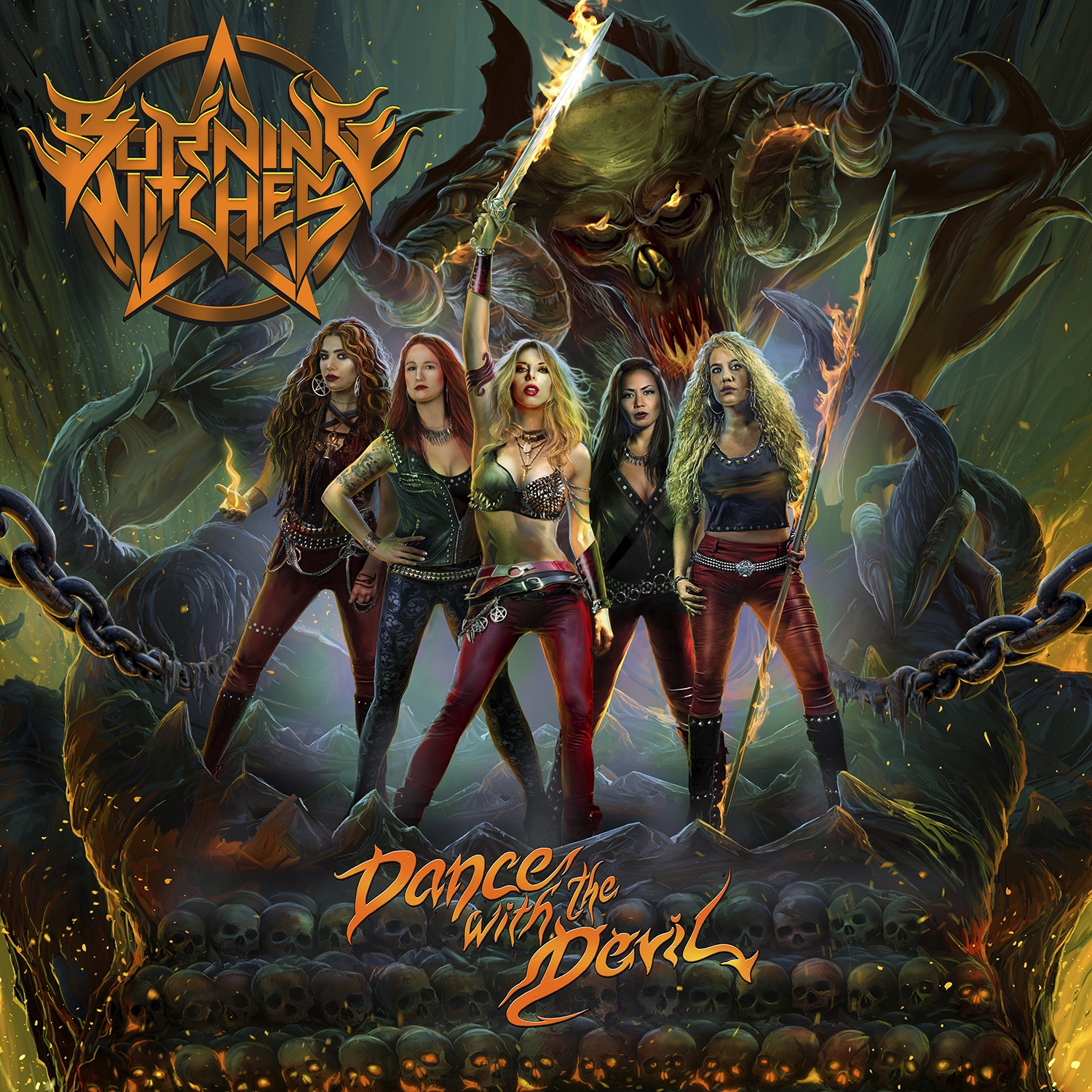 When you name a band Burning Witches you better be a bunch of badass bitches. In the vain of Doro and Liv Sin Burning Witches is flying high with guitars instead of brooms. The Swiss band got their start in 2015 and released their first single in 2016 aptly named "Burning Witches." In 2017 Burning Witches, the self-titled album was released. Then in 2018, they released Witch Hammer via Nuclear Blast Records. Here we are in 2020 and Burning Witches have summoned Dance With the Devil.
The album starts with an introduction titled "The Incantation." From that point hold on because you are in for the ride of your life. "Lucid Nightmare" begins and any chances for lucidity are gone. Its catchy lyrics sung by sinister-sounding Laura Guldemond combined with galloping beats make it a track that substantiates the seriousness of Burning Witches. We move into "Dance With The Devil" and heavy metal grooves start to take effect. Guldemond's vocals take Doro like shape as she belts out a catchy chorus and it will have you singing:
"Dance, dance with the devil
Dance, dance with the devil
Come and lose yourself tonight
Dance, dance with the devil
Dance, dance with the devil
Come join the witches running wild"
The album continues to burn through titles like "Wings Of Steel' and "Black Magic" and then thrust into Sea Of Lies. The drumming of Lala Frischknech is stellar on the track.
One of the heaviest badass tracks on Dance With the Devil is "The Sisters Of Fate." The guitar work of Romana Kalkuhl and Sonia Nusselder rules this song. It has an Iron Maiden sound combined with a little Deep Purple bass provided by Jeanine Grob. The Pantera influenced sound of "Necronomicon" raises the demons from the depths of hell. Things cruise through "The Final Flight" and land in "Threefold Return."
The album's finale is "Battle Hymn" and features Manowar legend Ross "The Boss," and Michael Lepond of Symphony X. "Battle Hymn" delivers the peaks and valleys as it should including a blistering guitar solo.
Burning Witches Dance With The Devil stands tall as one of the heavier albums released thus far in 2020. This band of Badass Bitches proves why they played Wacken in 2019 and will be appearing at the Sabaton Open Air in 2020. Pick up your copy of Dance With The Devil when it is released on March 6, 2020, via Nuclear Blast Records.