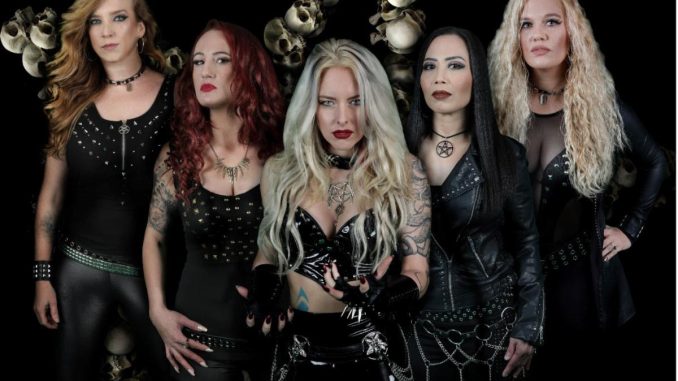 Visiting Western USA and Mexico
Beginning December 1st in Mexico City, MX
Tickets On Sale Now!
Latest Album, 'The Dark Tower',
Out Now via Napalm Records — Order HERE
Your favorite heavy metal force, BURNING WITCHES, are thrilled to finally announce their 2023 North American headline tour of the western USA and Mexico! The tour kicks off in Mexico City, MX on December 1 at the Life After Death Horror Festival. They will visit several major cities in the US before the tour comes to an end on December 17 in Roseville, CA.

Tickets on sale now, and are available via local venues – see all information via the band's official website.

BURNING WITCHES offers:

"Hey, North America! We're excited to announce that we will see you soon out west! We look forward to rocking out with you all in Texas, California, Nevada and Arizona this time around!"
Upcoming BURNING WITCHES North American Headline Tour Dates:
December 1 – Mexico City, MX @ Life After Death Horror Festival
December 3 – Houston, TX @ Roof Top Lounge
December 6 – Hollywood, CA @ The Whisky
December 7 – Las Vegas, NV @ Vamp'd
December 8 – Glendale, AZ @ 44 Sports Bar and Grill
December 9 – Tucson, AZ @ Encore Tucson
December 12 – Denver, CO @ The Rickhouse
December 14 – Morro Bay, CA @ The Siren
December 15 – Fresno, CA @ Fulton 55
December 16 – Reno, NV @ Virginia Street Brewhouse
December 17 – Roseville, CA @ Roseville Trading Co.
BURNING WITCHES recently dropped their fifth studio album, 'The Dark Tower'. With just a sip of their bewitched brew of heavy metal, the quintet whisks the listener back to the heyday of the hottest and cruelest era in rock history. Inspired by the trademarks of classic 80s heavy metal – like skyscraper guitar solos, bludgeoning raspy vocals, banshee screams and fast paced drums – BURNING WITCHES unleash a searing attack once more with their fifth studio album and Napalm Records debut, 'The Dark Tower', released on May 5, 2023. Fasten your broom's seatbelt for this wild and fiery ride!

Watch the Video for "The Dark Tower" HERE
BURNING WITCHES are:

Laura Guldemond – Vocals

Romana Kalkuhl – Guitars

Courtney Cox – Guitars

Jeanine Grob – Bass

Lala Frischknecht – Drums

FOLLOW BURNING WITCHES: