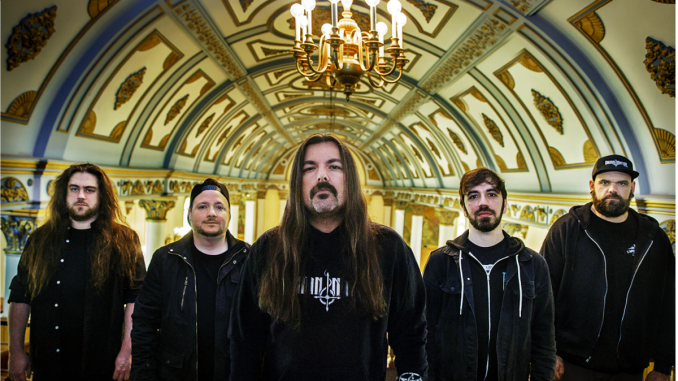 BURNING THE OPPRESSOR SIGN TO CANDLELIGHT

DAMNATION OUT OCTOBER 29 VIA CANDLELIGHT

BAND SHARES LYRIC VIDEO FOR "WARRIOR" FEATURING SIMON GIRARD OF BEYOND CREATION — WATCH + LISTEN
Candlelight Records is excited to announce signing Canadian death metal quintet Burning The Oppressor and the release of new album DAMNATION on October 29.
The band has released the first single from album, "Warrior," featuring guest vocals from Beyond Creation's Simon Girard.
Watch the lyric video for "Warrior" here.
Pre-order Damnation here.
"It is with great pride and enthusiasm that Burning The Oppressor joins the legendary and incredible Candlelight Records roster," the band says. "Working with such an experienced and professional team means a lot to us. We grew up listening to the artists who have evolved on this label, and now we are part of it…It's amazing!"
On the upcoming album, the band shares, "We are extremely proud to present our next album; Damnation, produced by Christian Donaldson (Cryptopsy, Shadow Of Intent, Ingested, Despised Icon, Beneath The Massacre, Beyond Creation). As an album with heavy social criticism where the dark side of the human experience coexists with mental illness and degradation, we are confident that we will be able to make the metalheads headbang to the sound of our music."
Burning The Oppressor was founded in 2012 by passionate musicians with different influences and armed with remarkable stage dynamism. With intense texts and brutal riffs, BTO puts into words and sounds the trials of modern life and the sufferings of a society in turmoil. Militant in favour of social equity and the inclusion of all people, the band denounces discrimination and oppression through its work.
Strong from their experiences and numerous performances, from the early days at the Montebello Rockfest Festival to the latter days at Heavy Montréal Festival, BTO's reputation is now stronger than ever. The name still resonates in the minds of all of those who have seen them live. The band has taken the metal scene with strength and burned down each and every venue it has performed at. It proudly shared the stage alongside great bands such as Skeletonwitch, Mass Hysteria, Tagada Jones, The Agonist, Beyond Creation, Jungle Rot, The Browning, The Acacia Strain, After the Burial, The Black Dahlia Murder, and Jinjer.
Burning The Oppressor also left its mark with its three previous albums: The Ignition (2012), Verbal Aggressor (2013), and Bloodshed (2017). Each of these albums were nominated for "Best Independent Metal Album" at GAMIQ Awards and Bloodshed won the public's choice award for the "Metal Album Of The Year" in 2017.
With their forthcoming album, Burning The Oppressor will raise the rage to new heights and pursue its ascent on the metal scene. Armed with its groove death metal, the Canadian lineup is ready to rip your ears apart with blistering, yet catchy riffs, energy and passion.
DAMNATION TRACK LISTING:
"Cannibal K"
"The Oppressor"
"Martyrize"
"Black Eye"
"Wrongdoers Of The Seas"
"Crackhead"
"Damnation"
"Darkest Moonlight"
"Seven Generations Raped"
"Infamous Human Beast"
"Insanity"
"Warrior" (Feat. Simon Girard)
BURNING THE OPPRESSOR ONLINE: