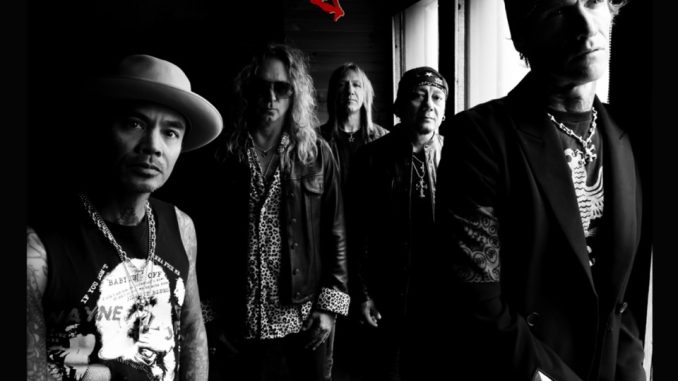 The Veteran rock band from California, Buckcherry, are back with their newest album. The record is appropriately titled Vol. 10 and is set to be released on June 2 through Roundhill Records (on all platforms).
The band, consisting of Josh Todd on vocals, Stevie D. (Dacanay) and Billy Rowe (formerly of JetBoy) on guitars, along with Francis Ruiz on drums, and Kelly LeMieux on bass, are back with a powerhouse collection of rock and roll songs. This latest body of work proves that the band still has plenty to say to the rock world and their fans.
The first two tracks "This and That" which has a rockabilly vibe and "Good Time" a party rock anthem start the record off strong. Both songs are groovy and fun with a touch of country / blues feel, chanting vocals and blazing guitar solos.
"Keep on Fighting" is a powerful and aggressive tune. It builds you up to each chorus and takes you through to the winding solo and hammering drums in the breakdown. It's one of the strongest songs on the record in my opinion.
"Feels Like Love" is the first ballad on the album and sounds like it could be out of the 80's / 90's hair metal era. It's very reminiscent of what you would hear from bands like Whitesnake or Def Leppard during that time. The guitar solos are smooth and the entire song flows nicely. The lighters will definitely be illuminating the arenas when they play this one at the live shows, no doubt.
"One and Only" has a more dark and grungy feel to it and sounds like the typical "we're not gonna take it anymore" rock anthem. The song's underlying message is about being at the end of your rope when it's time to stand up and fight. The soaring vocals and powerful guitars create a musical journey that tells the story well.
"Shine Your Light" is another great rock and roll song and will be a fan favorite. It's definitely one of the stronger tracks on the album with vocals that are easy to sing along to and a groove that fans will eat up.
"Let's Get Wild" is the type of party tune that you would expect from Buckcherry. The louder the better with this song. It will undoubtedly be another hit for the band to add to their collection.
Finally, the cover of Bryan Adams' 1985 hit, "Summer of '69" is executed as you would expect. It's not something that most Buckcherry fans might anticipate from the band given their style… but it somehow also seems so perfect.
Overall, this is a strong record for the band. The more you listen to it, the better it gets.
Buckcherry is on tour starting in July. They will be co-headlining with Skid Row beginning in August through September 2023.
Vol. 10 is available everywhere on June 2, 2023. Click here to stream or pre-order.