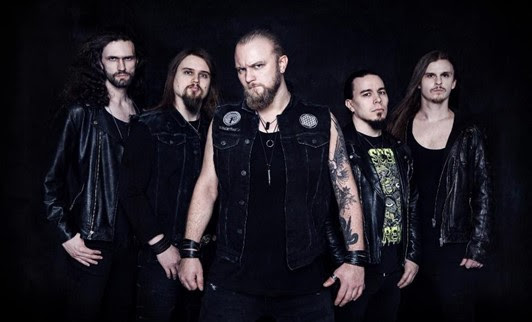 Watch HERE!
Get Your Copy of the
Latest Album, 'Voices In The Sky', NOW!
On Tour with Battle Beast this Fall!
Melodic death metal outfit BRYMIR have released a new performance music video set to their bludgeoning track, "Seeds Of Downfall", cut from the band's stunning fourth full-length, 'Voices In The Sky', released via Napalm Records one year ago in August 2022!

With more than a million Spotify streams on their biggest hits, over 100k YouTube views on their most popular music videos and a European tour with Finntroll and SKALMÖLD under their belts, BRYMIR are at the top of the Finnish melodic death metal scene. Together with their peers in WOLFHEART and BEFORE THE DAWN, the five-piece is playing at legendary Tavastia Club in their hometown of Helsinki this autumn, before joining Battle Beast on tour, kicking off November 22 in Haarlem, NL.

"Seeds Of Downfall" is the most aggressive and gloomy track on 'Voices In The Sky', and it doesn't lack anything in majestic arrangements – merging with heroic choirs, it represents the technical brilliance of the unit at its best. Check out the captivating official performance video below!

Viktor Gullichsen on "Seeds Of Downfall":

"In honor of the first anniversary of our latest album, we present you with a music video for the song 'Seeds of Downfall'. It's a live video shot at the release show of 'Voices in the Sky' at Tavastia, Helsinki. (when I still had some hair left on my head). Tavastia is one of our all-time favorite venues and watching this brings back many sweet memories from that exciting time we when finally got to show our new stuff to the world. Let's wish our album a happy birthday and blast the heck out of our new video!"
BRYMIR Live 2023:
w/ Wolfheart & Before The Dawn
22.09.2023 FI – Tavastia / Helsinki
23.09.2023 FI – Pakkahuone / Tampere
w/ Battle Beast
22.11.2023 NL – Patronaat / Harlem
23.11.2023 BE – Zappa Club / Antwerpen
25.11.2023 GB – Electric Brixton / London
26.11.2023 GB – The Fleece / Bristol
28.11.2023 GB – Academy 2 / Manchester
29.11.2023 GB – Garage / Glasgow
01.12.2023 GB – Asylum / Birmingham
Viktor Gullichsen adds:
"It's always a pleasure to join our brothers from Battle Beast on tour and this time even more, as we finally get to bring our show to Great Britain for the first time. Our guitarist Joona plays in both bands, so don't miss these special nights with him on double-duty!"
Walking the line between melodic death metal and traditional genres like folk and classical music BRYMIR continuously pioneer the limits of the genre, dashing ahead with their notorious sound. Mixing endless riffs, with catchy choruses, blistering solos and a flawless production, the unit creates skillful soundscapes of pure epicness.
'Voices In The Sky' Track List:
3. Fly with Me
4. Herald of Aegir
5. Rift Between Us
6. Landfall
7. Borderland
8. Far from Home
10. All as One
11. Diabolis Interium (Bonus)
'Voices In The Sky' is available in the following formats:
=> 1-CD Digisleeve (6 Panels)
=> 1-LP Gatefold RED (TRANSPARENT)
=> 1-CD Digisleeve + Shirt
=> Digital Album FOTO (CD Shirt etc.)
BRYMIR are:

Viktor Gullichsen – Vocals

Joona Björkroth – Guitars, Backing Vocals

Sean Haslam – Guitars

Jarkko Niemi – Bass, Backing vocals

Patrik Fält – Drums

FOLLOW BRYMIR: