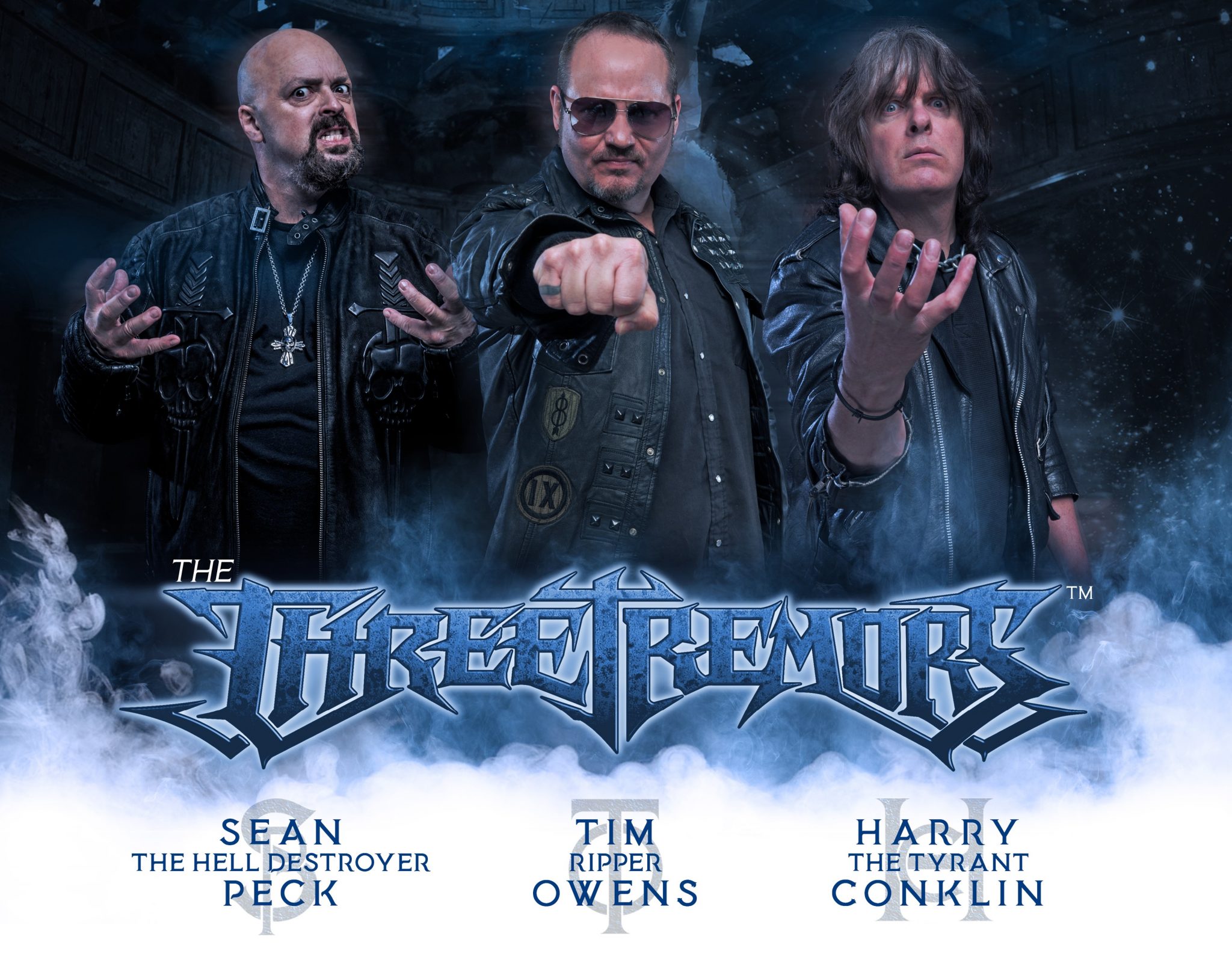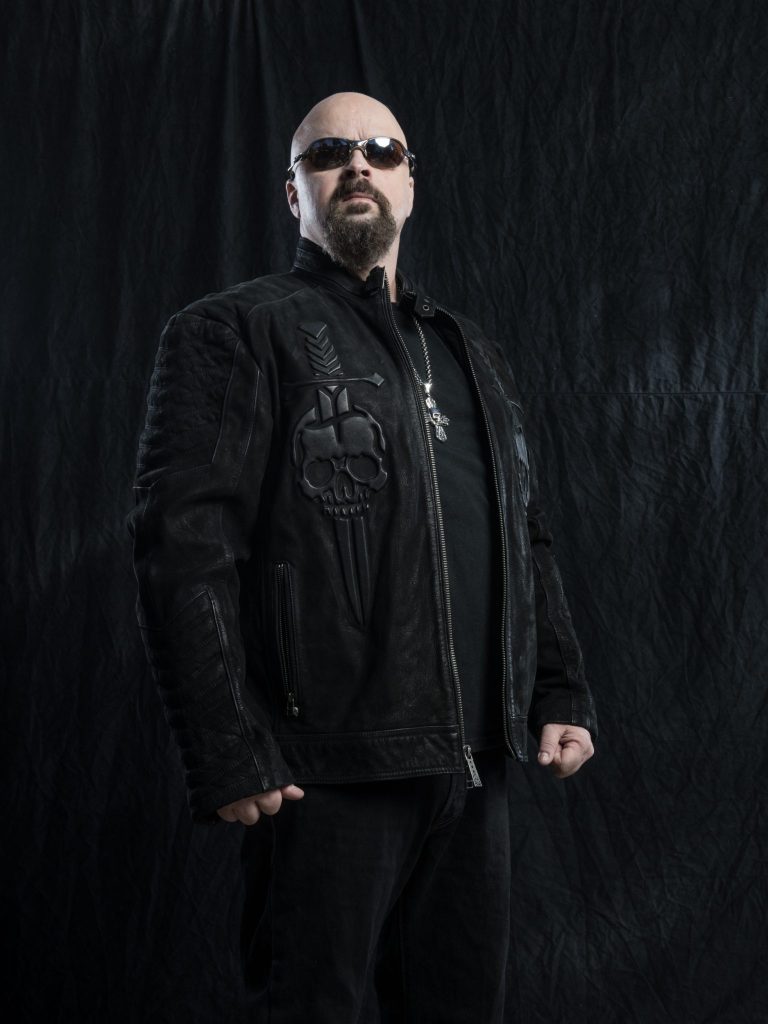 The Three Tremors will release their self-titled debut on January 18, 2019. The band is a project that has been floating around for a few years in the mind of Cage vocalist Sean Peck. They will begin touring in support of the masterpiece later this year.
Brutal Planet Magazine recently conducted an email interview with Sean "The Hell Destroyer" Peck. We asked him a number of questions about the project and then things took a turn and got serious. You can see the interview in its entirety below.
Brutal Planet Magazine: Sean welcome to Brutal Planet Magazine. Thank you for taking the time to answer a few questions for our readers. It goes without saying that you have an amazing voice and one that would naturally belong in the 3 Tremors project based on your work in Cage and Death Dealer, but how did this project come about and how did you become involved?
Sean: Well I came up with the idea to take on this crazy challenge of trying to actually bring the urban heavy metal legend to life about 5 years ago. I reached out to Ripper and Harry and the both agreed not only to help make the album, but put this into a live format and make it a touring band. So because I started the whole thing I got to be one of The Three Tremors. Ha!
Based on the music that has been released it sounds like an amazing album. Who contributed to the writing of the album? Was it a joint process or was most of it done by one of you?
The writing was done by myself, David Garcia and Casey Trask of Cage and the rest of the Cage guys recorded it. I wrote the lyrics and melody lines and Harry and Ripper added a lot of killer nuances and their own spin on the songs that really added a lot to the album.
The recording of the album was an insane task especially trying to decide what not to include since there was so much great stuff the other two guys sent in while doing their tracks. We really had a lot of luck, I think, with how it all came together in the mixing room.
We did not want it to sound like a 'thousand voices of a shit choir' like a lot of albums in the genre do sometime and we avoided that. You can really pick out each guy pretty much throughout the album. The songs are what stands out though. I think they are really great heavy metal songs that happen to have three crazy voices like laser beams blasting through them.
Are there any of the songs that have any special meaning or stand out to you for any reason and why?
Ha! Great question. I write most song lyrics to be an escape and give you that 'fuck yeah!' kind of feeling so most of them are not too "deep" so to speak. That being said "Fly or Die" is really strong in the sense that it uses Roosevelt's actual speech and gets into the attack on Pearl Harbor. Similarly, "The Cause" talks about the rebels of liberty and the Revolutionary War. But it is hard to get too emotional when I am singing about witches or vampires!
You have a tour coming up in February that will cover a lot of ground in a short amount of time. Is this all you have planned for touring or do you have any summer dates planned? I would think this would be an amazing summer European festival tour.
We have all kinds of stuff planned and lots of interest in this. Right now it is all about organizing our schedules to accommodate all the offers we have. Australia, Japan, South America and a return to Europe are all on the calendar right now. This band is a unique and powerful experience that every metal fan has got to come out and see!
This is the part of the interview when things get brutally honest. Since this is The Three Tremors, which is a spin on The Three Tenors, which one are you? Let's take this a little bit further and who are the other guys? These are our picks.
Plácido Domingo= Sean "The Hell Destroyer" Peck
José Carreras= Harry "The Tyrant" Conklin
Luciano Pavarotti= Tim "The Ripper" Owens
Sounds good but maybe I should be Pavarotti because I am a little bigger than the other guys right now! I would like to see the Three Tenors take on the songs of this album though. As great as they are I think they would struggle!
You all have amazing voices and can hit notes higher than humanly possible. Do you guys routinely have contest to see who can break glass with your voice the quickest or any other contest to challenge each other?
(Performing) live we had to actually tame it down a bit. Sometimes when we are up there, really feeling it, we were doing like higher harmonies on "Painkiller" for instance just because it was metal. I have the super high spots in the show just because I have this weird Mariah Carey super screams I have developed that are really fun and cool. Harry and Tim are just insane voices that make the three of us just a vocal cacophony of relentless power. But even though you can hit high notes it is important that it sounds good and we all have the experience to know what fits where and when it is most effective.
Lastly, while I was doing some research on tour dates etc. When I typed in 3 Tremors and Tremors 3 came up. Gotta know if you a fan of those movies and if so were you able to make it through the third one?
I made it through the first one which is a classic and that was about it. I will have to check them out though now that we share the same Google searches. I am a big horror movie fan so it should be a fun ride.
Sean thanks again for taking the time to talk to the Brutal Planet audience. We look forward to seeing the show live and are really excited to hear the whole album.