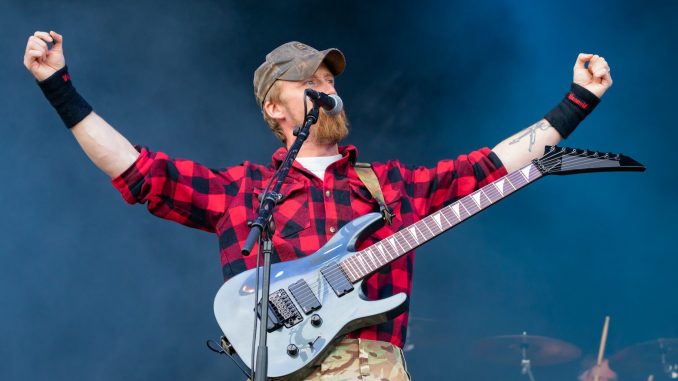 Hulkoff has never been shy about sharing Viking history with the rest of the world. His songs offer a glimpse into the past and his new single "Holmgang" is no different.
Brutal Planet Magazine asked Hulkoff a few questions about the new album and as always he gave us a peak into what to expect from Ragnarök when it is released on September 24, 2021.
1 Brutal Planet Magazine-I read into the story behind "Holmgång" and it is a great way to end an argument. Tell us a little bit about the single and your inspiration covering this subject?
Hulkoff- Haha. Yeah. The ritual of Holmegang was something else. If you were challenged, you could not refuse. If you did, your life was more or less over… Some berserkrs starter to systematically challenge folks to Holmegang for personal gain, but I was mainly interested in the subject as a restoration of honor. Musically, it is a bit of a taste of what is coming on the album. Heavy, pounding Viking powered metal with a hard and maiming industrial touch.
2- The single is taken from your upcoming album Ragnarök which is out September 24th, what other pieces of history can we expect to hear about on the new album?
Ragnarök for me personally, is a collection of small glimpses into various warrior lives and fates. There are vivid descriptions of wolf cult warriors, Viking faith, some Indo European touches and a little bit of the end of the world.
3-Musically you have always used a variety of sounds to tell your stories, does this album use any new instruments to tell those stories?
Yes. We have hurdy gurdys, steppe flutes and Saz on this one. The Saz is a two stringed plucked instrument, that gives a really Steppesounding vibe.
4-Have you recorded the vocals in both Swedish and English as you did with Pansarfork?
I have. Because I think it is the best solution. I love both languages, and I think the lyrics are a rather important aspect. Always great if everyone can understand.