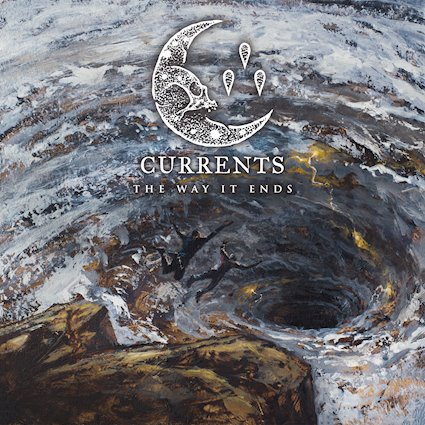 Interview by:
Stephanie Stevens
Connecticut death-infused metalcore band Currents is on the verge of releasing a bludgeoning, well-versed sophomore album, The Way It Ends on Sharptones Records June 5, 2020.
The band consists of Brian Wille, vocals, Chris Wiseman, guitar, Ryan Castaldi, guitar, Matt Young, drums, and Christian Pulgarin, on bass. Currents crept onto the scene with an explosive debut album I Let the Devil In in 2018. They toured alongside bands like August Burns Red, Born Of Osiris, and As I Lay Dying which helped showcase the band as a passionate, brutal, dominating force to be reckoned with.
The Way It Ends embraces the growth and unique perspective the band has for making music. It not only emotionally tackles you but also throws you into the parallel universe of brutality and aggression.
Stephanie Stevens had the chance to speak with Vocalist, Brian Wille, via email about the writing this album, the inspiration behind some songs, and how Sharptone Records has been like a family to them. The interview can be read below:
Brutal Planet Magazine: The new album THE WAY IT ENDS seems to blend a lot of emotional elements into the songs on this album, bringing a more diverse sounding album was that a goal for this album?
Brian Wille: We always try to shake things up on a record. It's really important for us to make every song it's own, and the best way to do that is to cover a wide range of moods and emotions. We wound up having a lot of ambient, somber moments when writing the record which wasn't really intentional, but most of those songs turned out to be our favorite tracks. 

Off the album one song I have on repeat has been "KILL THE ACHE." What inspired this song and what do you hope people get out of this track?
I always think of our time on the 2018 Impericon "Never Say Die!" Tour when I hear Kill the Ache. Never Say Die is a tour that travels across the EU & UK and usually takes 6 or 7 bands of various genres. Our first year had us touring with Northlane, Being as an Ocean, Alazka, Casey, Polar, and Thousand Below. That one of my favorite tours Currents has done to date because of all the amazing places I got to go & the incredible friendships that formed during that month. Kill the Ache reminds me of those bands & memories and it's about holding on tight to the ones you care about even when you're dealing with difficult times. When people hear the track, I hope they feel inspired to take some time to appreciate the people around them and remember that negativity is normal but beatable.

The first single "A FLAG TO WAVE" is a great introduction to the new record. The video showcases the energy of your live performance. With the current times especially in the music world, how are you guys trying to provide that sense of connection to your fans?
We've been trying to find different ways to connect with our fans now that we're unable to tour for a while. The best we can do right now is stick close to our inbox and brainstorm ways to promote the record and keep in contact with everyone. We've been experimenting with live-streamed events & hangouts but there's still a lot of progress to be made as far as playing any live-streamed music. Time will tell though!

The new album is coming out June 5th and I get the sense you guys write a lot about real-life happenings. With that in mind, have you been writing down your emotions or taking notes that could be used as future material?
We're always writing or working on something whether we're on tour or at home. It's definitely important to stay creative and keep trying to work on new projects so that you stay on top of your craft. I'm sure some of the things we've been working on lately will eventually see the light of day, but we're more focused on the release of the new album for now!
5) Sharptone your record label seems to be a father figure for many artists on the label. Do you feel that sense with them? If so how has that helped the growth of the band in a personal and in the sense of creativity? Sharptone definitely takes an active role in promoting and developing the bands on their roster. They've been super helpful to us and have done a great job of getting us in front of people at critical points of the band's growth, while also giving us full creative control of our music. It's very important to work with people who believe in you and respect your opinions and goals, as having a solid team is instrumental to the growth in all fields. We've certainly found that in working with Sharptone.
6) Lastly, how can fans support Currents? ~The best way is to check out our new record "The Way it Ends" in whatever way you consume music. If you like it, be sure to stay up to date with us on our socials and our website currentsofficial.com where we have merch bundles, ways to buy the record, links to more music, and tour dates (eventually).