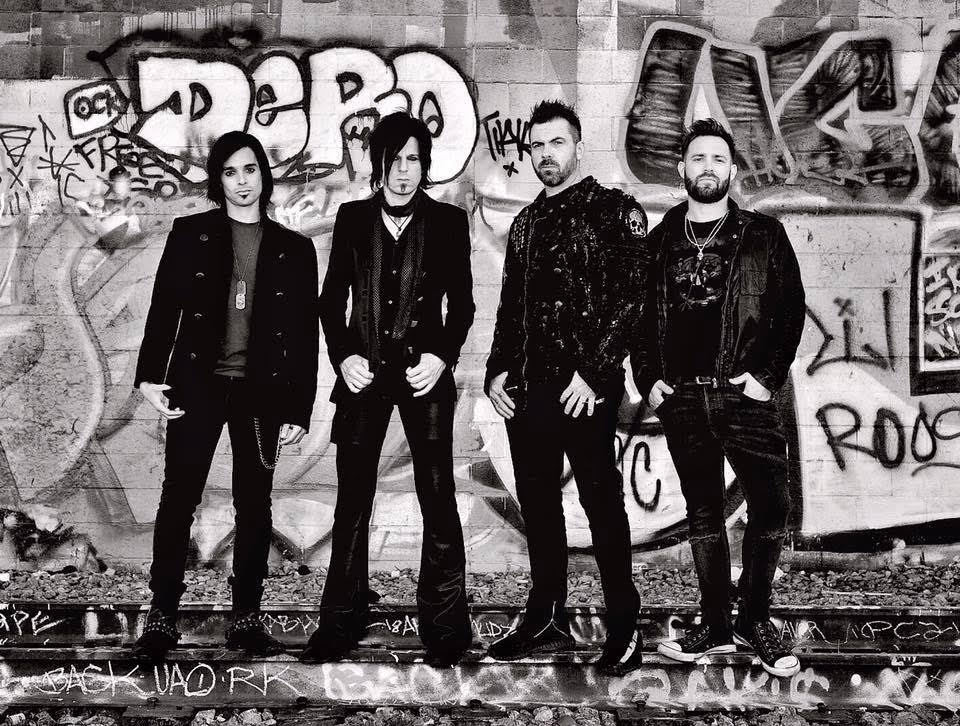 Bad Blood is a new rock band based Los Angeles, California that includes former members of Adelitas Way, Screaming At Demons, and The Last Vegas. Lucky us, right! Right out of the gate, they are showing how much the fans mean to them, by teaming up with the Vezt app to give us a little piece of the music we love. Join me on a little journey to get to know the story of the band and the members a little better, as we await the upcoming release of their debut album.
Brutal Planet: How did you guys end up together from your various other projects?
Kenny Borill: Through Chris (Clemence) and it all came together easy. We all clicked right out the gate.

Chris Clemence: I had already known Chris (Iorio) from working together in Adelitas Way. I've known Kenny (Borill) a long time from the LA music scene and when I met Chad (Cherry) I knew I needed him as the frontman. Together it's a powerhouse group!
Chris Iorio: I've known Chris (Clemence) for over 10 years now from our time together in Adelitas Way. I didn't know Kenny (Borill) or Chad (Cherry) previously, but once we met and started working together it all clicked and now here, we are!
Chad Cherry: I basically met all these guys in a recording studio in Los Angeles. Something guided us all together to create music.
Brutal Planet: Which other position in the band would you want to play around with?
Chris Iorio: I couldn't see myself on stage without a guitar in my hand

Chris Clemence: I think everything is how it should be. We all play an important role and each of us together is what makes Bad Blood what it is.
Chad Cherry: I'm good with where I'm at for now. I'm just gonna keep singing until we decide we need a triangle player.
Kenny Borill: Chad's roadie. All I would have to do is make sure horror movies were on at all times and just hand him his mic. Super easy, haha!
Brutal Planet: If you weren't playing music what would you be doing?
Chris Clemence: Wondering how cool it would be to be a musician haha. Something with art for sure. Tattooing, painting.
Chad Cherry: Again, I would be working at Chad Cherry Clothing.
Chris Iorio: That's a tough question since I've been playing music almost all my life, but probably something with sports.
Kenny Borill: Acting and producing.
Brutal Planet: You've teamed up with the Vezt app, have you found this is a good way to introduce the band and interact with fans?
Chris Clemence: An amazing way! Vezt allows fans to own pieces of their favorite songs and share in the profits and success of the music with the artists they love. What better way to connect with your fans than have them own the songs too! The more we all promote, stream, share the music, the more successful we'll all be, not just the band. It's an amazing music revolution and strengthens the bond between the band and the fans even more.
Chad Cherry: Fans making royalties! How killer is that?! More Bad Blood everything! It's all about the future.
Chris Iorio: I think what Vezt is doing is awesome and revolutionary. We're very happy to be teamed up with them. It makes it that you can actually be a part of some of your artist's favorite music bringing the relationship of "fan" and "artist" closer than ever before.
Kenny Borill: This is an amazing creation. To have a way for your fans to own a part of your hard work and they make money for just enjoying their favorite band. It's amazing for everyone. Vezt is the future. Get in line or get out of the way.
Brutal Planet: How cool is it that 2 of your songs have been picked up for the mutant football league video game before the album is even out?
Chris Clemence: It's awesome! We're honored they didn't choose just one, but two tracks! We're very lucky to be part of such a cool game.
Chad Cherry: Mutants and Bad Blood go hand in hand! So cool!
Chris Iorio: so awesome! We're very happy to have been included in the game!
Kenny Borill: I am a huge video game nerd. To have our songs in a video game to me was like a nerdgasm on steroids.
Brutal Planet: Do you have any shows planned to support the upcoming release?
Chris Clemence: Yes! We are doing a big record release show on July 26 to support the new record coming out. It will be a private, red carpet event hosted by Vezt and Heineken at the Gibson Showroom in Los Angeles. We are excited to play the new record live for everyone!Chad Cherry: July 26, 2019, will officially be BAD BLOOD day!
Be sure to check these guys out and get a piece of the action while you can!