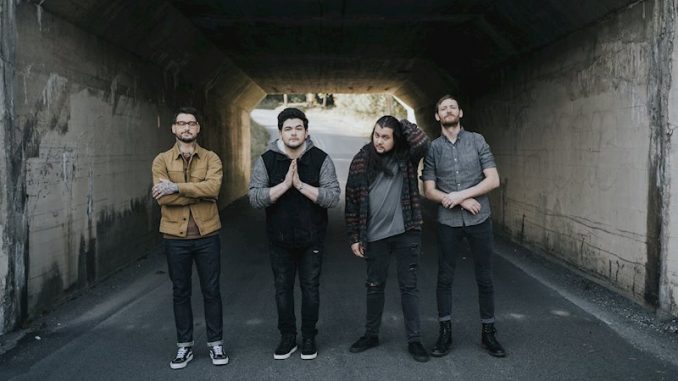 December 2019, my best friend and I made the trek to Detroit in the dead of winter to stand like sardines to watch our favorite band perform. Not one person in that bar understood the changes our world was about to face in the coming months. Live music came to a sudden and heartbreaking halt. I've spent the past year clinging onto the memory of The Spill Canvas and that perfect night.
Brutal Planet Magazine: Your upcoming album, Conduit, releases March 5th; what makes this one special?
Nick Thomas: I'd say the most significant reason Conduit is so important to the band, as well as me personally, is rooted in the nine years that have passed since we released a new album. During that time, a couple members left to focus on family; of which those positions were filled with new players. And, I endured the long road to recovery from substance abuse addiction. In essence, this new music is something we've all been grinding towards for what feels like a lifetime and I think a visceral rebirth energy can be felt on this record over anything else we've done.
The Spill Canvas has an extensive discography, but do you have any writer's regret? If you could delete (or majorly change) one song, which one and why?
Without question I'd love to erase the entire album, Formalities, with the exception of two songs that weren't co-writes, "The Bone" and "Good Graces, Bad Influence." That fourth album was one of great agony to create because the label didn't like any of the music we took a year off to write, so they sent me to LA on several co-writing trips in which I was to create "hits" for the album with writers I was just meeting the day of. Although I have the utmost respect for every one of those songwriters I worked with, what came out is not what Spill is or ever will be again.
Any new talents or hobbies emerge during all the 2020 quarantine madness?
Well, at the top of 2020, I began investing time and money into a little home studio setup in hopes that I'd eventually be able to adequately engineer and track stuff for future albums/projects or demos; which was perfect once the pandy hit, as I was already inside all day. But, furthering my understanding and skill in the pro audio realm has definitely paid off with being able to track extra vocals; and, my favorite acoustic song I've ever written ended up making it onto Conduit.
Aside from promoting the new album, what does 2021 have in store for the band?
So far it's looking like we'll be focusing most of this year pushing the new record. But since touring appears off the table until hopefully 2022, we may be hitting the studio again later this year for more new music. We shall see!
There is one question I try to ask all the artists I interview; the answers have the potential to be so unique. What is your first memory tied to music?
I guess it would be the first concert I ever attended. At the age of seven, my dad took me to see Rod Stewart at the Target Center in downtown Minneapolis. I fell asleep halfway through his set.
Your book, "Slack-Jawed, Glossy-Eyed Ramblings" gave an intimate, behind-the-scenes look, and was the perfect companion piece to a TSC collection. Could another book be in store for fans?
I'm actually working on second volume of SJGER! But, I'm waiting to see what songs from Conduit people react to the most, so I can include those in it. So keep your eyes peeled for that!
You can catch Nick doing a live Q&A Thursday, February 4th at 6pm PST/9pm EST on the Pure Noise Records, Discord. Stay tuned to Brutal Planet Magazine for the full album review.