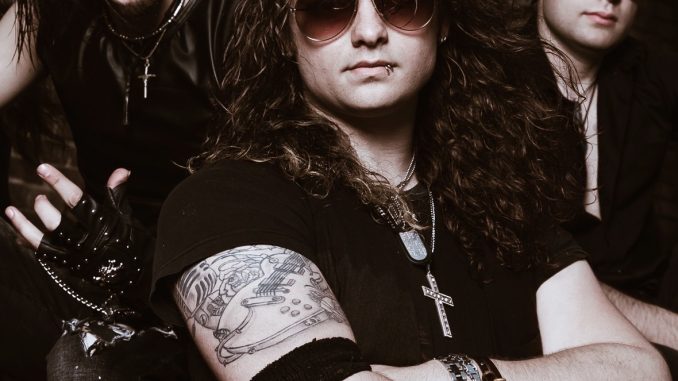 I was first introduced to Faith & Scars four years ago. They were a small local North Carolina band. Their sound called to the southern girl in me that grew up listening to Lynrd Skynyrd. While my taste for music has gotten a little harder, a little rougher around the edges, I still love hearing that southern rock sound.
I can no longer call Faith & Scars a small local band. The music has reached music lovers on the other side of the world. Their latest video, "Rain," reached the earholes of the Swiss, and their sophomore album, Revolver, was given four out of five stars by the Swedes.
Don't be misled. The band members each have differing tastes in music. This blend means that the band can seamlessly flow from southern rock to a heavier sound, like heard in their single "Never the Same."
I had the opportunity to talk to Roger (lead vocalist/guitar). Vernon (bass), and Kyle (guitar).
I don't think I can call you local anymore, can I? You've made it across the pond.
Roger: Yeah, not physically, but our music is very blessed to have press coverage over there.
How does it feel?
Roger: It feels great. It's like a dream come true.
What are you guys going to do with that?
Roger: We're just going to keep plugging away at it. Hopefully, if we build a solid following over there, get some finance behind us so we can actually fly over there and do a few shows. All the feedback that we've gotten, we haven't heard anything negative, We usually hear more negative than positive. So we're blessed in that aspect.
Where are you going to go now musically?
Roger: We're still releasing singles. We're building up to the full record, which should drop hopefully by March. I'm not sure if I'm allowed to say that or not, but, hey, that's what we're looking at. We've got another single coming out in February, so be on the lookout for that. But we did a record, I think, going back like 2019 now. And we've just been looking for the right strategy. It's a different ballgame. The industry is now.
For people who don't know Faith & Scars, what is your sound musically? Where does it fall?
Roger: I don't know. I'd like to think of ourselves as kind of a throwback in a way. I think we try to blend a lot like 80s rock and roll and with like 90s grunge and early two thousands. So a mix between Black Stone Cherry, Guns and Roses, Shinedown. That kind of thing is what we aim for anyway.
How did you guys hook up with Faith & Scars, Vernon and Kyle?
Vernon: Well, the band I used to play in had actually done shows with Faith & Scars years ago, so I knew the guys prior to joining the band and a mutual friend of ours had talked to Roger and found out that they were needing a new guitarist. I messaged Roger on Facebook and got to chat with him and got the songs sent to me and started working on them and went and auditioned and here we are.
Kyle: Mine wasn't too dissimilar. I have a mutual friend of Logan's, who's name is Jason, and he happens to be buddy buddy with a lot of people. One day, I see on Facebook a post from him that says, "Can anyone play bass?" I have been playing for years. He got me in contact with Logan, who got me in contact with Roger, and eventually the rest of the group. I originally thought it was gonna be a very small time, local garage band and once I went immediately went to YouTube and I was very blown away by the professionalism, the amazing music videos. I immediately started learning them and sent in cover videos to the guys. Luckily, they picked me to come in and audition.The rest is history.
Roger, how did you decide to go from four members to five?
Roger: The record was a really long process. We spent a lot of time in multiple studios and we ended up putting in so many guitars that me and Logan just couldn't handle doing it live. So, if you listen to the record there's guitars on guitars on guitars, some buried in the mix, but they're all there. They all serve a purpose. So coming out of the other side of that, we knew we had to hire somebody. Vernon had been making the circles and we thought he's a good fit. We got a few audition tapes in and said, hey, you're probably the guy, let's come in and do an audition.
You are probably one of the few bands that even during this weird world we've got going on right now has been able to like to to go across the pond and get recognition somewhere else other than your local fans. What do you attribute that from?
Roger: I think just hard work and dedication. I think if you put the hard work first, you believe in yourself, and don't take no for an answer. You know, it takes a million nos and just one yes to make the difference. We're just plugging along, waiting for the next yes.
What have you guys got on your playlist right now?
Roger: My playlist is a little bit of everything, really. I'm into outlaw country, you know, Willie and Waylon and Johnny Cash, all that kind of stuff. Obviously the 80s rock 70s. I've got some Hendrix in there, 90s country. I get into Shinedown, Black Stones, all that stuff, Guns N Roses, heard they might have a new record coming out, so fingers crossed for that.
Vernon: I'm a huge Van Halen fan so I've got that going a lot. As far as newer stuff or somewhat new, I'm a big Stone Sour guy. So, I listen to a lot of Stone Sour, a lot of Alter Bridge and I'm a fan of Slipknot and Lamb of God, some heavier stuff but I like anything from like 70s Rock to up til nowish. There's not been too much the last couple of years I've been too crazy about.
Kyle: I'm always looking for different things, so I don't like to keep coming back to a same playlist. I'm probably now more into going back my roots, which got me into music, which would be Metallica. Probably more some of their later stuff, where they got a little more radio friendly. I dabble into like even heavier, talking about death metal occasionally and strangely, even some some kind of techno dubstep stuff. So, I just kind of anything that really, really pops in and gives a thing, I don't really have anything set up.I like to just randomize it.
Well, you know, and that's the best thing. I listened to pretty much straight metal, but it all builds from Johnny Cash and you know that it's all got its progression. I love Roger's version of Folsom Prison Blues. You've got to have some Alter bridge mixed in with your Johnny Cash and your death metal, of course. Any time you can take those those different sounds and marry them together, you come up with different stuff.
Roger: Yeah, absolutely, going back to the Folsom Prison Blues, we started that out with playing the song straight, just like Johnny did, and then figuring out how can we make it our own, we ended up tuning it down two whole steps and playing it in drop B and with those metal chugs and everything. And it's always a fun one to play. Hopefully we can record it some time, put it on record.
Hopefully, we can see it live again sometime. We've got to get back to concerts. Where do you think we're going to be at when this is all over? Concertwise.
Roger: I think only time is going to tell, but, you know, we've done a good job of staying strong and getting through it together. There's a lot of division going on in the world. At the end of the day, we woke up. We're breathing today. So I think that's what we've got to do. We've got to keep moving forward and hope for the best. Keep hard at work and keep faith in ourselves moving forward.
I agree totally. I appreciate you meeting with me today and talking to me. Everybody, if you've got any time to check these guys out their videos are on YouTube.