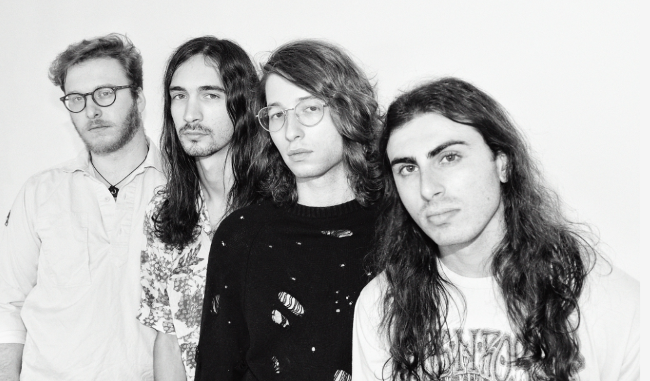 Songwriter and frontman Justin Benlolo says, "I became infatuated with '70s disco and funk over the last year. I really loved that a lot of those influences were showing up in modern music again. In this song, we decided to embody the groove of those timeless classics whilst mixing in our own blend of dark and moody riff rock. In a sense, this is a rock and roll party song."

He continues, "Lyrically, it's the story of star-crossed lovers who are tied up in a toxic relationship. It's become a 'one-sided' relationship, yet this person still justifies their love while being an absolute piece of garbage. As I've grown older, I've seen this happen too many times and decided it would be an interesting thing to touch on. I think a lot of people could relate to this and are probably in that situation right now. I tried to think of what the 'bad guy' might be thinking in this context and what motivates them. All in all, while the lyrics may be serious, I hope this song makes you get up and move!"

He finishes, "We also shot a video in between a few shows last fall — our most silly and fun yet! Ultimately, we decided that this song, and its upbeat feel, needed a cheeky video to accompany the vibe. Our friend Mlny Parsonz of Royal Thunder was cool enough to come down to the shoot and play a part in this as well. I'm very excited for everyone to hear this thing and I hope you'll be ready for what we got coming next. Thank you."
"Like a Drug" follows the previous single "Deadweight," which BBC Radio One's Indie Show presenter Jack Saunders called "the new age of rock and roll."
 
Meanwhile, BRKN LOVE is gearing up to play a number of shows across North America in support of Badflower.

BRKN LOVE ON TOUR:
WITH BADFLOWER:
4/9—Empire Live—Albany, NY
4/10—Rec Room—Buffalo, NY
4/12—Rams Head Live—Baltimore, MD
4/13—Elevation 27—Virginia Beach, VA
4/14—The Underground—Charlotte, NC
4/15—The Senate—Columbia, SC
4/16—House of Blues—Myrtle Beach, SC
4/17—Music Farm—Charleston, SC
4/19—High Dive—Gainsville, FL
4/21—Haute Spot—Cedar Park, TX
4/22—The HiFi—Dallas, TX
4/23—George's Majestic Lounge—Fayetteville, AR
4/25—Waiting Room Lounge—Omaha, NE
4/26—Crusen's—Peoria, IL
4/27—Majestic Theatre—Madison, WI
4/29—House of Blues—Cleveland, OH
4/30—The Vogue—Indianapolis, IN
5/1—Mercury Ballroom—Louisville, KY
 
ABOUT BRKN LOVE:
Fronted by the compelling Justin Benlolo, BRKN LOVE have been creating quite the stir since the release of their self-titled debut album. Picking up over 253 million streams to date, with their Spotify monthly listeners peaking at 580k, single "Shot Down" landed at #15 in US Active Rock radio charts and #5 in the Canadian equivalent, whilst "Crush" reached #5 in Canada's Active Rock radio charts. Additionally, the bands cover of Bishop Briggs' "River" has become something of a viral sensation. Recorded specifically for a special deluxe version of their debut record, it currently has over 50,000 unique videos featuring the track created on TikTok, boasting over 1.9 billion total views across all user and professionally-generated content platforms. Previous single "Deadweight," the first new track to follow the band's debut album — went straight in the top 15 at Canadian Active Rock radio and has seen the hype carry overseas, with UK BBC Radio One presenters, Dan P. Carter and Jack Saunders, both giving the song airtime. Saunders called it "the new age of rock and roll" on his BBC Radio One Indie Show.  Meanwhile, amongst all this early success, Justin Benlolo has been picked up by Gibson Guitars to promote the new line of Gibson Guitar Strings.