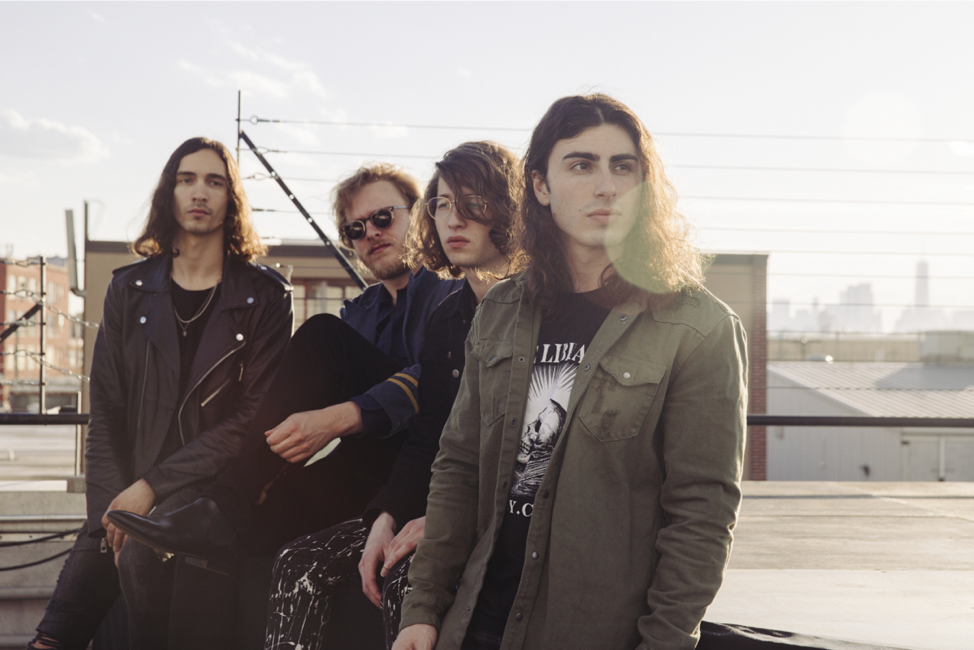 SELF-TITLED DEBUT OUT VIA SPINEFARM RECORDS ON FEBRUARY 14, 2020

BAND TOURING THROUGH DECEMBER + DEEP INTO 2020
"This one brings it back to our bluesy roots and I believe it totally encompasses everything that BRKN LOVE represents," says Benlolo. "'Flies in the Honey' has a message that is very close to my heart, and there are a few social issues we wanted to tackle on this one.
"Our goal here was to bring the issues of teen and young adult drug addiction to everyone's attention. We hope that those who have suffered from or are currently suffering from addiction can find some comfort in this and remind themselves that they are not alone. This song has sort of taken a new life of its own since we started playing it live. People have been constantly asking us about this song after the shows and we are very happy to be releasing this for your enjoyment. Keep rocking and stay tuned for our new record coming this Valentine's Day."
BRKN LOVE remain on the road through the month, with major rock festivals confirmed for Spring 2020. All current dates are below.
BRKN LOVE TRACK LISTING:
"I Can't Lie"
"I See Red"
"Shot Down"
"Flies in the Honey"
"Papercuts"
"Seventeen"
"Toxic Twin"
"Complicated"
"Oxygen"
"Don't Panic"
"In Your Hands"
"Stay Here"
BRKN LOVE ON TOUR:
WITH SAUL + THROUGH FIRE:
12/6: Belvedere, IL @ The Apollo Theater
12/7: Racine, WI @ Route 20
12/8: Cincinnati, OH @ Riverfront Live
12/10: Heath, OH @ Muddy Creek Saloon
12/11: Flint, MI @ The Machine Shop
12/12: Joliet, IL @ The Forge
12/13: Madison, WI @ The Annex
12/14: Minneapolis, MN @ The Armory (93x Holiday Show)
12/15: Waterloo, IA @ Spicoli's
BRKN LOVE ON TOUR IN 2020:
1/10: Sault Sainte Marie, MI @ Kewadin Casino
1/11: Sault Sainte Marie, MI @ Kewadin Casino
5/2: Concord, NC @ Epicenter Festival*
5/16: Columbus, OH @ Sonic Temple Festival*
*Festival Date
BRKN LOVE CANADIAN TOUR DATES:
2/9: Red Deer, AB @ Bo's Bar
2/11: Regina, SK @ The Exchange
2/14: Grand Prairie, AB @ Better Than Fred's
2/16: Kamloops, BC @ Blue Grotto
2/17: Vancouver, BC @ Fox Cabaret
2/19: Kelowna, BC @ Club Sapphire
2/20: Calgary, AB @ The Gateway
2/21: Edmonton, AB @ Starlite Room
2/22: Saskatoon, SK @ Coors Event Centre
2/23: Winnipeg, MB @ Park Theatre
2/26: London, ON @ Rum Runners
2/27: Toronto, ON @ Lee's Palace
2/28: Ottawa, ON @ 27 Club
2/29: Montreal, QC @ Bar Le Ritz PDB
3/1: Quebec City, QC @ L'Anti
3/3: Kingston, ON @ The Mansion
3/4: Peterborough, OH @ Gordon Best Theatre
3/5: Waterloo, ON @ Maxwell's
3/6: St Catharines, ON @ Warehouse