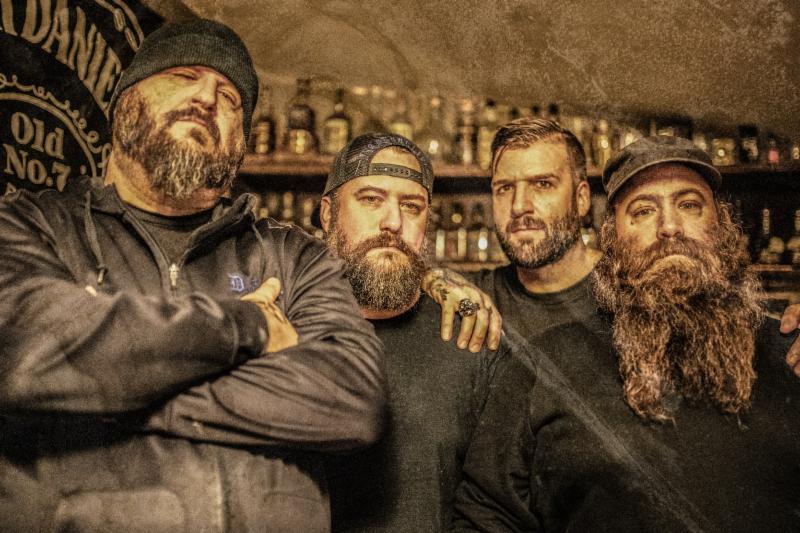 BRICK BY BRICK Reveals New Track "In The Ruins" Featuring Vincent Bennett of The Acacia Strain
Hive Mentality out February 22, 2019 via Upstate Records | Pre-Order Now
Here
New York hardcore heavyweights BRICK BY BRICK – featuring Mike Valente (Guitars), Andy Parsons (Bass), Ray Mazzola (Vocals, also of Full Blown Chaos) and James Muller (Drums) – will release their seventh studio album, Hive Mentality, on February 22, 2019 via Upstate Records. Hive Mentality embraces the angst within each soul from any heavy music scene, bringing solace to every metalhead, muscle head, hardcore kid and old school punk eternally screaming in defiance.
BRICK BY BRICK guitarist Mike Valente says: "I wanted to re-do this song and give it the proper relaunch that it deserved with our vocalist Ray manning the helm. The song had history with Vincent and we needed to have him come in and add his guttural presence into the fold again. "In The Ruins" has hooks, it will grab your attention and make you want to spin kick the head of your neighbor!"
Track guest Vincent Bennett adds: "My first real experience with BRICK BY BRICK was being driven out to a farm in the middle of nowhere to record the guest spot for the original version of this song. I thought I was going to die. Instead, I made some good friends. We have since done countless shows together, including the annual toy drives. When they decided to re-record this song, of course I agreed to also re-record my part!"
BRICK BY BRICK
recently revealed their hard-hitting new music video for the title track "Hive Mentality"! The track and video, which feature a guest appearance from none other than
Orange is the New Black
star and
Alekhine's Gun
vocalist Jessica Pimentel, is available to hear/view here:
https://youtu.be/7URYB3kb6Mo
Hive Mentality
is available for pre-order via digital retailers and
MerchNow
. Visit the pre-order landing page at 
www.upstaterecordsny.com
 and see below for more details. As part of
BRICK BY BRICK
's new pre-order launch, fans can grab a "Bar is Open" bundle, which includes a t-shirt in their color of choice (maroon, blue and black), a CD, a pint glass, a shot glass, and a digital download of the album. Visit
this location
to get the bundle.
Born out of Troy, NY's infamous hardcore scene, BRICK BY BRICK have relentlessly cultivated their reputation as a staple force of hybrid hardcore metal. Solidifying and reviving their sound in recent years with the addition of Ray Mazzola on vocals, the band's perspective is fresh with formidable intent.
Raising a massive middle finger to the establishment, the band's new album, Hive Mentality, is a battle cry to all that is wrong with the world, yet signifying that all is right with heavy music convergence. Epitomizing the tone of the title track "Hive Mentality", track guest Jessica Pimentel (Alekhine's Gun vocalist, Orange is the New Black actress) seethes "Get the fuck out of the way or get trampled," with a ranting rage. Based upon true events, track five, entitled "Bar Is Open", sums up BRICK BY BRICK flawlessly in their declaration of, "We live to drink/We love to fight/We bring the party/Rage through the night." That statement is further emphasized by none other than guest vocalist Tony Foresta (Municipal Waste, Iron Reagan). The Acacia Strain's Vincent Bennett further exudes the savagery of Hive Mentality with his vocal spot on "In The Ruins", before the album reaches its apex with a blistering rendition of Motörhead's "Iron Fist", a sonically heated kick like a belt of Jack that Lemmy himself would have savored and tipped his hat to.
Produced by Jason Bourdeau, Hive Mentality was recorded at Overit Media in Albany NY, with mastering by legendary Alan Douches of West West Side Music.
BRICK BY BRICK upcoming shows:
2/22 – Clifton Park, NY @ Upstate Concert Hall (w/ Dying Fetus) Hive Mentality Album Release Show
European tour dates with Madball, Iron Reagan and more (tickets:
www.madtix.de
):
3/7 – Leipzig – Conne Island (GER)
3/8 – Amsterdam – Melkweg (NLD)
3/9 – Paris – Le Gibus (FRA)
3/10 – Aarburg – Musigburg (CHE)
3/11 – München – Backstage (GER)
3/12 – Nürnberg – Z-Bau (GER)
3/13 – Essen – Turock (GER)
3/14 – Berlin – SO36 (GER)
3/15 – Hamburg – Kronensaal (GER)
3/16 – Coesfeld – Fabrik (GER)
Upstate Records online:
www.upstaterecords.merchnow.com
BRICK BY BRICK online:
BRICK BY BRICK promo photo by Jim Wertman