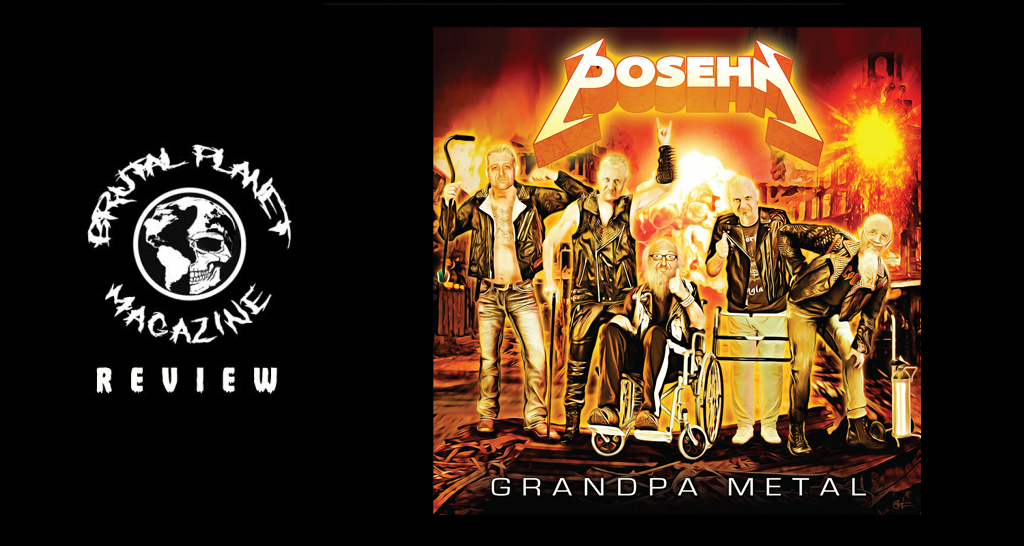 Brian Posehn is a well known comedian who loves metal. He is poised to release a brand new album called "Grandpa Metal" on Friday, February 14, 2020 that is a testament to that love.
It's completely appropriate that my first official review of 2020 is an album called Grandpa Metal because well, if the shoe fits…
To some, "Grandpa Metal" might be considered a novelty project. However, in the era of bands like Steel Panther – who fully own their sense of humor and still completely and totally shred, and just make great music… Grandpa Metal is much much more than a novelty. The musicianship and technicality of the songs alone catapult it to something bigger than that.
After a brooding intro, the album kicks off with the track: "Satan's Kind of a Dick" a thrash driven song that repeats the refrain: "The dirty secret he'd never tell is they don't play Slayer in hell" a perfect opener to set the tone.
Posehn brings his own brand of metal growl throughout the album but on a few of the songs he recruits some OG metal growlers to back him up. The track "One Quarter Viking – Three Quarters Pussy" is one of the best examples of this. He brings in Johan Hegg of Amon Amarth to hammer home the guttural Swedish death growl. The result ends up being one of the heavier tracks on the album.
The album has several skits between the tracks including one that features Weird Al Yankovick. Posehn calls and asks him if he can cover his song "Gump" and replace the lyrics with "He's Trump, He's Trump." Al tries to explain that "Gump" is a parody of another song and the skit ends with Posehn frustratedly calling him "Kind of a Jerk Al."
In listening to this record I bounced back and forth from laughing my ass off to going: "Wait who's playing on this track?" The instrumentation is 1000% real metal and none of the tracks feel like poorly conceived comedy throwaways. The list of musicians Posehn has collected to be on the album is impressive and diverse. The album includes appearances from Fall Out Boy members Patrick Stump and Joe Trohman, Dokken's Jeff Pilson, "Weird" Al Yankovic, Dethklok's Brendon Small, Anthrax's Scott Ian and Jonathan Donais and Slipknot's Corey Taylor.
The lead single is a cover of the 80's Swedish pop song "Take on Me" by A-Ha. Very well done metal version of the track w/ Posehn's growly "grandpa metal" vocals. With Jill Janus (Huntress) singing the chorus. The song also features Rob Cavestany (Death Angel), Chuck Billy and Alex Skolnick (Testament) and Steve Souza (Exodus)
The album's title track features an intro with Scott Ian and Posehn talking about different bands before it kicks into full force. The lyrics make reference to Anthrax material: "Scott Ian's been more metal than you since before you were even alive – He was bigger than the devil, spreading the disease, now when he's caught in a mosh he has to Icy Hot his knee." You get the idea.
One of the high points on the album is the track "New Music Sucks" a cookie cutter pop song complete with auto-tune that takes shots at just about every pop act of the past 20 years. The song features Patrick Stump from Fallout Boy and during the course of the track Posehn calls out their band as an example of how "New Music Sucks."
The album is capped off with an epic cover of the internet sensation "What does the Fox Say." It features vocals from Corey Taylor of Slipknot and Michael Starr of Steel Panther.
If you love metal and have a good sense of humor you won't be disappointed. The album is a must listen for fans of classic thrash metal who don't take themselves too seriously. A well conceived combination of comedy and brutal metal. The album officially hits the streets Friday (Feb. 14th) and you can stream or download it here.