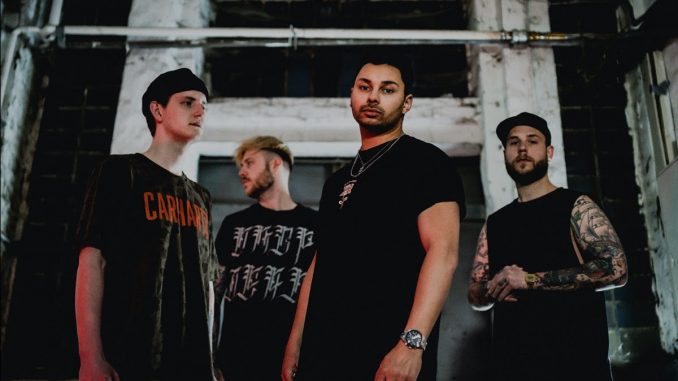 BREATHE ATLANTIS
are starting the new year off right.
The quartet has dropped the new single "Changes," which features Eskimo Callboy frontman Nico Sallach. "Changes" is the fourth single from the as-yet unannounced upcoming album.
Watch the "Changes" video here.
"'Changes' was a single candidate for us from the beginning," guitarist Jan Euler shares. "It shows that we have matured in songwriting and perfectly reflects our new sound. That we could convince Nico Sallach to take part in the song was, of course, the cherry on the cake. We've been friends for years and have been on tour together quite often in To The Rats And Wolves times. I love Nico's voice and it fits wonderfully with the mood and message of 'Changes.'"
Singer Nico Schiesewitz also weighs in on the partnership with Sallach, saying, "After Jan told us that Nico Sallach was in, we were all beside ourselves. Of course we know Nico for a long time, but for us, it is still an honor to get support from the singer of such a famous band. We met in the studio and worked together on the chorus and the arrangement, and what can I say? We were done with everything within four hours, because Nico is an insanely good musician and our vibe just fit."

About the video, Schiesewitz shares, "It shows how difficult it can be to maintain interpersonal relationships in the change of time and, at the same time, the persons themselves without some kind of problems. We all change, we have to, if we want to evolve. And even without our intervention, sometimes, it is the circumstances that transform our character without us noticing it."

He continues, "Not always do two people change in the same direction, no matter how close, similar, or the same they were at one point in their lives. 'Changes' reflects exactly these ups and downs, the light and the dark sides of a relationship's evolution — reminding us that we are all in flux and in the process our relationships can't always hold up under these changes."

Breathe Atlantis released Soulmade in 2019. They have played countless shows with the likes of Sum 41, Memphis May Fire, Attila, Bury Tomorrow, Crossfaith, and beyond.
PREVIOUS BREATHE ATLANTIS DROPS:
"Earthquake"
"Overdrive"
"Savior" (Feat. Imminence frontman Eddie Berg)

BREATHE ATLANTIS ARE:
Nico Schiesewitz | Vocals
Jan Euler | Guitar
Lasse Weigang | Bass
Silas Fischer | Drums