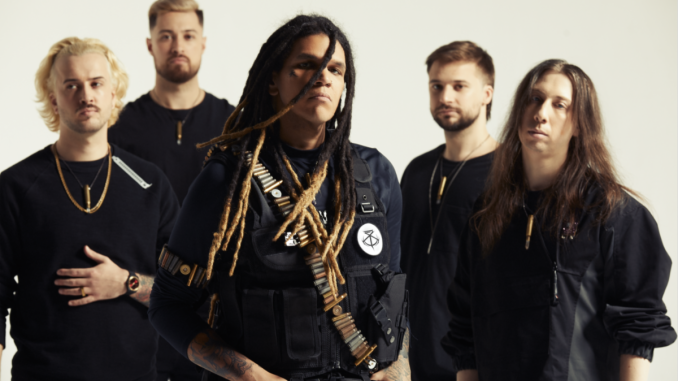 Brand of Sacrifice
Unleash New EP
'BETWEEN DEATH AND DREAMS'
Out Now | Stream HERE
Release Official Music Video for Title Track
"Between Death And Dreams"
Watch HERE
And Visualizer For
"Blinded"
Watch HERE
Photo Credit: Travis Shinn | Download Here
Friday, April 21st, 2023- Canadian deathcore wrecking crew, BRAND OF SACRIFICE, have finally unleashed their highly anticipated new EP, 'Between Death and Dreams' To highlight the release, the band have dropped a brand new music video for the EP's title track and a visualizer for track "Blinded". Watch "Between Death And Dreams" HERE. Watch "Blinded" HERE. Stream the full EP HERE.
Speaking on the brand new track, BRAND OF SACRIFICE frontman, Kyle Anderson shares

"Between Death and Dreams is an experimental and cinematic doorway into the future of Brand of Sacrifice. I truly feel like we were able to put together a short collection of music that represents the successes of our past and where we're heading, while adding elements of emotion that I've honestly never heard before from an extreme metal band like ours."
Today's EP release follows previous singles "Dynasty" and "Exodus" which marked the band's first new music in over a year, in November last year to much furore from fans. The EP marsk the beginning of a new chapter of BRAND OF SACRIFICE. Maintaining their signature brutality and complexity, but upping it to a whole new level with a few surprises thrown in.
Between Death and Dreams Artwork | Download HERE

Brand of Sacrifice

Between Death and Dreams
BRAND OF SACRIFICE are currently on the road with Lorna Shore in the US and shortly after that will be hitting the UK to tour with Spiritbox. For further info and tickets, head to brandofsacrifice.com
ABOUT BRAND OF SACRIFICE

Since 2018, Toronto-based deathcore quintet BRAND OF SACRIFICE have been imprinting their mark on the heavy music scene. Dubbed 'The Branded Ones,' the group's fans joined and marched with them as they tore across the globe in support of their sophomore album "Lifeblood", which debuted on 8 separate Billboard charts and earned them a Juno nomination for Metal Album of the Year. Other highlights included slots on highly anticipated tours with artists like Spiritbox, Thy Art is Murder, We Came as Romans & more.

BRAND OF SACRIFICE have pushed the envelope even further with their next release 'Between Death and Dreams'. With production even more cinematic, exemplified by massive choral soundscapes, brutal breakdowns, and quite few surprises along the way, the EP is an exceptional evolution of their sound. Across their releases to date, BRAND OF SACRIFICE have hit 50 million streams and 10 million YouTube views.

The band draws its name from popular anime series Berserk by Kentaro Miura.

Fans at any BRAND OF SACRIFICE show will be familiar with set-closer "Eclipse" and its ending chant of, "Welcome to the new age." With 'Between Death and Dreams', it's evident the band have ushered in yet another, even fresher era from which there is no turning back.
Find Brand Of Sacrifice Online