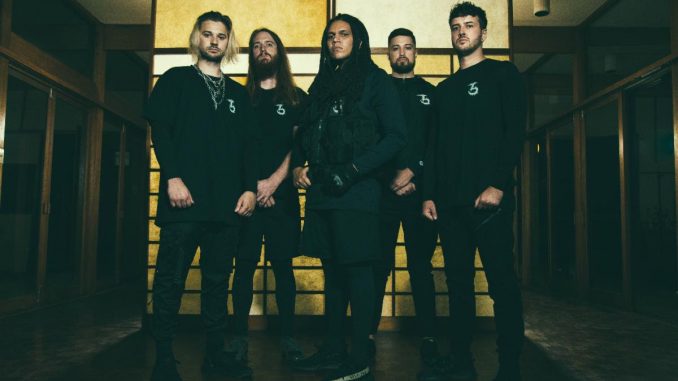 New Album Out March 5th, 2021 Via Blood Blast Distribution
Pre-Orders Available Now
Here
Feat. An Array of Guest Performances from
I Prevail, Emmure, Shadow of Intent, Traitors, Viscera
"If you're a fan of sub-basement guttural vocals, eternal blasting, and straight up devastating riffs, then you're going to love this." – Metal Injection
"The band are experts at using fluctuating dynamics for an extra heavy effect with electronic and orchestral elements to push deathcore forward into the '20s."
– Metal Sucks
"There's a renewed scope and ambition to 'Lifeblood' that makes it a far more devastating and remarkable experience, ….making it apparent how thick and venomous their sound has become."
– Knotfest
Thursday, January 7th, 2021- Canadian deathcore crew, Brand of Sacrifice, are kicking off 2021 with a fresh dose of unrelenting brutality in the shape of the video for brand new song and title track from their highly anticipated new album, "Lifeblood" (out March 5th via Blood Blast Distribution). Find "Lifeblood" on your streaming platform of choice
here
and watch the video
here
or by clicking the image below.
Today's release follows the enormous success of lead single, "
Demon King
", which was released last month. Since release, "Demon King" has clocked up an impressive 320,000 global streams with placements on some of the biggest genre-specific playlists across Spotify, Tidal and Deezer, set the YouTube 'reacts' community ablaze, secured a 77% increase in Spotify monthly listeners and saw the limited edition, pre-order vinyl variant of the album sell out within a week of launch.
Both "Demon King" and today's release of "Lifeblood" are a bold, resounding statement of intent from the band, firmly cementing them at the very forefront of the current deathcore renaissance. Speaking on the new track and the enormous success of "Demon King", Brand of Sacrifice share:
"Demon King" was by far the biggest Brand of Sacrifice release yet. The single got on tons of playlists, some play on Sirius XM Liquid Metal, countless reaction videos and more… To say our expectations were surpassed is an understatement and the support is insane! That song has a bounce and groove that's indicative of some of the catchier moments on Lifeblood, which we hone in on in the title track that closes out the album's 12 tracks. The hook is just on another level, and the build up to the climactic ending somehow feels like the perfect conclusion to the album, yet also the impetus to click replay. We can't wait to show you what's in store!"
Brand of Sacrifice will unleash their brand new album "Lifeblood" via Blood Blast Distribution on Friday, March 5th, 2021. Much like "God Hand" – the band's debut album – "Lifeblood" is also inspired by the popular anime series "Berserk", this time focusing on the plight of series protagonist, Guts. The album features an impressive array of guest performances from the likes of I Prevail, Emmure, Shadow of Intent, Traitors and Viscera. Pre-Order bundles are available
here
.
Brand of Sacrifice

"Lifeblood" Track Listing

1. Dawn

2. Demon King

3. Animal

4. Altered Eyes

5. Prophecy of the Falcon

6. Perfect World

7. Mortal Vessel

8. Foe of the Inhuman

9. Vengeance

10. Ruin

11. Corridor of Dreams

12. Lifeblood
About Brand Of Sacrifice
Since 2018, Toronto-based deathcore quintet Brand of Sacrifice have been imprinting their mark on the heavy music scene. Dubbed 'The Branded Ones,' the group's fans joined and marched with them as they tore across the globe in support of debut EP The Interstice and LP statement "God Hand" which debuted at #20 on Billboard's Heatseekers Albums Chart.
Other highlights to a whirlwind cycle for "God Hand" included a slot on The Summer Slaughter Tour with Carnifex, Cattle Decapitation, The Faceless and Lorna Shore, a world tour with tech vets Rings of Saturn, plus a tour with fellow upcoming deathcore titans Shadow of Intent.
Brand of Sacrifice have spread their wings for sophomore LP "Lifeblood", which will be released with help from Blood Blast Distribution on the digital end. The production is even more pummeling, exemplified by laser-sharp structures and a wide-gulf of dynamics. The album takes catchy to another level, with choruses comprising string orchestrations and synths, alongside bludgeoning breakdowns.
The band draws its name from popular anime series Berserk by Kentaro Miura. "Lifeblood" focuses on the series' dark horse protagonist Guts, a lone wolf who faces demons both inside and out in a post-apocalyptic world.
Fans at any Brand of Sacrifice show will be familiar with set-closer "Eclipse" and its ending chant of, "Welcome to the new age." With "Lifeblood", it's evident the band have ushered in yet another, even fresher era from which there is no turning back.