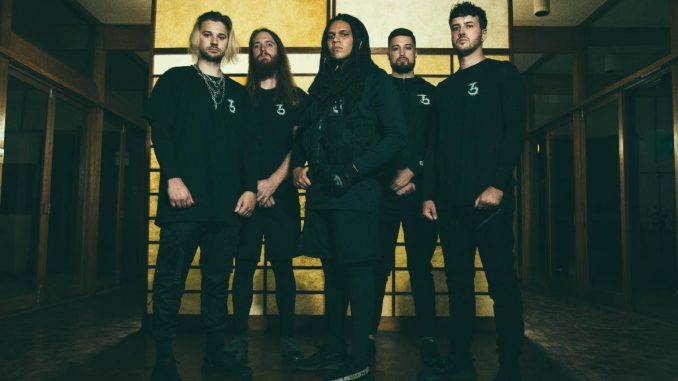 Announce New Album
'LIFEBLOOD'
Feat. An Array of Guest Performances from
I Prevail, Emmure, Shadow of Intent, Traitors, Viscera
Out March 5th, 2021 On Blood Blast
Pre-Orders Available Now
Here
Fans Can Unveil 'Lifeblood' Album Artwork And Pre-Order Bundles
Through Newly Launched
360 VR Website
Wednesday, December 9th, 2020 – Canadian deathcore outfit, Brand Of Sacrifice, have today revealed the video for the first track from their highly anticipated sophomore album, 'Lifeblood' – out March 5th via Blood Blast. The album features an impressive array of guest appearances from members of I Prevail, Emmure, Shadow of Intent, Traitors and Viscera. Pre-orders are available now,
here
.
The new track, "Demon King" is a resounding statement of intent from the quintet. Brutal blast beats, obnoxiously heavy break downs, impressively dexterous vocals and bombastic synths combine to create an punishingly brutal introduction to this new chapter of Brand Of Sacrifice. Check out the track
here
and watch the video for "Demon King"
here
or by clicking the image below.
Speaking on the new track and the announcement of the new album, Brand Of Sacrifice share
"We're SO excited to release "Demon King," the first taste of our second LP Lifeblood. The song is one of the album's faster and heavier ones, so we made a similarly intense video. This time around we wanted to immerse our listeners in the album's story, so we did exactly that; you can experience the album cover of Lifeblood—itself a collision of the art from God Hand and The Interstice—in 360 VR. We made an album that is sonically a complete experience, so we want to make the whole campaign as immersive as possible. The reign begins…"
In keeping with the band's penchant for creativity and innovative thinking, Brand Of Sacrifice have also launched 'Discovering Lifeblood' today, an incredible, 360 degree VR website that allows fans to interact with and unveil the full 'Lifeblood' album artwork and pre-order bundles, which are available now. Fans can check it out
here
and watch the teaser below. Embed codes for the 'Discovering Lifeblood' can be found
here
About Brand Of Sacrifice
Since 2018, Toronto-based deathcore quintet Brand Of Sacrifice have been imprinting their mark on the heavy music scene. Dubbed 'The Branded Ones,' the group's fans joined and marched with them as they tore across the globe in support of debut EP The Interstice and LP statement God Hand which debuted at #20 on Billboard's Heatseekers Albums Chart.
Other highlights to a whirlwind cycle for God Hand included a slot on The Summer Slaughter Tour with Carnifex, Cattle Decapitation, The Faceless and Lorna Shore, a world tour with tech vets Rings of Saturn, plus a tour with fellow upcoming deathcore titans Shadow of Intent.
Brand Of Sacrifice have spread their wings for sophomore LP Lifeblood, which will be released with help from Blood Blast Distribution on the digital end. The production is even more pummeling, exemplified by laser-sharp structures and a wide-gulf of dynamics. The album takes catchy to another level, with choruses comprising string orchestrations and synths, alongside bludgeoning breakdowns.
The band draws its name from popular anime series Berserk by Kentaro Miura. Lifeblood focuses on the series' dark horse protagonist Guts, a lone wolf who faces demons both inside and out in a post-apocalyptic world.
Fans at any Brand Of Sacrifice show will be familiar with set-closer "Eclipse" and its ending chant of, "Welcome to the new age." With Lifeblood, it's evident the band have ushered in yet another, even fresher era from which there is no turning back.