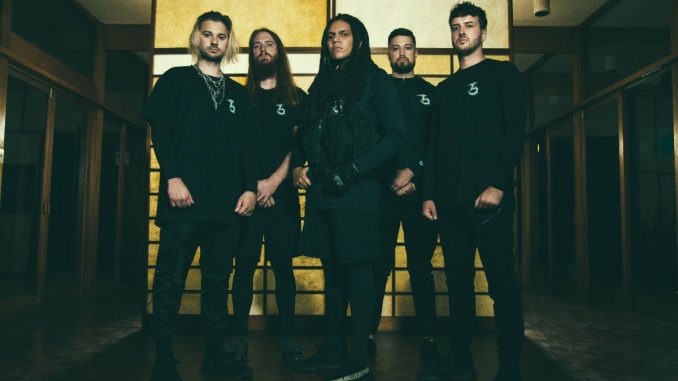 Thursday, 5th August, 2021 – Canadian deathcore wrecking crew, Brand of Sacrifice, have dropped brand new track today titled "Enemy" featuring guest vocals from Underoath's Spencer Chamberlain. Accompanying the release is a cinematic short film, devised and scored by the band, that serves as a prequel to the epic story line featured in video for the band's previous track, "
Animal
". Stream "Enemy"
here
and watch the accompanying short film
here
.
The band have released the track on a limited edition 7″ vinyl that comes with an exclusive "Enemy" manga comic, conceptualized and written by the band. An exclusive variant was available via Revolver but it sold-out on pre-orders.
Speaking on the new track, guitarist and producer, Micheal Leo Valeri shares

"We wrote Enemy as a standalone release, expanding on some of the more melodic and metalcore moments on songs like 'Animal,' 'Foe of the Inhuman' and 'Vengeance.' The possibility of getting Spencer Chamberlain (Underoath) on guest vocals was electrifying. We were already excited about the song, but his ability to elicit emotion by leading into his screams with tormented talking brought it to the next level. He perfectly complemented our goal on the song. We're also releasing two remixes of Lifeblood songs, like full-on electronic bangers that retain the musical motifs but present them as entirely different styles and moods. We're beyond proud that our music can transcend boundaries like that."

Speaking on the inspiration for the "Enemy" Manga comic, frontman, Kyle Anderson adds

"It's no secret that we have drawn many of our lyrical themes—and even our name—from Berserk, the dark manga masterpiece by Kentaro Miura (RIP). As we move further away from Berserk as a direct reference point, we wanted to expand on the lore on our album art in the best possible format: manga. We're very proud to expand the Brand of Sacrifice universe and hope our fans like it too, which would allow us to continue telling our own story."
In an
exclusive chat with Revolver Magazine
, who premiered the "Enemy" video this morning, Kyle elaborated on the inspiration behind the short film, the prequel to the epic journey started in the "Animal" video
"The 'Animal' epic needed to be tied up. There were a lot of questions unanswered in that video, in which a warrior seeks revenge against an enemy. Right when he's about to lose the battle and his life, a former ally strikes down the villain. In this video, a prequel, it is revealed that that villain was once the leader of a band of mercenaries comprising all the other characters from 'Animal.' Before those events, they were united in a war on the betrayer's former master. That titular 'Enemy' kidnapped one of the protagonists, who then go to rescue her. Unfortunately, in doing so, their leader is reunited with his former master, resulting in the abandonment of both his troupe and beliefs to rejoin the 'distant part' of him—now as omnipresent as ever."
Brand of Sacrifice released their sophomore album, 'Lifeblood' in March of this year. Hotly tipped as an album of the year contender, the album debuted on the Top 10 of the iTunes Rock chart in Ireland, Canada, USA, South Africa and Australia and debuted on the Top 10 of the iTunes All Genre chart in the US, Canada and Ireland. It also charted across 8 separate Billlboard charts:
#1 Top New Artist Albums
#6 Current Hard Music Albums
#7 Current Independent Albums
#10 Current Rock Albums
#14 Billboard Heatseekers
#23 Billboard Vinyl Albums
#26 Billboard Top Current Album Sales
#45 Billboard Top 100 Album Sale
The album has clocked up 10 million streams since its release. With the official videos for singles "
Demon King
" "
Lifeblood
' "
Animal
" and "
Altered Eyes
" clocking up 1.1 million views. Find the album on your streaming platform of choice
here
and catch them live when they hit the road in the US this September for their 'Road To Blue Ridge Rock Festival' Tour, the Blue Ridge Rock Festival and hit the road in Europe in February of 2022 with Erra, Dayseeker and Hollow Front full info and tickets from
BrandofSacrifice.com
Brand of Sacrifice

"Lifeblood" Track Listing

1. Dawn

2. Demon King

3. Animal

4. Altered Eyes

5. Prophecy of the Falcon feat. Frankie Palmeri (Emmu

6. Perfect World

7. Mortal Vessel feat. Ben Duerr (Shadow Of Intent)

8. Foe of the Inhuman feat. Eric Vanlerberghe (I Prev

9. Vengeance – feat. Jamie Graham (Viscera)

10. Ruin – feat Tyler Shelton (Traitors)

11. Corridor of Dreams

12. Lifeblood
What the press are saying about 'Lifeblood'
"'Lifeblood' Is the Kick in the Ass Deathcore Needs"
– Exclaim
"The result is basically merciless technical death metal that has this epic, operatic frame to it."
– The Pit
"I can't recall the last time I heard an album this heavy yet this catchy and this memorable"
– Banger
"If you're a fan of sub-basement guttural vocals, eternal blasting, and straight up devastating riffs, then you're going to love this." – Metal Injection
"The band are experts at using fluctuating dynamics for an extra heavy effect with electronic and orchestral elements to push deathcore forward into the '20s."
– Metal Sucks
"What makes Brand of Sacrifice's sound so compelling is the insane control they have over the chaos that results from a truly wide range of influences."
– Loudwire
"There's a renewed scope and ambition to 'Lifeblood' that makes it a far more devastating and remarkable experience, ….making it apparent how thick and venomous their sound has become."
– Knotfest
"Brand of Sacrifice take technical deathcore and infuse it with a cinematic flair and some contagiously catchy sections to make it open and accessible without compromising on crushing aggression and mind-melting intricacy."
– New Transcendence
"If you know of Brand of Sacrifice, you can rest assured that the end product of Lifeblood is full of moments that throw you for a loop, give you goosebumps, and only expand the Berserk knowledge exhibited by the band."
– The New Fury
About Brand Of Sacrifice
Since 2018, Toronto-based deathcore quintet Brand of Sacrifice have been imprinting their mark on the heavy music scene. Dubbed 'The Branded Ones,' the group's fans joined and marched with them as they tore across the globe in support of debut EP 'The Interstice' and LP statement 'God Hand' which debuted at #20 on Billboard's Heatseekers Albums Chart.
Other highlights to a whirlwind cycle for 'God Hand' included a slot on The Summer Slaughter Tour with Carnifex, Cattle Decapitation, The Faceless and Lorna Shore, a world tour with tech vets Rings of Saturn, plus a tour with fellow upcoming deathcore titans Shadow of Intent.
Brand of Sacrifice have spread their wings for sophomore LP 'Lifeblood'. With a production even more pummeling, exemplified by laser-sharp structures and a wide-gulf of dynamics, the album takes catchy to another level, with choruses comprising string orchestrations and synths, alongside bludgeoning breakdowns and plenty of guest appearances. Across their releases to date, Brand of Sacrifice have hit 28 million streams and 7 million YouTube views.
The band draws its name from popular anime series Berserk by Kentaro Miura. 'Lifeblood' focuses on the series' dark horse protagonist Guts, a lone wolf who faces demons both inside and out in a post-apocalyptic world.
Fans at any Brand of Sacrifice show will be familiar with set-closer "Eclipse" and its ending chant of, "Welcome to the new age." With 'Lifeblood', it's evident the band have ushered in yet another, even fresher era from which there is no turning back.