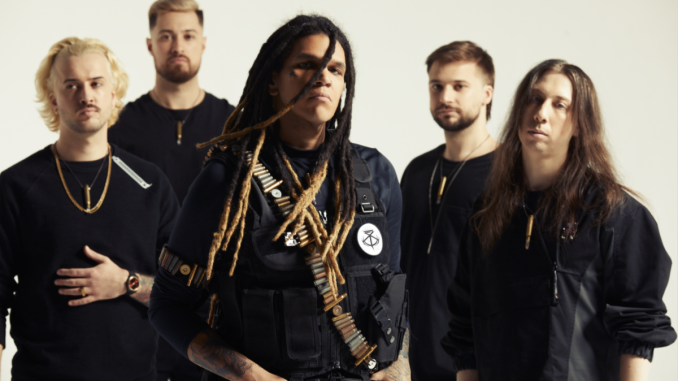 Pre-Orders Available From 10am EST on Friday, February 10th From brandofsacrifice.com
Drop New Single & Music Video
"DYNASTY"
Photo Credit: Travis Shinn | Download Here
Wednesday, February 8th, 2023 – Canadian deathcore wrecking crew, BRAND OF SACRIFICE, have announced the release of new EP, 'Between Death and Dreams' out on April 21st. To highlight the announcement, the band have dropped new single "Dynasty", complete with a stunning cinematic music video that has fast become their calling card. Listen to the track HERE. Watch the video HERE or by clicking the image below. Pre-Orders for 'Between Death and Dreams' will be live at 10am EST on Friday, February 10th HERE.
Speaking on the brand new track, BRAND OF SACRIFICE frontman, Kyle Anderson adds

'A big challenge for me this year was to bring in some different elements on the emotional spectrum into our music and lyrics, not just despair or anger. I wanted to express some of my personal story through this song. Dynasty is more uplifting – it's about challenging yourself to overcome your personal obstacles while staring fear in the face and, much like Brand of Sacrifice as a whole, becoming an absolutely unstoppable force.'
"Dynasty" follows the release of track "Exodus", the band's first new music in over a year, in November last year to much furore from fans. "Exodus", "Dynasty" and the upcoming EP mark the beginning of a new chapter of BRAND OF SACRIFICE. Maintaining their signature brutality and complexity, but upping it to a whole new level with a few surprises thrown in.
Between Death and Dreams Artwork | Download HERE

Brand of Sacrifice

Between Death and Dreams

Blinded
Between Death & Dreams
BRAND OF SACRIFICE are currently on the road with We Came As Romans on their Darkbloom 2023 Tour. For further info and tickets, head to brandofsacrifice.com
DARKBLOOM USA TOUR

w/ Erra and Brand Of Sacrifice

8- Feb – Seattle WA | The Crocodile

10- Feb – Salt Lake City UT | The Complex

11- Feb – Denver CO | Summit Music Hall

13- Feb – Lawrence KS | Granada

14- Feb – Minneapolis MN | Varsity Theater

15- Feb – Chicago IL | House of Blues

17- Feb – Columbus OH | The King of Clubs

18- Feb – Detroit MI | St. Andrew's Hall
ABOUT BRAND OF SACRIFICE

Since 2018, Toronto-based deathcore quintet BRAND OF SACRIFICE have been imprinting their mark on the heavy music scene. Dubbed 'The Branded Ones,' the group's fans joined and marched with them as they tore across the globe in support of their sophomore album "Lifeblood", which debuted on 8 separate Billboard charts and earned them a Juno nomination for Metal Album of the Year. Other highlights included slots on highly anticipated tours with artists like Spiritbox, Thy Art is Murder, We Came as Romans & more.

BRAND OF SACRIFICE have pushed the envelope even further with their next release 'Between Death and Dreams'. With production even more cinematic, exemplified by massive choral soundscapes, brutal breakdowns, and quite few surprises along the way, the EP is an exceptional evolution of their sound. Across their releases to date, BRAND OF SACRIFICE have hit 50 million streams and 10 million YouTube views.

The band draws its name from popular anime series Berserk by Kentaro Miura.

Fans at any BRAND OF SACRIFICE show will be familiar with set-closer "Eclipse" and its ending chant of, "Welcome to the new age." With 'Between Death and Dreams', it's evident the band have ushered in yet another, even fresher era from which there is no turning back.
Find Brand Of Sacrifice Online