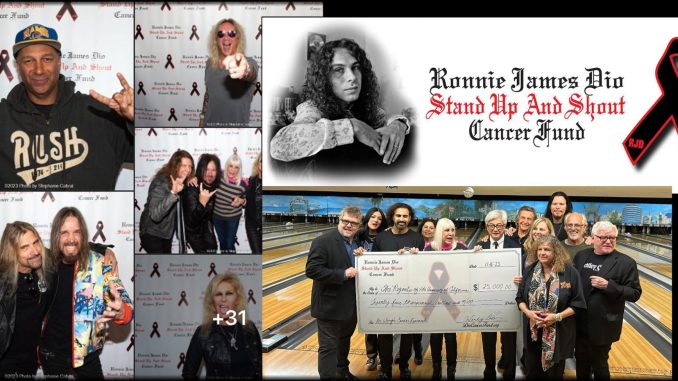 Thursday Nov. 16th 2023 we had the opportunity to attend the 2023 Bowl For Ronnie event at Pinz Bowling in Studio City, CA. This is an event that is held annually and benefits the Ronnie James Dio "Stand Up And Shout" cancer fund.
It was a mildly rainy night in LA and the Red Carpet didn't get busy until later in the evening, but once it did, you saw rock and metal heavyweights like Lita Ford, Tom Morello of Rage Against the Machine, Frank Bello of Anthrax, Michael Starr of Steel Panther, Steve Lukather of Toto and Dirk Verbeuren the drummer for Megadeth.
The event raised a ton of money for the cause and while I'm not sure of what the final tally was – the price of lanes was upwards of $1000 each. Rumor has it one lucky winner who bought his lane on eBay paid $7500. They also had a lane reserved for the recently departed owner of the Rainbow and Whisky A-Go-Go, Mikael Maglieri.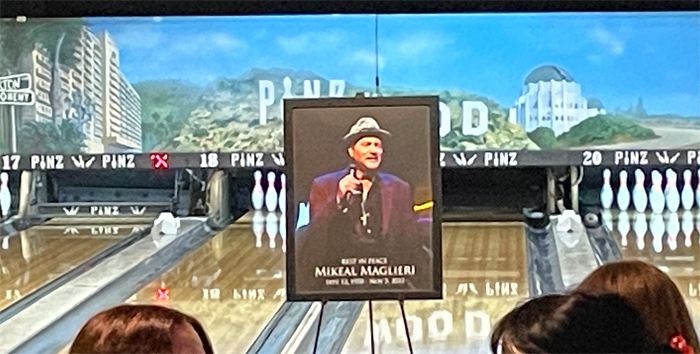 Several other members of heavy-metal community were present throughout the night including Marq Torien, best known as lead vocalist of the BulletBoys and Jesse Hughes from Eagles of Death Metal to name a few. At one point Eddie trunk and Tom Morello chose a random audience member to join their bowling team. That guy probably won the best prize of the night.
Wendy Dio presented a check for $25,000 to the Regents of the University of California for cancer research and Dr. Wong (a cancer doctor) also spoke briefly about the progress that has been made in cancer research thanks to contributions like the ones made by the Dio Stand Up And Shout cancer fund. Eddie Trunk also announced that the next Stand Up And Shout event "Ride for Ronnie" will be held in May 2024.