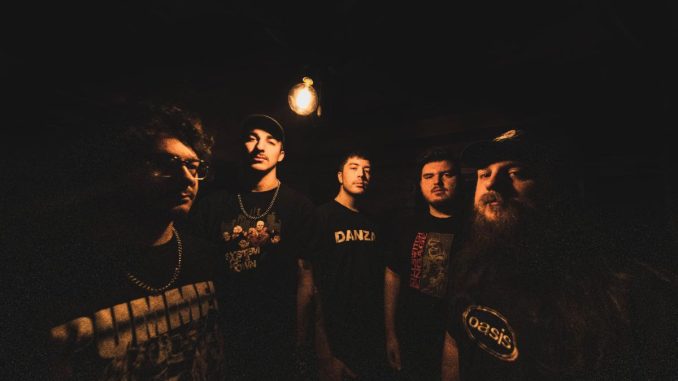 PRE-ORDER BURYING BRIGHTNESS (OCT. 14, 3DOT RECORDINGS) HERE
Aug. 31, 2022, Hartford, Conn. – Boundaries, who recently announced the forthcoming release of the Hartford-based band's highly-anticipated new album Burying Brightness (Oct. 14, 3DOT Recordings), have shared a second track from the album, unveiling "Realize and Rebuild" and its accompanying video (https://youtu.be/JBqKV4eQpUk).

"Most of the record is about one person I sadly watched lose himself," explains vocalist Matthew McDougal of the track Revolver described as "packed with soaring guitar leads and anthemic clean vocals… steeped in that pivotal era of metalcore greatness…" "On 'Realize and Rebuild' I'm coming to terms with regretting how our relationship was and how to now move forward. I was too young and too naïve, addiction is a nightmare and it took him from me."

The band previously previewed the 12-song album with "Heaven's Broken Heart" (https://lnk.to/heavensbrokenheart). Brooklyn Vegan said the single is "a great example" of the band "bringing in more clean vocals without toning down the aggression." Boundaries previously explains that McDougal is now sharing vocal duties with drummer Tim Sullivan and bass player Nathan Calcagno.

"We utilized their voices for the first time," McDougal explains. "There's definitely a new dynamic. We focused on writing some choruses. We made it a little prettier and calmer, changing up the listening experience. We wanted to use all of the tools we have at our disposal on this record. We didn't leave anything out."

The band wrote the bulk of Burying Brightness in the studio, reuniting with Your Receding Warmth producer Randy Leboeuf [The Acacia Strain, Kublai Khan] at Graphic Nature Audio.

"Our goal is to write exactly the kinds of songs we want to with no barriers," guitar player Cory Emond explains. "I feel like we did that. We've always wanted to have songs with singing, but we were never able to capture it until now. We also have some of the heaviest songs we've ever written. It has both extremes."

Burying Brightness track list:

1. It Begins To Speak

2. Your Own Murder

3. This Is What It's Like

5. No One Will Mourn You Here

6. Resent and Regret

8. My Body is a Cage

9. –

10. It Was Built to Break

11. Burying Brightness

12. The Tower

Album pre-orders, which include several limited-edition vinyl variants as well as collectible bundles, are available here.
Photo credit: Sarah Holick
Boundaries is Cory Emond (guitar), Cody Delvecchio (guitar), Tim Sullivan (drums/vocals), Nathan Calcagno (bass/vocals) and Matthew McDougal (vocals). The Hartford-based band have released a pair of EPs: Hartford County Misery (2017) and My Body In Bloom (2019), as well as the full-length album, Your Receding Warmth (2020). Brooklyn Vegan said Your Receding Warmth "positions Boundaries as fresh new faces of the metalcore revival that birthed Code Orange, Knocked Loose, Vein, and a quickly-growing number of other great bands."

# # #