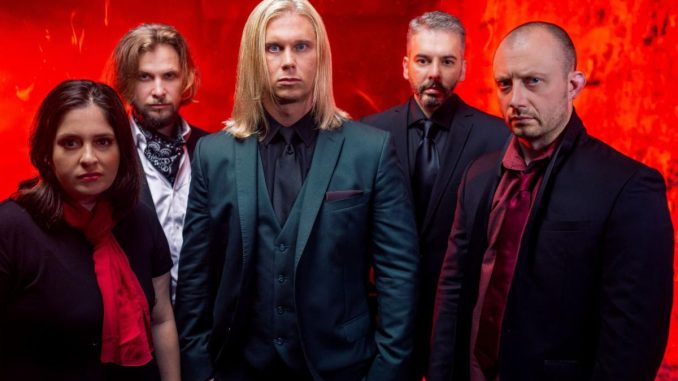 A Perfectly Timed Offering from Their Album
The Ecstasy Of Silence…The Agony Of Dreams
Watch the Haunting Video by Jim Foster!
Intentionally timed for Spooky Season, Mammothor's new single, "Parasomnia," is the sixth track off their latest album, The Ecstasy Of Silence…The Agony Of Dreams.

Frontman Travis Lowell explains "I've always had trouble sleeping. When I was a kid, I suffered from wicked night terrors. My parents even took me to do a sleep study, and doctors did a brain scan to make sure nothing was wrong. I would seemingly wake up, but my mind would still be 'stuck' in a nightmare, even though I was walking around with my eyes open. It was terrifying."

The video was filmed (in a befittingly torturous setting) and edited by Jim Foster of Red 13 Studios (Godsmack, Daughtry, Queensryche, Whitechapel). Travis Lowell shares "I have worked with Red 13 a few times between Mammothor and my mainstream rock project, Ashes to Embers. One thing they are always good at: location scouting! In this case, we were originally looking for a setting in a large home or mansion…when that didn't pan out, Red 13 pulled a 'plan b'…an old, abandoned milk factory! Filming at the factory was a bit of a challenge, mainly because safety has to be a priority while natural lighting is almost non-existent and everything for filming has to be powered by batteries or generators. It was a challenge for the team, for sure, but the results were phenomenal. I'm not sure if the milk factory was haunted or not, but I may or may not have heard some ghostly 'moos' from the shadows…"

Watch "Parasomnia" here: https://youtu.be/avCqpa2_BdQ

Special effects artist Amanda Schaffer pulled double-duty, doing the makeup on the dream demon, (who was played by Edgar Troncoso, bassist from Boston-based band Prospect Hill) and starring in the "Parasomnia" video, as well.

This track, "Parasomnia," marks a departure from Mammothor's typically heavy, driving sound. Bathed in atmosphere, the song feels very dream-like. The music was written by bassist Lori Rulfs and the vocals/lyrics were written by singer Travis Lowell. The band recorded instruments for 2021's The Ecstasy Of Silence…The Agony Of Dreams with Kevin Billingslea (Lamb Of God) at The Halo Studio in Windham, ME and vocals at Chillhouse Studios with Will Holland (Fall Out Boy). The band tapped Zeuss (Rob Zombie, HATEBREED, Shadows Fall) at Planet-Z in Hadley, MA to mix and master.
Artwork by Maurizio Piccinelli at Sabnock Design
Stream here: Parasomnia (fanlink.to)
Buy here: Mammothor The Ecstasy Of Silence…The Agony Of Dreams | Bull Moose
Released on August 27, 2021, Mammothor's third release is the band's sharpest and most concise effort to date. The band streamlined their sound with laser-focused direction and crisp production
to create The Ecstasy Of Silence…The Agony Of Dreams, of which Metal Hammer says, "proves that hard rock and heavy metal are far from over."
Produced by Mammothor with Kevin Billingslea and Will Holland.
Instruments tracked with Kevin Billingslea at The Halo Studio.
Vocals tracked with Will Holland at Chillhouse Studios.
Mixed and Mastered by Zeuss at Planet Z.
featuring
Travis Lowell: Vocals
Josh Johnson: Guitar
Dana Sharpton: Guitar
Lori Gangi: Bass
Nick Raby: Drums
Jake Wertman: Drums
Bored with the current popular rock music of today, Mammothor strives to return the essence of classic rock sensibility, the thunderous hard rock, heavy metal riffs, and guitar shred of the 80's, and rounded out with the passion and versatility of 90's alternative. Mammothor's inspirations vary from Megadeth to Iron Maiden, and Faith No More to Soundgarden, which makes their music very multi-faceted.
With nearly a decade of live shows in the heavy metal/hard rock scene, Mammothor has toured with and opened for heavy hitters such as Megadeth, Korn, Three Days Grace, HED(PE), Saliva, and Drowning Pool, garnering over a million streams on YouTube and currently averaging over 27,000 monthly listeners on Spotify. The band is currently in the studio recording its fourth album and playing shows.
Mammothor is:
Travis Lowell: Vocals
Josh Johnson: Guitar
Alex Muss: Guitar
Lori Gangi: Bass
Euz Azevedo: Drums
See Mammothor live
on November 5
at the 1800 Club in Auburn, ME
www.eventbrite.com/e/uncle-jack-burning-time-mammothor-in-concert-standard-ticket-tickets-431615091357
Mammothor online:
http://www.instagram/xmammothorx
Mammothor – Take the World (Official Video) – YouTube
Mammothor – Novocaine (Official Video) – YouTube
Mammothor – Bury the Motive (Official Video) – YouTube
https://mammothor.bandcamp.com/
Mammothor is sponsored by Ernie Ball, Wornstar Clothing, Backlund Guitars (Through Eastwood Guitars), Barlow Guitars, InTune Picks, SOMO Sound, SJC Drums, Xcel Drumsticks, Too Twisted Stage Art, Headrush FX, Deviant Clothing, and Dirtbag Clothing.