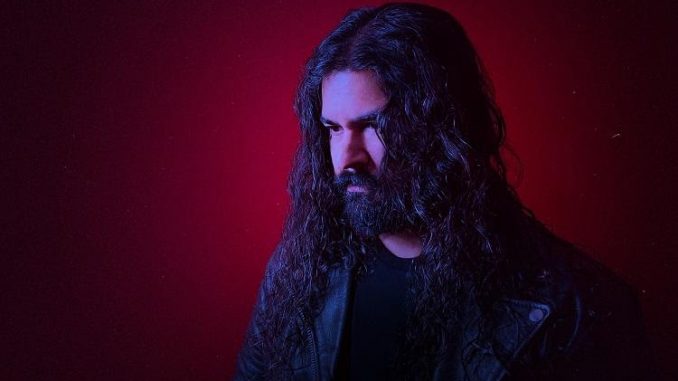 Boston-based BYRTHING is taking the metal scene by storm with their deeply visceral, honest and cathartic six-song debut EP entitled Visage.
Available now, Visage takes listeners through the experience of enduring a malignant narcissist and the damage that follows. The first track, "The Void," pulls listeners into a dark void, left to witness a creature born soulless and starved, wanting to consume everything to survive. Each of the following songs weave through The Protagonist and The Narcissist's different perspectives.
"The music and art of BYRTHING is an outlet to process and heal from my own struggles and pain," says BYRTHING mastermind Devin Ikram. "It also serves as a reminder that we are not alone when facing trauma and mental health challenges. I want listeners to be galvanized in the same way, and to be able to connect with this music so they too can navigate their own conflicts within."
Visage is a result of Ikram's personal experience, making the raw emotion even more impactful. "This EP covers a chapter in my life that was very challenging and tough to navigate without much help," he says. "When it comes to dealing with a true narcissist there's a lot of cognitive dissonance at play and people that are empathetic and giving tend to get lost in it easily. I wanted to cover this subject matter and put it out there for other people who may be able to relate to similar experiences of their own, especially if they didn't have anyone around them that could really understand what it was like."
Visage track listing:
1. The Void
2. The Architect
3. The Vessel
4. The Lure
5. The Antipathy
6. The Ruin
BYRTHING immerses themselves in producing. Since their inception in New York City not so long ago, the band has been focused on reinvigorating the metal world with an undeniable rage that can only emerge from a place usually exiled within. Ikram crafts a sonically abrasive sound balanced by lean and distilled songwriting for a raw and minimalist soundscape. Influences can be heard from artists across the metal universe from Slipknot, Pantera and At The Gates to Opeth, as BYRTHING harnesses dynamic vocal attacks over grinding guitars steeped with melody.
"A lot of metal bands today put all their focus solely on technicality and end up not conveying any sense of real emotion and feel in their performances," Ikram says. "With BYRTHING I want that rawness to be the focus and for the listener to hear the vulnerability and emotion in the vocals as well as in the way the instrumentals were performed. It's not about perfection, it's about how the energy ebbs and flows and speaks to being human."
BYRTHING online: