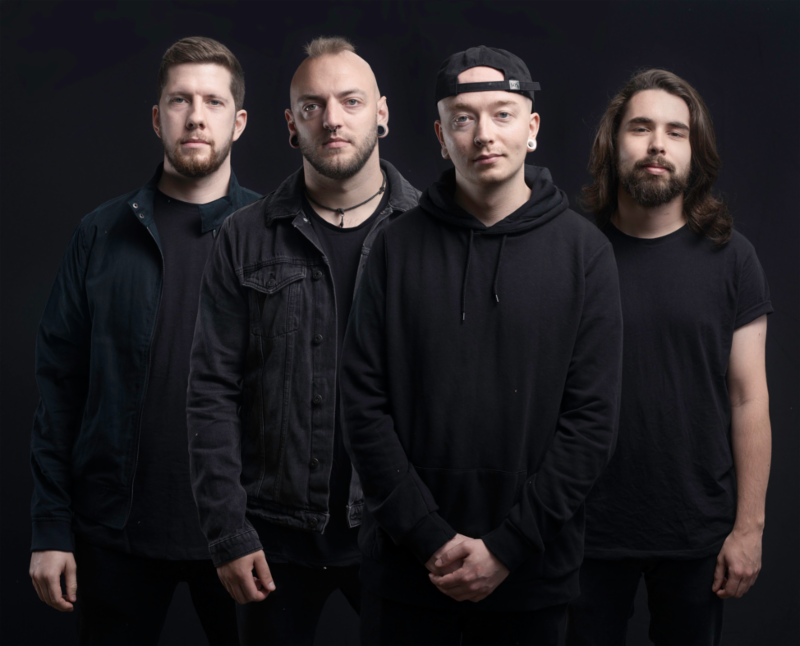 BORDERS released their second single "War" from the upcoming debut album "Purify" today. The british 4-piece debut will be released on May 10th, 2019 via Long Branch Records. Watch and listen to the single 
HERE
.
Tracklisting of "Purify":
1. 731
2. Wake Up
3. Damage Everything
4. Bad Blood
5. War
6. Demon's Reach
7. Nothing To Lose
8. A World Apart
9. Faded
10. Walking Dead
Hailing from Lincoln UK, BORDERS are pushing to lead in a new era of heavy music by seamlessly blending genres and styles to forge a crushing yet melodic and unique experience. Since joining forces with new vocalist JJ in 2016, BORDERS have been working hard impressing crowds across the UK and Europe with their energetic, powerful live performance. From playing sold-out hometown shows, to supporting Skindred and Whitechapel, or hitting the Tech-fest stage, BORDERS consistently electrify and entertain crowds. Vocalist JJ is an unchained force leading the four-piece indomitable machine onstage. Lunging from the crowd to the mic and leaving no spot unclaimed, he bends the crowd to his will with gang chants, mosh pits and room splits. While performing alongside Martyr Defiled on their UK/EU farewell tour, Metalhammer said of their live show: '[Borders are] boasting an energised stage presence and an armada of head-bang-inducing grooves'
Speaking out on modern issues of healthcare, austerity and corruption, the Diagnosed EP was released in 2017. It received glowing reviews from Metalhammer and other publications, as well as gaining regular radio play on Kerrang's Fresh Blood, where Alex Baker hailed BORDERS as the 'Behemoths of tomorrow'. The songwriting, catchiness, technical prowess and sheer brutality of the record were stand-out points for critics. The EP theme hits home for JJ as his lyrical content reflects his own mother's experiences with cancer and the healthcare system. After she beat the disease with only natural remedies and lifestyle changes, JJ seeks to pose questions on trust in the healthcare system and the corporate greed that drives pharmaceutical companies to put profits before people.
After giving the world a taste of their potential, BORDERS are ready to unleash their debut album in 2019. "Purify" is an ambitious full-length record which documents a timeline of human corruption; from the wartime atrocities of the Japanese experimental death camps in 731, to modern day political corruption in War, all the way to a bleak vision of future potential healthcare systems in Wake Up. "Purify" is a statement on the condition of the world today, yesterday and tomorrow that not only sounds incredible but might change the way you look at the world around you. JJ muses on the development of human corruption; the barbaric human beginnings of mass slaughter against targeted groups may seem a world away to the average citizen, but not only do those atrocities still exist, but corruption and evil has further retreated and disguised itself behind closed doors. A disguise that is easily lifted with information and a willingness to challenge one's own beliefs. "Purify" is a call for a purge of corruption and a call for the average person to think more about the world they inhabit.
"Purify" is now up for pre-orders here:
Available Formats:
Long Branch Records Shop Bundle
Bandcamp Bundle
LP Edition
(140g yellow vinyl + Bandcamp download code)
CD digipack
Download
Stream
LINE-UP:
Jordan Olifent – Vocals
Gavin Burton – Guitars
Tom Britton – Bass
Daniel Hodson – Drums
For More Info Visit: