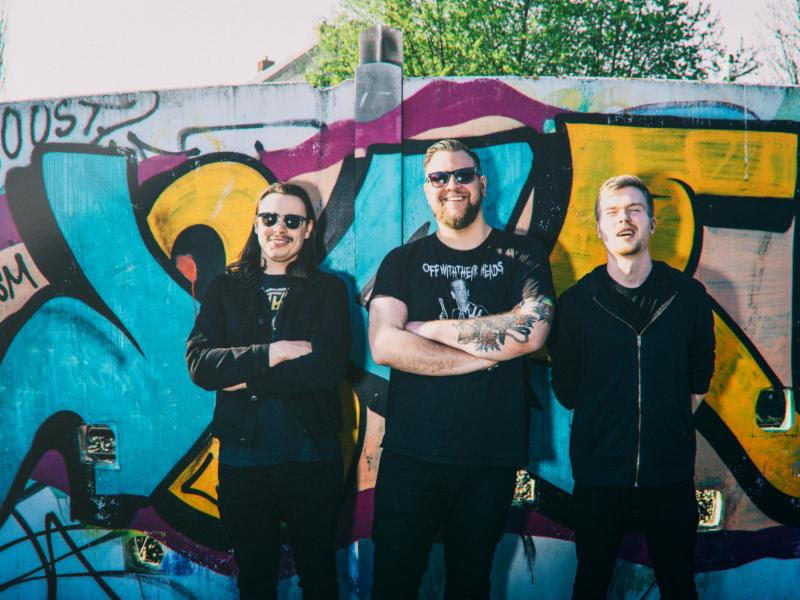 Release Official Video for
'Vultures'
New Album 'Crimson Riders'
Out Now
"With a super catchy approach to hard rock that focuses on big bold choruses and even bigger guitars, not to mention a righteous sense of humor and the endorsement of one of metal's biggest stars, Norway's Bokassa are well on their way to breaking out of the underground." – Revolver
"Full credit Lars: no matter how big Metallica have become, he's remained an enthusiastic cheerleader for new, exciting rock music. And when he nails his colours to a prospect as "insanely fucking cool" as Bokassa, you can bet your house that they deliver the goods big time." – Kerrang! 4/5 review
Friday July 5th 2019 – Currently on tour supporting metal giants Metallica, fast-rising stoner punks Bokassa have unveiled the official video for new song, 'Vultures', taken from their latest album, 'Crimson Riders' out now.
Speaking on their latest video, Bokassa frontman Jørn elaborates:
"To us 'Vultures' always had a desert road trip kind of groove to it. But there aren't many deserts where we're from in Norway, so we made this psychedelic wacky road trip video instead. It was shot in Manchester, UK, the day after we played Stade De France in Paris!"
Watch the video for 'Vultures'
here
Bokassa fuse stoner rock riffs and groove with the energy and volatility of punk and hardcore, into their own unique brand of stoner punk. Their highly acclaimed new album 'Crimson Riders' was recorded back home in Trondheim's Brygga Studio, with production by Yngve Andersen (Blood Command), mixing by Simon Jackman, and mastering by the legendary Grammy-winner Brian "Big Bass" Gardener (Dr. Dre, Bad Religion, Avenged Sevenfold, Creedence Clearwater Revival). The band have released two previous music videos from the album for tracks 'Mouthbreathers Inc' and 'Captain Cold One', watch below.
WATCH: Video for Mouthbreathers Inc
WATCH: Video for Captain Cold One
Track listing for 'Crimson Riders':

Brologue
Charmed & Extremely Treacherous
Vultures
Mouthbreathers Inc.
Wrath Is Love
Crimson Riders
Captain Cold One
Blunt Force Karma
Immortal Space Pirate 2
In early 2018, Metallica drummer Lars Ulrich played Bokassa on his radio show, 'It's Electric', calling them"insanely fucking cool" and his "favourite new band". Fast forward to 2019 and Bokassa are now on the road supporting the metal icons in stadiums across Europe.

The band have also announced their 'Beers, Hooks, Breakdowns and Freedom' European headline tour today that will hit the road this winter with stops in Norway, Sweden, Denmark, Germany, Poland, Czech Republic, Hungary, Austria, Germany, Belgium, UK , France and Netherlands.
What The Press Are Saying.
"Like Hatebreed at their fist-pumping peak or the genre-mashing zeal of Kvelertak, Crimson Riders is a cross-genre, hook-laden, charismatic statement made for your attention." – Metal Hammer 8/10 review
"Full credit Lars: no matter how big Metallica have become, he's remained an enthusiastic cheerleader for new, exciting rock music. And when he nails his colours to a prospect as "insanely fucking cool" as Bokassa, you can bet your house that they deliver the goods big time." – Kerrang! 4/5 review
"Managing to meld properly colossal-feeling moments of air-punchingly anthemic songwriting to an instrumental canvas that at times feels like being punched square in the face is no mean feat, and the degree to which BOKASSA have apparently pulled it off on Crimson Riders feels like it could be the start of something very special indeed." – Distorted Mag 10/10 review
"Despite stepping outside of familiar formulas, or perhaps thanks to doing so, they've engineered this collection of songs and their sound overall to be an unwavering and sturdy structure. I'll definitely be keeping an ear open for the next chapter in the life of the immortal space pirate." – Metalwani 9/10 review
"Lots of thrashy riffs, chunky grooves, and gang vocals designed for maximum crowd catharsis at live gigs. I suspect that if there was a Venn diagram of Kvelertak fans, Cancer Bats fans, Iron Reagan fans and Hatebreed fans, Bokassa fans would exist at the intersection." – Metal Sucks
"The most exciting metal band since Slipknot" – That's Not Metal Podcast
"Bokassa are incredibly fucking good. The songs they write, their whole energy and vibe is such a breath of fresh air. When I heard their music a year ago, they blew my head off. Getting a chance to introduce them to a wider audience is going to be super cool." – Lars Ulrich, speaking with Kerrang!