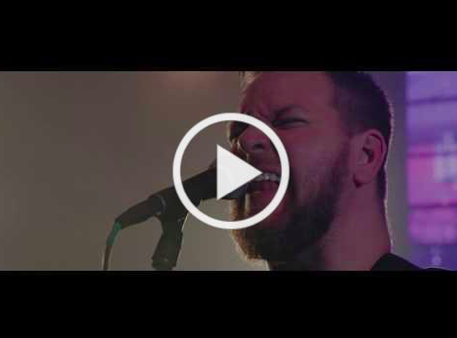 Watch the video here

New Album 'Crimson Riders' Out June 21
Band Currently On Tour With Metallica Across Europe

Monday June 3rd – Bokassa have followed up the release of their infectious new single, 'Captain Cold One', with the release of the accompanying video that continues the narrative started in the video for previous single 'Mouthbreathers Inc'. Both singles are taken from the band's upcoming album 'Crimson Riders' dropping on June 21st. Pre-Order here
BOKASSA frontman Jørn comments,
"The video for 'Captain Cold One' takes place after the world takes a collective breath, having just avoided destruction, as is tradition in the universe they live in. A universe not unlike our own I might add. Having come so close to death, people react in different ways – we see an "end of the world party" and that the cult leader from our 'Mouthbreathers Inc.' video is still on the loose. Will he get captured by vigilantes or will he, yet again, escape? Watch it and find out!"
Both videos for 'Mouthbreathers Inc' and the new 'Captain Cold One' were shot in Manchester, England by Video Ink in the same locale as filming for Captain America, Sherlock Holmes, and Peaky Blinders.
ICYMI, watch the video for earlier single, 'Mouthbreathers Inc.' below:Speaking on 'Captain Cold One', Bokassa frontman Jørn explains,
"Captain Cold One is another character in Bokassa's ever growing character universe. Captain Cold One follows in the footsteps of the Hellbilly Handfisher, the Crocsodile Dundee, and our ever mythical Immortal Space Pirate. The Captain is a man who lives for the weekend, and every day is a weekend for Captain Cold One! He's your friend with a devil on his shoulder, he's the lovable anti-hero, he's the person voted most likely to not succeed at his graduation and he is (most importantly) a man who lives like it's Friday even though it's only Monday! 
"Musically it's everything from a hardcore Beastie Boys verse to a pop-punk woah-extravaganza-chorus to a Slayer-esque metal breakdown. I wrote the song after hearing a radio special about songs with woooahs in them and decided to write the most epic woooah song out there." Track listing for 'Crimson Riders': BrologueCharmed & Extremely TreacherousVulturesMouthbreathers Inc.Wrath Is LoveCrimson RidersCaptain Cold OneBlunt Force KarmaImmortal Space Pirate 2Pre-Order 'Crimson Riders' HereIn early 2018, Metallica drummer Lars Ulrich played Bokassa on his radio show, 'It's Electric', calling them "insanely fucking cool" and his "favourite new band". Fast forward to 2019 and Bokassa are now on the road supporting the metal icons across Europe. What the press are saying
"With a super catchy approach to hard rock that focuses on big bold choruses and even bigger guitars, not to mention a righteous sense of humor and the endorsement of one of metal's biggest stars, Norway's Bokassa are well on their way to breaking out of the underground."- Revolver
"Lots of thrashy riffs, chunky grooves, and gang vocals designed for maximum crowd catharsis at live gigs. I suspect that if there was a Venn diagram of Kvelertak fans, Cancer Bats fans, Iron Reagan fans and Hatebreed fans, Bokassa fans would exist at the intersection." – Metal Sucks
"..an irresistible hybrid of excellently crafted sonic cuts that are designed to be washed down with a frosty cold one, some mates and a bag of 'herbs' "– Overdrive
"The most exciting metal band since Slipknot"– That's Not Metal Podcast
"intense, unpretentiously creative and relentlessly rhythmic."– Metal Hammer
"Bokassa are incredibly fucking good. The songs they write, their whole energy and vibe is such a breath of fresh air. When I heard their music a year ago, they blew my head off. Getting a chance to introduce them to a wider audience is going to be super cool."- Lars Ulrich, speaking with Kerrang!