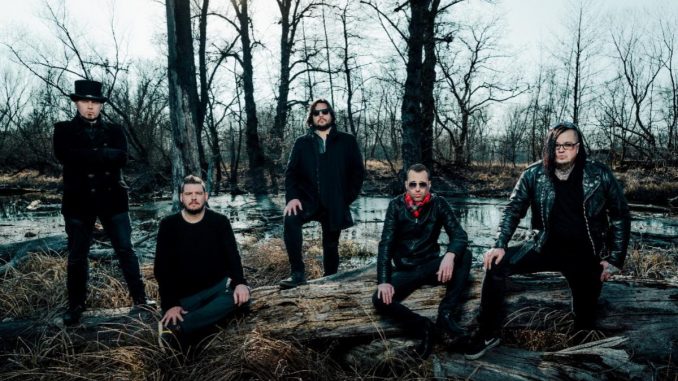 | | |
| --- | --- |
| New Album, From Wasteland To Wonderland, out this Friday | |
With their eyes set on the release of their new studio album, From Wasteland To Wonderland, on April 29, Hungarian Celtic-style punk outfit PADDY AND THE RATS let their third single sail out to sea and deliver yet another preview with the smashing party-hymn, "Party Like A Pirate". The massive album highlight heats things up by delivering deep and hysterical backing vocals, catchy polka and pipe elements. It's impossible to sit still, so just crack a beer and swing along!
Paddy And The Rats on "Party Like A Pirate":
"We shot the video in Tenerife in famous places like the Volcano Teide and the classic pirate village in Maska. The story starts on a pirate ship where a bunch of pirates have a party and bully a witch who curses the pirates to wake up in the present. They try to understand the modern world which leads to very funny situations. The song is a typical PADDY AND THE RATS party song – causing the urge to dance in everyone who listens to the catchy melody."
PADDY AND THE RATS throw a first class pirate party!
On a rousing 13 tracks, the Hungarians magically pull one stirring song after another out of their pirate hats, featuring a great variation of instruments like accordion, fiddle, banjo and bagpipe. The Celtic punks sail off on exciting adventures with their opener "Wasteland", offering a longing duo of mandolin and vocals accompanied by violin injections. The spirit is incited with "Ship Will Sale": The rousing track hits like a wild wave and invites the listener to join the party, swaying and stomping with them. The full-length pushes forward with "Party like a Pirate", where they delight their shipmates with an eager party hit, that comes with a sweeping sing-along chorus. "Everybody Get Up" offers another power boost and slowly prepares for the end of the adventure, with its punkier, energetic sound. The last stop of the journey with the Celtic Punks is "Wonderland". This emotional ballad provides the perfect note on which to end the album. With From Wasteland to Wonderland, PADDY AND THE RATS deliver a seaworthy adventure that fills the listener with addictive energy and simple happiness.
Pre-Order From Wasteland To Wonderland
NOW
:
From Wasteland To Wonderland tracklist:
1. Wasteland
2. Ship Will Sail
3. Party Like a Pirate
4. After the Rain
5. Northern Lights
6. Matadora
7. Standing in the Storm
8. Everybody Get Up
9. Hometown Kid
10. Heartbreaker
11. Rumble Outta Here
12. The Last Hunt
13. Wonderland
From Wasteland To Wonderland is available in the following formats:
-Jewel Case
-Jewel Case + T-Shirt Bundle
-Digital Full Length Album
PADDY AND THE RATS are:
Paddy O'Reilly – Lead Vocals, Acoustic Guitars
Sam McKenzie – Fiddle, Bagpipe, Banjo, Whistle's
Bernie Bellamy – Accordion, Backing Vocals †
Joey MacOnkay – Guitar, Backing Vocals
Vince Murphy – Bass, Backing Vocals
Seamus Conelly – Drums
PADDY AND THE RATS SOCIAL MEDIA: