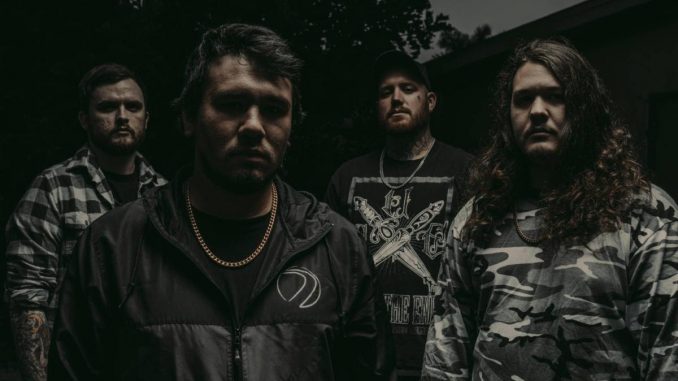 [Photo by Toddi Babu]
View / Share BODYSNATCHER's "King Of The Rats"
HERE
.
Melbourne, Florida-based brutal deathcore practitioners BODYSNATCHER today release their punishing new single and music video for "King Of The Rats."
Comments vocalist Kyle Medina of the track, "I wrote this song mainly about how people act high and mighty, talk a ton of negativity and trash, but are essentially not as holier than thou as they present themselves. Not only that but these people tend to associate themselves with others who are similar in this aspect. Hence the name 'King Of The Rats.' Not necessarily about someone directly, but more so if the shoe fits, wear it."
View the official video for BODYSNATCHER's "King Of The Rats" at
THIS LOCATION
.
BODYSNATCHER — a name inspired by notorious serial killer Ed Gein — brings an updated and brutal formula to deathcore, fusing components of hardcore and beatdown into their blistering hymns. The band currently consists of founding vocalist Kyle Medina, drummer Chris Whited, formerly of King Conquer, bassist Kyle Shope, formerly of Float Face Down, and guitarist Kyle Carter, formerly of Dealey Plaza and Beacons.
The band's most recent full-length, This Heavy Void released in 2019, was met with critical accolades from fans and critics alike with New Transcendence hailing, "their most oppressive record yet," adding, "BODYSNATCHER do more than pick up where their previous, critically acclaimed fusion of beatdown and deathcore left off. Instead, the band provide what is their most comprehensive display of emotion and aggression to date, using everything from vicious grooves to spine-shrinking slams to match the weight and intensity of their lyrical content to create what stands to be one of the first in a blossoming breed of monstrous deathcore releases with true angst, emotion and meaning behind every flesh-shredding breakdown." The band's savage live presentation has earned them slots on tours with the likes of contemporary deathcore torchbearers Enterprise Earth, Spite, Lorna Shore, Chelsea Grin, Slaughter To Prevail, and many others.
Earlier this Spring, BODYSNATCHER appeared on eOne Heavy Live, a special livestream event highlighting some of eOne's top acts. Brutal Planet championed the band's, "deathy, grindy set with intense precision," while Ghost Cult lauded a, "sludgy deathcore experience with heavy-hitting tracks and entertaining personality." Gushed Metal Noise, "the downtempo deathcore kings bring the slow pummeling rhythmic battery laden slabs of groove from the very start of their crushing set. It's like getting hit over the head repeatedly by a concrete paving slab and loving every moment with breakdown after breakdown…"
Stay tuned for more BODYSNATCHER news to be announced in the weeks ahead.