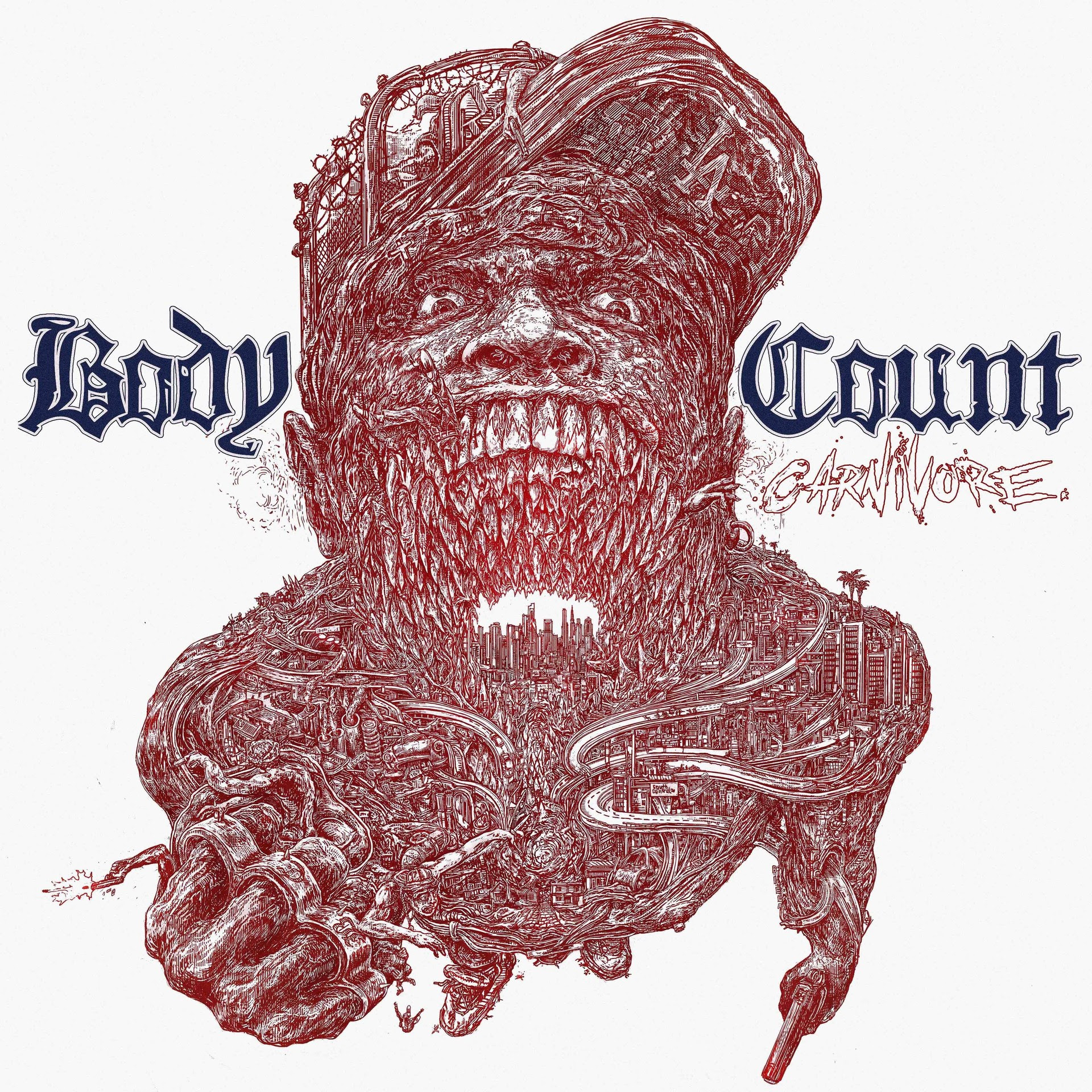 BODY COUNT RELEASE "BUM-RUSH" VIDEO

https://bodycount.lnk.to/Carnivore

CARNIVORE ARRIVES ON MARCH 6 VIA CENTURY MEDIA RECORDS

"It's a juggernaut" – Loudwire

"The album is a triumphant clarion call, and Body Count have provided the 2020 soundtrack for us to riot to" – Decibel Magazine

"Unlike many of their peers in the rap-rock game, Body Count reliably create a high-quality fusion of metal and hip-hop without sounding corny for even a second."

– Revolver Magazine
Feb. 21, 2020, LOS ANGELES – Body Count have released a video for "Bum-Rush" (https://bodycount.lnk.to/Carnivore), the second single previewing the band's highly anticipated seventh album, Carnivore (March 6, Century Media Records).

Ice-T, the legendary, genre-busting icon, said of the song: "Another fast moving Body Count track continuing my attempt to wake people up."

The clip, which was filmed in New York and Los Angeles, was produced and directed by Jay Rodriguez for Itchy House Films. Rodriguez has crafted videos for Wiz Khalifa, DJ Khaled and Justine Skye. The New York footage was shot by Eric Mittleman.
Carnivore album cover, artwork by Zbigniew M. Bielak
Carnivore is available in numerous collectible iterations including both a limited deluxe 2CD box set and digipak as well as 10 colored vinyl variants with some featuring exclusive LP/CD bundles as well as retail exclusives from FYE (purple vinyl) and a U.S. indie retail exclusive white vinyl. More information, including links to the various offerings, can be found here: https://bodycount.lnk.to/Carnivore.
Body Count recently announced a pair of New York events: a March 15 performance at Webster Hall as well as a Revolver & SiriusXM Liquid Metal sponsored listening party on March 3 at Sony Square NYC. Ice-T will be talking with SiriusXM Liquid Metal's Shawn The Butcher on the inspiration behind Carnivore. The Q&A will also be live streamed on Revolver and Inked Magazine's Facebook pages. Following the Q&A, fans will be treated to an exclusive first listen of Carnivore with refreshments provided by AriZona. Fans can RSVP at https://forms.sonymusicfans.com/campaign/body-count-sony-music-square-nyc-event/. Space is limited.

Body Count tour dates:

March 3 New York, NY Sony Square NYC (RSVP required, first come – first serve)

March 15 New York, NY Webster Hall

May 23 Pryor, OK Rocklahoma

June 19 Clisson, France Hellfest

June 21 Dessel, Belgium Graspop Festival

June 22 Esch Alzette, Luxembourg Rockhal

June 23 Tilburg, Netherlands 013

June 24 Berlin, Germany Tempodrom

June 26 Verona, Italy Rock The Castle Festival

June 27 Vienna, Austria Arena Vienna

June 27 Prague, Czech Republic Roxy

June 29 Oberhausen, Germany Turbinehalle

July 1 Munich, Germany Tollwood Festival

July 2 Zurich, Switzerland Komplex 457

July 3 Belfort, France, July 3 Eurockeenes De Belfort Festival

July 4 Saint Claire, France Beauregard Festival
Photo credit: Dirk Behlau
Body Count is Ice-T (vocals), Ernie C. (guitar/backing vocals), Juan Garcia (guitar/backing vocals), Vincent Price (bass/backing vocals), Ill Will (drums) and Sean E. Sean (samples/backing vocals). The band, founded in 1990 by Ice T and Ernie C., made their live debut at the inaugural Lollapalooza tour (1991) and released their controversial, RIAA gold-certified self-titled debut the following year. Over the outfit's nearly 30 year history they have sold 1 million albums and released six studio albums: Bloodlust (2017), Manslaughter (2014), Murder 4 Hire (2006), Violent Demise: The Last Days (1997), Born Dead (1994) and Body Count (1992).

# # #

Facebook.com/bodycountofficial

Instagram.com/bodycountofficial