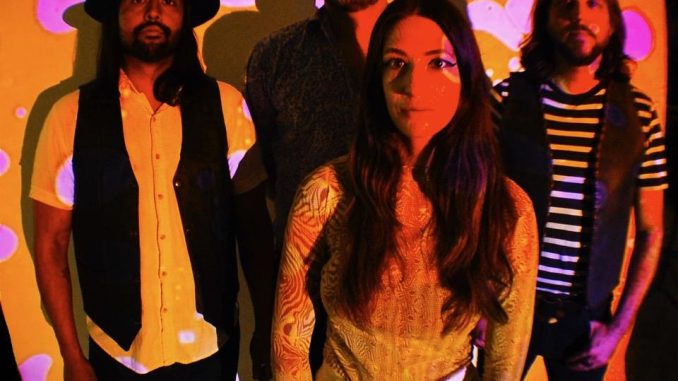 Watch HERE
New Album 'The Old Ways Remain'
Out Now — Order HERE
Today, Rise Above recording artists BLOOD CEREMONY share with us a new single entitled "Powers of Darkness, accompanied by a new music video. The track, taken from their fifth studio album, 'The Old Ways Remain' (released in May of this year), "Powers Of Darkness" finds the band tapping in to new areas of mystical melodies, with poptastic allure.

As founding member Sean Kennedy comments: "It's been a decade since our last music video, and we're thrilled to unveil a new promo for 'Powers of Darkness.' We drew inspiration from iconic '60s music programs such as Beat Club and Ready, Steady, Go!, and director Mark Cira captured a moody, live-off-the-floor atmosphere. The song is about invoking sinister elements, so there's a heavy dose of pop-occult madness threatening to intrude on the performance."

Watch the New Video for "Powers of Darkness" HERE
Seven years have passed since BLOOD CEREMONY last released a full-length album, but that all changes in 2023! Pieced together during lockdown months, and brought to fruition with a host of esteemed special guests, the Canadians' fifth album, 'The Old Ways Remain', is diverse, hypnotic and eminently groovy.

The new songs push BLOOD CERMEONY's sound into new territory while also honoring the atavistic ethos that has led them to such triumphs in the past. Initial plans to repeat the successful formula that birthed 'Lord of Misrule' and fly to the UK to record again at Toe Rag Studios in London, fell victim to Covid restrictions, and so Sean and his comrades – Alia O'Brien (vocals/flute/organ), Lucas Gadke (bass) and Michael Carillo (drums) – switched to a simpler but equally satisfying Plan B.

"By late 2021, we realized that if we were ever going to finish a new album, we'd just have to record locally and do it ourselves," says guitarist Sean Kennedy. "And that's what we did. We started rehearsing the material again and were still really excited by it. Once we revisited everything, we had a new burst of energy. We found a local studio that had what we needed and we were off! Recording nearby allowed us to bring in friends like Laura Bates from (fellow folk-doom crew) Völur to play fiddle, Joseph Shabason added saxophone to 'Eugenie', and Mike Eckert played pedal steel on 'Hecate'. We produced ourselves, along with our friend, Paul Keyahas. We worked with an engineer named Chris Snow who immediately got what we were trying to do. Richard Whittaker mixed the tracks at his London, UK, studio, and we think he did a great job."

A vital testament to BLOOD CEREMONY's collective efficacy, 'The Old Ways Remain' is an album for those who love great songs, great riffs and cryptic tales from the outer limits.
'The Old Ways Remain' Track List:
1. The Hellfire Club
2. Ipissimus
3. Eugenie
4. Lolly Willows
6. The Bonfires at Belloc Coombe
7. Widdershins
8. Hecate
9. Mossy Wood
10. Song of the Morrow
"'The Old Ways Remain' is taken from a line in an earlier BLOOD CEREMONY song," Sean explains, "It seems appropriate, actually. We always seem to come back to this idea of the ancient world haunting the present. Arthur Machen explored this in books like 'The Hill of Dreams' and his writing has been a big influence."

Undeniably long-awaited but very much worth the wait, BLOOD CEREMONY's return promises to inject some otherworldly charm back into the underground. As their songwriting prowess grows and their music takes on deeper and brighter colors in response, the quartet are perfectly poised to renew their special relationship with nostalgic riff-worshippers everywhere. Come the spring, 'The Old Ways…' will cast their spell all over again.