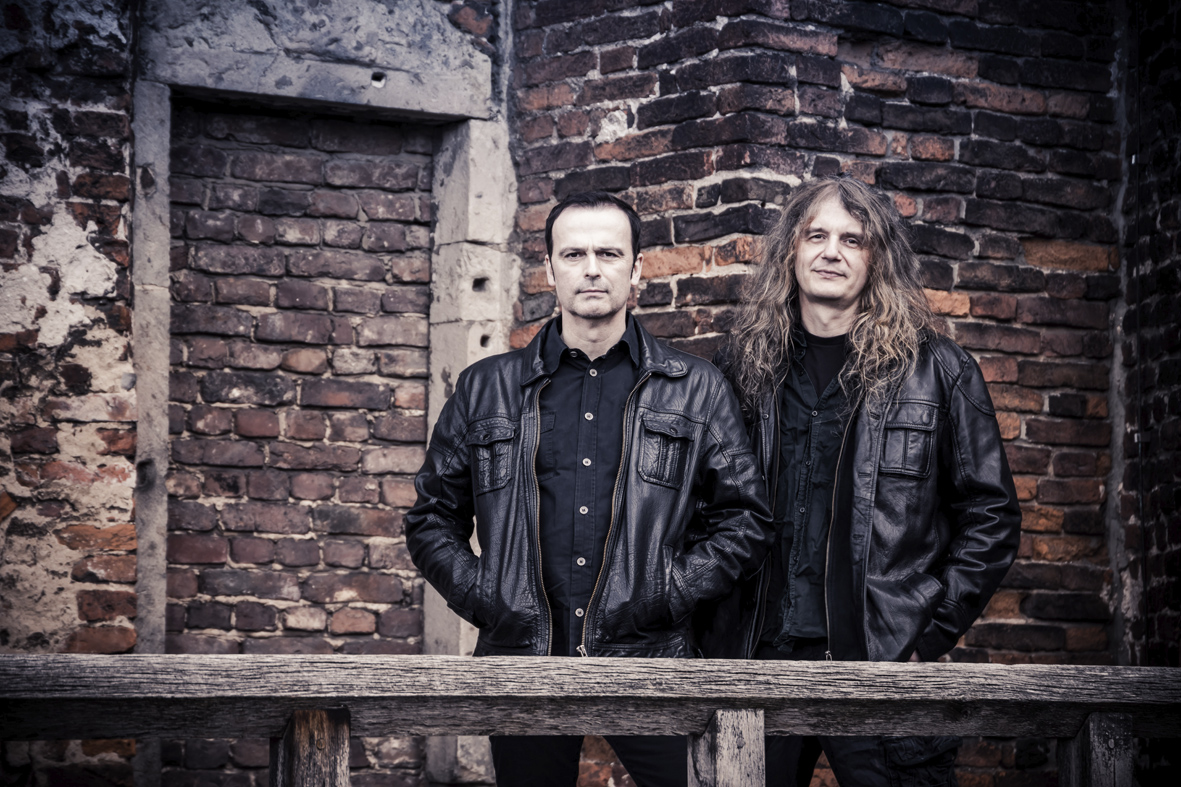 Promising to be one of the most ambitious projects in metal history,
BLIND GUARDIAN
's upcoming release will be well worth the wait. The idea of recording an orchestral album originally formed in the minds of the two leading lights of the
BLIND GUARDIAN
universe – guitarist
André Olbrich
and singer
Hansi Kürsch
– during the 1990's when
BLIND GUARDIAN
started to use orchestral elements to enhance their opulent sound. The monumental project started to take shape over recent years, and mirroring its epic sound cascades, the lyrical concept was developed. To create the concept,
André
and
Hansi
worked alongside German bestselling author
Markus Heitz
, whose latest novel
Die dunklen Lande
was released on March 1st, 2019. The book is set in 1629 and contains the prequel to
BLIND GUARDIAN TWILIGHT ORCHESTRA
's opus
Legacy Of The Dark Lands,
which will be out on November 8th, 2019.
Today, the band unveil the third album trailer, unveiling more details about the recording process. Watch the clip here: https://youtu.be/FNtYn_wWsYc
Hansi states, "Witness this five minutes plus composition of vocal recording mayhem. These takes were filmed during the last weeks and months of the production of Legacy of the Dark Lands. After more or less 20 years of composing, arranging and pre-producing, we finally started singing somewhere in the end of 2017. I knew, it would take some time, but it was a "little" more time than expected when I finished the recordings in December 2018. Enjoy some almost brillant and some not so brillant performances of this seemingly never-ending adventure. What can I say? Now, looking back after all the toil, I can confirm it was a lot of fun. Of course."
Recently, the band unleashed their 7″ vinyl single titled This Storm, which can be ordered in various colors (clear, gold, red/black splattered) here: https://nblast.de/BG-ThisStorm
Also watch the new lyric video for 'This Storm', here: https://youtu.be/dR_VJ-jJosI
This Storm« 7 Vinyl Single – Track Listing:
Side A: This Storm
Side B: This Storm (Instrumental)
Pre-order Legacy Of The Dark Lands here:
http://nblast.de/BGLegacyOfTheDarkLands
Pre-order digitally to receive "Point Of No Return" instantly (via amazon and iTunes only!) or pre-save the album now via Spotify, Apple Music & Deezer:
http://nblast.de/BlindGuardianTOPreSave
Listen to "Point Of No Return" in the NB New Releases Playlists:
http://nblast.de/SpotifyNewReleases / http://nblast.de/AppleMusicNewReleases

The Legacy Of The Dark Lands will be available in the following formats:
2CD Digipak
2LP Gatefold (different colours)
3CD Comic book (album, instrumental, no interludes version)
4CD Earbook (album, instrumental, no interludes version, audiobook) *SOLD OUT*
5LP BOX (Album 2LP, Instrumental 2LP, Audiobook LP)
More on Legacy Of The Dark Lands:
"Point Of No Return" (OFFICIAL LYRIC VIDEO): https://www.youtube.com/watch?v=WIP3tbE-gXA
Teaser Trailer: https://www.youtube.com/watch?v=PW8zzTlp03I
Trailer #1: https://www.youtube.com/watch?v=PW8zzTlp03I
Trailer# 2: https://www.youtube.com/watch?v=z5381LBJmI8
The Legacy Of The Dark Lands tracklist:
01. 1618 Ouverture
02. The Gathering
03. War Feeds War
04. Comets And Prophecies
05. Dark Cloud's Rising
06. The Ritual
07. In The Underworld
08. A Secret Society
09. The Great Ordeal
10. Bez
11. In The Red Dwarf's Tower
12. Into The Battle
13. Treason
14. Between The Realms
15. Point Of No Return
16. The White Horseman
17. Nephilim
18. Trial And Coronation
19. Harvester Of Souls
20. Conquest Is Over
21. This Storm
22. The Great Assault
23. Beyond The Wall
24. A New Beginning
"It's incredible, that after 20 years we can actually finish this really exciting project. I am so happy and more than satisfied with it. Every single track unveils spectacular worlds and tells its very own story. With this album our biggest creative dream finally becomes reality. " says front man/singer Hansi Kürsch whose favorite author was equally excited about the collaboration: "It's really crazy: As Pen & Paper role players we used to listen to BLIND GUARDIAN whilst playing. And years later I get to work together with the band, which was incredible. It's amazing, the things that can happen sometimes", Markus Heitz remembers. "Of course I immediately agreed to join! This creative collaboration is very special for me."
The two protagonists have actively cultivated their creative exchange over the last five years. "Markus is a great story teller; with 'Die Dunklen Lande' he created the perfect setting and with the mysterious Nicolas, the perfect character for our complex works. His inventiveness seems to be almost infinite. Absolutely impressive and very inspiring" praises Hansi Kürsch regarding the fruitful cooperation with the highly renowned fantasy author.
Both sides tell in their own way the story of the mercenary Nicolas and his involvement in the Thirty Years' War. Author Markus Heitz starts the story off in his book and BLIND GUARDIAN follow suit with Legacy Of The Dark Lands. What is the secret surrounding Nicolas? Will he be able to cast off the chains of war and how will his loved ones fare? On Legacy Of The Dark Lands via BLIND GUARDIAN's Twilight Orchestra, André Olbrich and Hansi Kürsch fulfill their long-time wish of emphasizing imposing choral singing and classical orchestral arrangements. It promises to be an opus unlike any other that the German quartet has ever released, or rather: an opus, as has never been heard ever before.
Foto by Dirk Behlau