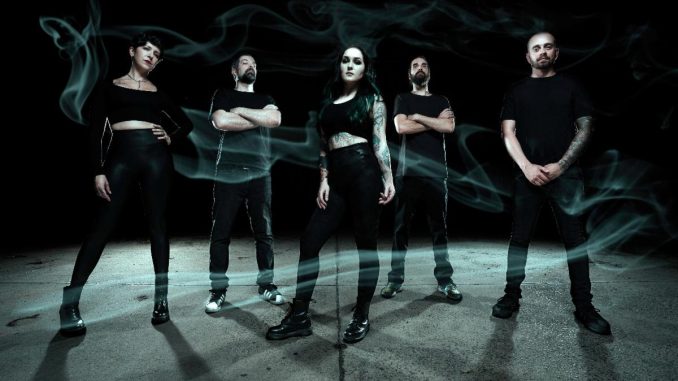 North Carolina's Blackwater Drowning has released the second single from their upcoming full-length album. The melodic death metal outfit is proud to share a new music video for the song "Mortal Coil" via a premiere with Ghost Cult Magazine, which can be found here.

The debut LP from Blackwater Drowning, 'Sonder//'Satori', will see a July 8, 2022 via Blood Blast Distribution.

Speaking about the music video for "Mortal Coil", the band comments:
"Thematically, this song speaks to the visceral desire to look beyond the mere physical aspects of this world and into the elements beyond our understanding. The video takes a hard, metaphorical look at breaking the binds that entrap us in the cyclical thought patterns that do not serve us. We used the rope art of Shibari to visually illustrate the concept of these intangible ties that affix us all to the mortal plane. The rope art was beautifully executed by local artist Devin Parker of Parker Rope Works, and the video was masterfully captured by videography legend Sabrina Lee."
'Sonder//Satori' Tracklist:
1. THE FIFTH ELEMENT
2. ABYSSAL (feat. Brian Kingsland)
3. MORTAL COIL 
4. SNAKE JUICE
5. SAINT 
6. THE CAGED
7. ABERRANT LEAVES 
8. VOYAGER 
BLACKWATER DROWNING – 2022 Live Shows
6/11 – Piedmont, SC @ Tribbles
6/17 – Spartanburg, SC @ Ground Zero (w/ Suffocation)
8/13 – Battle Creek, MI @ 2022 Michigan Metal Fest
About Blackwater Drowning:

BLACKWATER DROWNING is a five-piece US melodic death metal band from North Carolina. Formed in 2014 by singer Morgan Riley and guitarist Jeremy Bennett, the band is completed by guitarist Ron Dalton Jr., bassist Aria Novi, and drummer Chris Peavy. 

Since the band's inception, BLACKWATER DROWNING has recorded two EPs and supported iconic acts such as SOULFLY, JINJER, OTEP, and LAST TEN SECONDS OF LIFE. During the challenges of the pandemic, the band wrote and recorded its soon-to-be-released first full-length album at Blackplate Productions in Dunn, NC with Jon Berrier and Garrett Barefoot. Titled 'Sonder//Satori', the album consolidates the band's dynamic and melodic death metal prowess.  

In reflecting on the band's origins, bassist Aria Novi offers, "We felt like the term 'blackwater' represented both darkness and rebirth. We added drowning to convey the idea that the darkness could be all-consuming, and that one could, in fact, lose themselves entirely to that darkness".

With lyrics that confront injustice, offer social commentary, and explore the metaphysical, the themes that drive the band are as dynamic as the sound itself. Creating a hybrid of blackened rasping, emotive melodies, brutal and savage assaults that transcend to heavy grooves, and death metal soundscapes, BLACKWATER DROWNING offers a sound that stands alongside acts such as THE BLACK DAHLIA MURDER, SOILWORK, and DARKEST HOUR. 
BLACKWATER DROWNING is:
Morgan Riley – Vocals
Aria Novi – Bass & Vocals
Jeremy Bennett – Guitar
Ron Dalton – Guitar