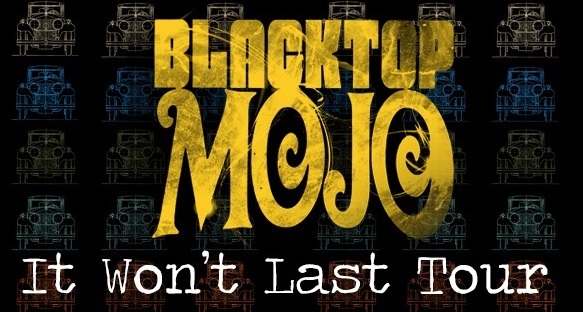 BLACKTOP MOJO has released the official music video for their single, "It Won't Last," off of their recently released LP, Under the Sun
The video was shot in Fort Worth, Texas at the Bodega bar by longtime friend and videographer Dustin Dow and our new friend, Larry Hinson, whom we met on the 'Defy The Sun Tour' with Otherwise.
"'It Won't Last' is about the fleeting feelings of a hookup. You have this intense connection with someone for such a short time, but then in the morning, you realize it was just an intoxicating moment.
We wanted to keep the video simple and more performance based this time around. This song in particular is very guitar driven, and we wanted to be able to showcase Chuck and Kiefer ripping it up." – Matt James
Tour Dates: 02/03 @ The Parish at HOB – Anaheim , CA 02/05 @ Strummer's – Fresno, CA 02/06 @ The Saint – Reno, NV 02/07 @ Backstage Bar & Billiards – Las Vegas, NV 02/08 @ Holy Diver – Sacramento, CA 02/10 @ Dante's – Portland, OR 02/11 @ – Seattle, WA – Substation 02/12 @ The Olympic – Boise, ID 02/14 @ Streets Denver – Denver, CO 02/15 @ Reverb Lounge – Omaha, NE 02/16 @ The Aquarium – Fargo, ND 02/18 @ Spicoli's Reverb – Waterloo, IA 02/19 @ Lefty's Live Music – Des Moines, IA 02/20 @ Oklahoma City Limits – Oklahoma City, OK 02/21 @ The Rail Club – Fort Worth, TX 02/22 @ River Run ATV Park – Jacksonville, TX 02/23 @ The Rock Box – San Antonio, TX 02/26 @ Studio at Warehouse Live – Houston, TX 02/27 @ Come And Take It Live – Austin, TX 02/28 @ Jakes Sports Cafe – Lubbock, TX 02/29 @ House of Rock – Corpus Christi, TX
Click for Additional Dates, VIP, & Ticketing Information
Track List: 1. Lay It on Me 2. Set It Free 3. Come Get Your Coat 4. Keep 5. It Won't Last 6. All Mine Now 7. Can't Sleep 8. The Lashing (Ghost) 9. The Void 10. Under the Sun
Click Download / Stream 'Under the Sun' Online