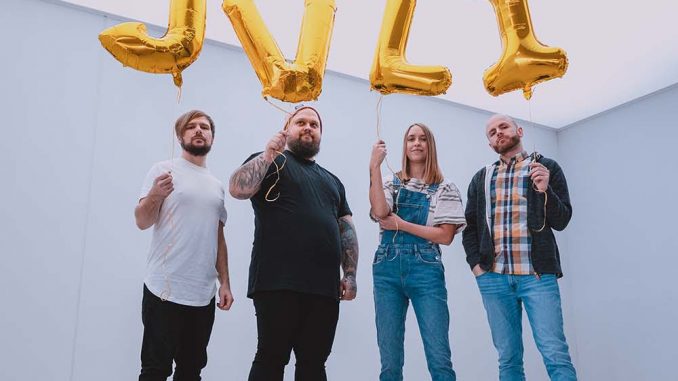 BAND SHARES VIDEO FOR PULSE — WATCH
After impacting with the first single "You Never Know," Leipzig-based rock outfit blacktoothed have announced their debut album JULI, out July 29 via Arising Empire.
Today, they have served up the video for their next single "Pulse," featuring the incredible vocals of Kassim Auale (ex-Alazka).
Watch it here.
"'Pulse' was the perfect single — long before we knew we were even writing an album," vocalist Hendrik says about the personal track.
This song is sleepless nights — depression and anxiety at its lowest, highlighted by the only vocal feature on JULI.
"Working with Kassim felt like the perfect choice, considering just the soul and heart he puts into his voice, so we love the way it vibes with the whole story of the song," guitarist Matti adds.
JULI was created in collaboration with the producing team of Sawdust Recordings (Christoph Wieczorek and Julian Breucker) and finds blacktoothed wholly focused.
"Recording JULI was a funny 'three-way experience,' involving three different recording sessions over the course of two years, changing band members, finally getting the flow in our songwriting process and of course lots of bad jokes, and food with our producing team — cheers! To sum it up, we might finally know what we are doing musically," the band says. "With JULI, our main concern is to create awareness to the fact that we carry a lot of potential in ourselves to change the lives of our loved ones for the worse, but at the same time to recognize how we might be able to help those affected."
JULI boasts a hybrid style of rock, filigree guitar work, catchy hooks, and a touch of '80s vibe. Indeed, '80s shred guitar solos meet modern rhythms and vocal melodies.
The band has shared stages with the likes of Acres, Annisokay, Bad Omens, Hands Like Houses, Polaris, Thundermother, and many more, and have appeared at the IMPERICON FESTIVAL and many other open air concerts.
JULI TRACK LISTING:
"If You Wanna Say So"
"Saviour"
"So Real"
"Tidal Wave"
"You Never Know"
"Between You & The World"
"Pulse"
"Body Bag"
"Seasons"
"JULI"

BLACKTOOTHED ARE:
Hendrik | Vocals
Mathilde | Guitar
Steven | Bass
David | Drums