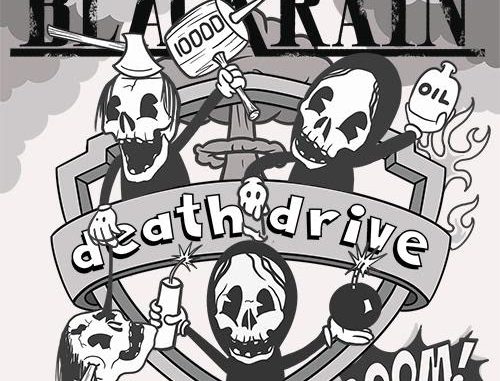 Watch HERE
Track Introduces New Drummer, Franky Costanza!
French Sleaze rockers BLACKRAIN share their new single, "Death Drive" and a video that introduces new drummer, Franky Costanza!

Watch the Video for "Death Drive" HERE
BLACKRAIN Live 2023
20.05. BE-Geraardsbergen – Wildfest
27.05. CH-Cornaux – Corn Rock Festival
07.07. FR-Lyon – Rock N' Eat
08.07. FR-Paris – Petit Bain
25.08. UK-London – Underworld
26.08. UK-Sheffield – HRH Sleaze
16.09. FR- Beaumont-les-Nonains – Rock N' Beer
30.09. FR-Bruay-la-Buissière – Aütfëst
06.10. FR-Troyes – 3 Metal Fest
07.10. FR-St.Macaire En Mauges – Mauges Pit Festival
Although already established as a band with their six previous releases and also very successful on tour (among others with Europe, Alice Cooper, Scorpions or Steel Panther), BLACKRAIN's latest album 'Untamed' presents a perfect sound the band worked hard to find.

"We love the powerful sound, banging drums and awesome mix of catchy melodies and aggression that permeates 'Untamed' from the very beginning," bassist Matthieu de la Roche enthuses and goes on naming the producer of the new quality work: Hannes Braun, front man of the German hard rockers Kissin` Dynamite and an important figure in sound engineering. De la Roche: "Hannes told us: ´I love your songs, your show really has excited me, I know exactly how your next record should sound!`. Thanks to his help, we found the sound we've been looking for for ten years."

The connection between the French group and their German producer was practically self-evident: BLACKRAIN accompanied Kissin` Dynamite on their last European tour and they were friends for about a decade. "Kissin Dynamite was our support band in 2009 in a big gig in Paris. Now we are supporting them, and we are fine with this because it allowed us to cross Europe and catch a new fanbase," tells De La Roche.

Out of this friendship sprang a fruitful collaboration. Swan, the singer and front man: "I honestly don't know how Hannes managed it, but whenever I sent him a new song for review and mix, he found that perfect last piece of the puzzle to refine it."

With, 'Untamed' (the cover artwork by graphic artist Yellow Mushi) BLACKRAIN has definitely created a small masterpiece!