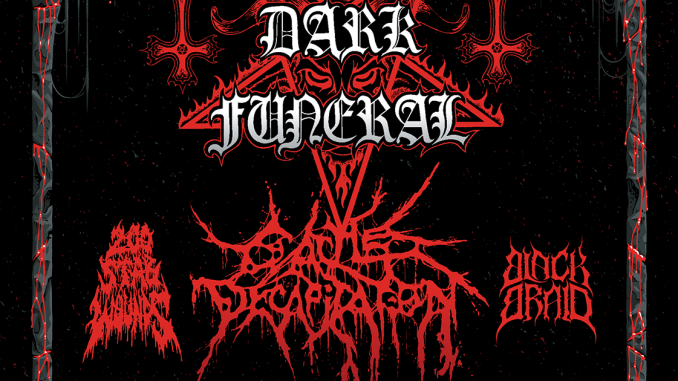 to Tour North America for First Time
Native American Black Metal project BLACKBRAID will be embarking on its first ever North American tour in conjunction with the return of the Decibel Magazine Tour, which also features DARK FUNERAL, CATTLE DECAPITATION, and 200 STAB WOUNDS! The trek kicks off on May 11 in Santa Ana, CA and will circle around the continent before concluding in Los Angeles, CA on June 10.
Presented by Metal Blade Records, and sponsored by Pull the Plug Patches, Century Media, IndieMerchStore, Upstate Records, Sauce Leopard and Savage Lands, tickets for the 2023 Decibel Magazine Tour go on sale Friday, February 3 at 10:00 A.M. local time, and can be found at THIS LOCATION.
Blackbraid is supporting its debut full-length, Blackbraid I, which was released in the summer of 2022. The album can be ordered, downloaded, or streamed HERE.
Blackbraid I can be ordered via Bandcamp, The Official Blackbraid Merch Store (USA), Neuropa Records Store (UK), and Plastichead Megastore (EU).
Blackbraid is a solo indigenous black metal project from from the depths of the Adirondack wilderness creating music as raw and powerful as the mountains from whence it came…
BLACKBRAID Live Dates
(The Decibel Magazine Tour 2023):
05/11: The Observatory @ Santa Ana, CA
05/12: Nile Theater @ Mesa, AZ
05/13: El Rey @ Albuquerque, NM
05/15: Granada Theater @ Dallas, TX
05/16: Empire Control Room @ Austin, TX
05/17: The Warehouse @ Houston, TX
05/19: The Orpheum @ Tampa, FL
05/20: Variety Playhouse @ Atlanta, GA
05/21: The Underground @ Charlotte, NC
05/23: Baltimore Soundstage @ Baltimore, MD
05/26: Club Soda – Montreal, QC
05/27: Phoenix Concert Theatre @ Toronto, ON
05/28: Crofoot Ballroom @ Pontiac, MI
05/30: The Metro @ Chicago, IL
05/31: First Avenue @ Minneapolis, MN
06/02: The Summit @ Denver, CO
06/03: The Complex @ Salt Lake City, UT
06/05: El Corazon @ Seattle, WA
06/06: The Vogue Theater @ Vancouver, BC
06/07: The Roseland Ballroom @ Portland, OR
06/09: The Regency Ballroom @ San Francisco, CA
06/10: Regent Theater @ Los Angeles, CA
Blackbraid I Tracklisting:
01.The River of Time Flows Through Me [WATCH]
02.As The Creek Flows Softly By
03.Sacandaga [WATCH]
04.Barefoot Ghost Dance on Blood Soaked Soil [LISTEN]
05.Warm Wind Whispering Softly Through Hemlock at Dusk
06.Prying Open the Jaws of Eternity
Creator of BLACKBRAID:
Sgah'gahsowáh
Follow // Listen:
Shop/Pre-order:
Official Merch Store (USA)
Album Art: Adrian Baxter
Photographer: Wolf Mountain Productions
Blackbraid is an independent artist and is not contracted to or owned by any music label.