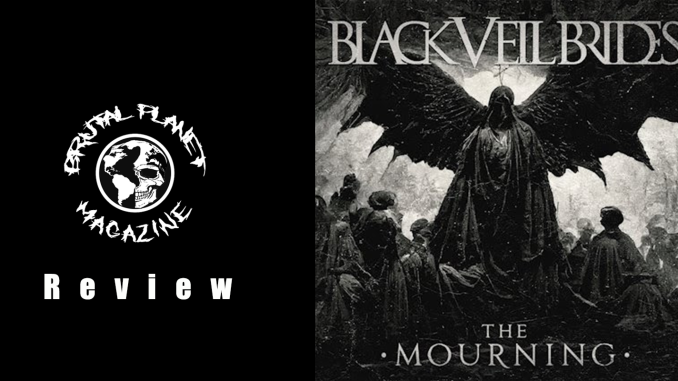 Review by:
Brittany Skidmore
The new Black Veil Brides EP album The Mourning is nothing less than gripping and emotionally moving. Smoky vocals, gripping guitars, solid drums, and more. This release awakens feelings and emotions that you didn't realize were dormant, lying still in the background.
The immediate crash of the drum kit and wild guitar snags your attention with the opening song "Devil". This angry song with perfectly displaced acoustics demands the attention of the listener in a way that keeps them wondering what happens next.
As the BVB Army already knows, due to the release of this albums second song "Saviour 2" in September, Andy Biersack sings with his whole soul in this one. This song is easily my new favorite BVB song. The emotion Andy delivers is tangible. He brings you into the innermost feelings of his heart. Not only does the vocalist provoke deep emotion, the guitars and even drums elicit them as well. The band really came together on a deeper level with this song.
The third track "The Revival" has lyrical wisdom that triggers the listeners to ask themselves if there is a deeper meaning to this song. The lyrics are deeply beautiful and slightly haunting. "The Revival" is the perfect transitional song into the fourth and final track, "Better Angels".
The beginning of "Better Angels" keeps you guessing, but immediately takes the almost whimsical keyboard intro and dives into the hard and heavy sound of the Black Veil Brides. This song climaxes into an explosion of instrumentals led by the vocalist with crystal clear precision – the perfect wrap up of an amazingly soul searching album.
The bands ability to come together and deliver an album that stirs up such profound feelings and emotion is nothing short of amazing. The Mourning will be an album that won't go unnoticed in the world of music.
Don't miss out on the global release of this remarkable Black Veil Brides EP album on October 21st via Sumerian Records!